Switchblades: Nintendo Switch Made Classy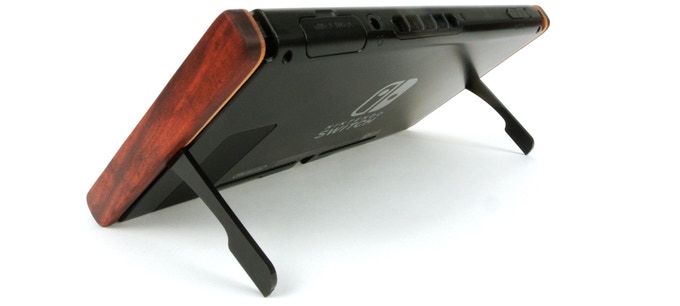 Nintendo Switch is attracting creative minds like a moth to a flame. Latest company to fall victim to the charms of this handheld enigma is a company called Gravilogic. Gravilogic started a Kickstarter campaign with a humble pledge of $5,000 and ended up getting 10 times that. The idea was a simple one that turned out to be a bit more. Switchblades are custom sleeves that slide down the rails of the console where the joy-cons reside and essentially serve as rails covers. They were developed for the purpose to protect the rail slots from accumulating dust and other undesirables and look pretty doing it.
Those of us who own this console like to dress it up to make it more functional and aesthetically pleasing. Switchblades bring class to the look of, what essentially is, a simple tablet and not only that, each panel houses an independent kickstand that helps propping up the console.
The panels come in so many variations of colors and materials. You can choose from 10 different variation of Basic hardwood that go for $15 for a pair, 5 variations of Trimmed Hardwood Line that go for $18 for a pair, 6 variations of Galaxy Line which is made from acrylic acetate, and go for $21 for a pair and then there is the Executive Line that is $38 a pair and made out of aluminium inlaid with 5 types of Wood.
Each pair comes in a soft storage bag and each panel is marked for 'left' and 'right' for ease of use. With the holidays just around the corner, the Nintendo Switchblades can be a very nice gift. The blades are very reasonably priced and help protect the console. The design is so minimalist and does not make the console look odd but classy instead. There is no con in this product whatsoever.
According to the Kickstarter site, the Mass Production of the Switchblades has already begun and Delivery begins in March of 2019 but if you happen to be a pledge or know someone who is, then you can get your hands on it sooner. I have seen people owning it so maybe some stores online may have it already.