How to Update Your Disney+ Billing information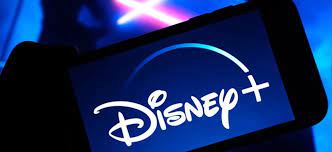 Your living room will never have been this much fun, but if you've just switched banks or credit cards, you'll need to update your payment information before you can sign up for Disney+. Changing your billing information for Disney+ can be done in the following manner.
Read Also: How to Turn on Subtitles on Disney Plus
How to Update Your Disney+ Billing information
After logging in to your account on the Disney+ website, select the icon that looks like a person's face in the upper-right hand corner. You may access your profile through the mobile app for Apple and Android devices by tapping the symbol located in the upper-right corner of the screen.

Once the menu has been opened, choose the "Account" option from the available options.

Click the "Billing Details" link that is located next to the type of subscription you have while you are on the "Account" page.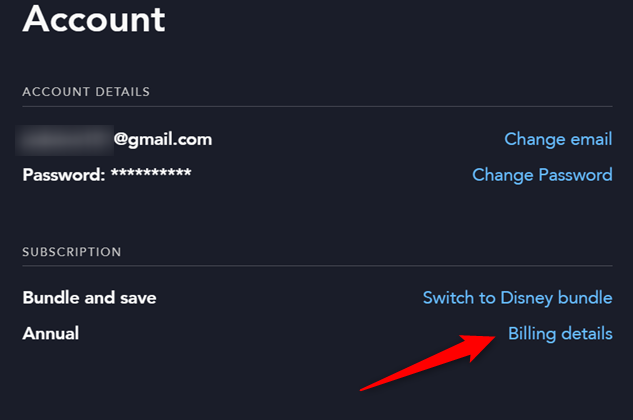 Your payment amount, the day that your payment is due, and the method that you use to pay for your membership will all be displayed on the "Billing Details" page. Under the heading "Payment Methods," find and select the option labelled "Change Payment Info."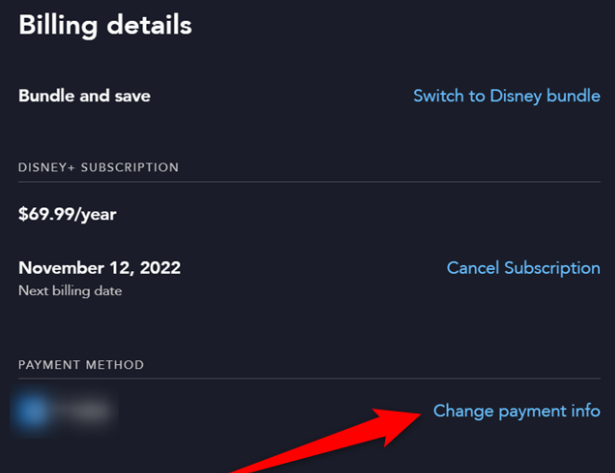 When you click this link, you will be sent to a new page where you will have the option to either enter your credit card information or connect into your PayPal account. After you have entered all of the required information, click the "Save" button that is located at the bottom of the screen.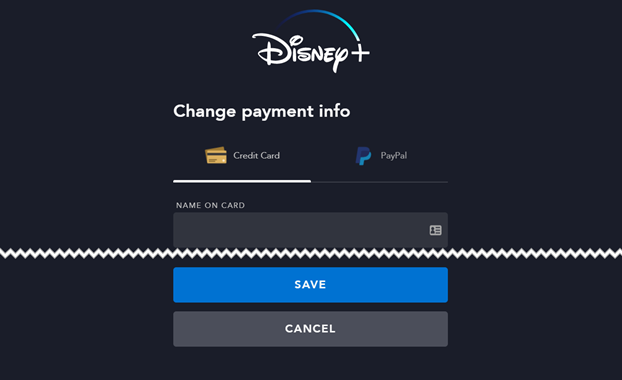 You can make any necessary adjustments whenever you choose, regardless of whether you pay with your card or with PayPal. It is an excellent solution in the event that you find yourself short on funds during a particular month and are required to make payments using a credit card rather than a debit card. You won't have to worry about missing a payment in order to watch the series and movies that Disney+ offers, regardless of the payment method that you use.
FAQs
Why won't Disney plus let me update my payment?
The following are some potential explanations as to why your chosen method of payment is not being accepted or processed: Your bank or credit card has reached its expiration date. There is an inconsistency in the billing information. Make sure that the right card number, CVV, and expiration date were entered.
How do I fix my Disney Plus subscription?
You should first see whether restarting the programme fixes the issue; if that doesn't work, check your internet connection and try clearing the app's cache. This will be the easiest thing to check. You can also encounter a specific error code; for instance, an error code 83 might indicate that there is a compatibility issue between your streaming device and the software you are using.
Why is Disney Plus telling me to update my payment?
There are a few possible explanations for why your chosen way of payment is not being accepted or processed, including the following: Your bank or credit card has reached its expiration date. There is a discrepancy in the information regarding payment. Verify that the right information was input for the card number, the CVV, and the expiration date.
Why can't I update my payment method on Iphone?
It's possible that the information associated with your current mode of payment is out of date and needs to be updated. If you have recently obtained a new credit card, it's possible that the only changes that need to be made to your existing card are to its expiration date and CVV number.
Why is Disney Plus not showing my subscription?
There is a possibility that an error in the detection of your membership will occur on Disney Plus if your Disney+ app has any kind of bug or has corrupted data. If you want to see if your Disney Plus account gets subscribed, you can try uninstalling the Disney Plus app from your device, deleting it, and then reinstalling it.