The Advantages of Utilizing a Control4 Door Station and Intercom System
Control4's new Intercom Anywhere enables users to connect with a guest from anywhere globally, as other decent IP video door stations do. However, Control4 adds a layer of home automation to its new application, enabling users to start smart-home scenarios from the intercom app, such as turning on the lights or opening the door.
Users may also utilize Control4's video door stations, inside touchscreens, and smartphones to get a whole video-intercom experience. Regardless of where they are located, they all collaborate.
Home intercoms are not a novel or ground-breaking idea. The earliest home intercoms were created in the 1890s and rose to prominence in the 1960s and 1970s. Intercoms have been used for decades by homeowners with big homes to talk to guests at the front door or from their family rooms.
Although Control4's innovative technologies are bringing intercom systems into the current day, they remain as valuable as ever. Thanks to your house intercom, you may now communicate with individuals at the door station even if you're thousands of miles away. You may also utilize the Intercom in conjunction with other home appliances by using the Control4 door station system.
Bas-IP intercoms can be quickly integrated into the control4 door station automation network. The unique driver enables door opening and camera feed viewing while integrating voice and video conversations into the Control4 touch panels. Through the Intercom Anywhere app, it is also possible to welcome guests and keep an eye on the admissions. Customers may receive calls via the Intercom and remotely operate the door on their Phones. Intercoms that accept the Control4 door station protocol provide fast and simple connection, requiring even less time for intercom installation.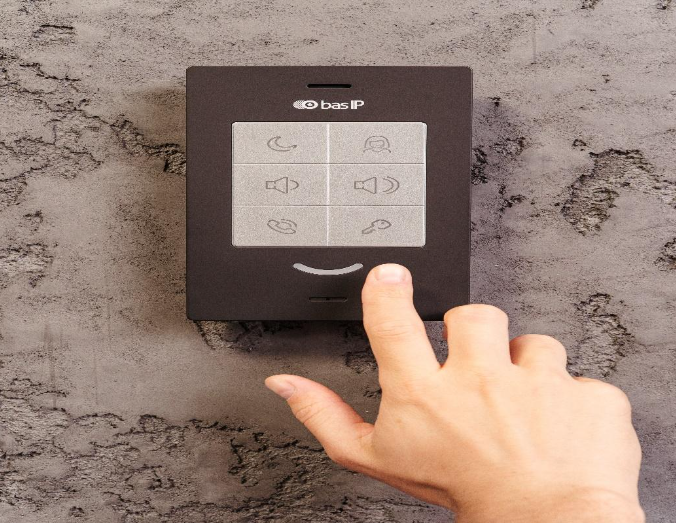 Modules of Bas-IP Intercoms
Users and installers may use all the functions supplied by Bas-IP intercoms in addition to the basic features of native integration. Features like picture2email and VMS integration may enhance home security. Extension modules for the Bas-IP intercoms, such as Bluetooth or a fingerprint reader, are simple to attach for easy access.
The best video doorbell
The intercom system from Control4 may be used as a video doorbell and provides crystal-clear audio and video. Unlike other video doorbell systems, the Control4 app allows you to open doors, deactivate alarms, and switch on lights. Custom app buttons, such as "Delivery," enable warnings to be disarmed, entry lights to be turned on, and doors to be unlocked immediately. One touch seals the home after you see that your delivery was brought inside securely.
Communicate At Home or On the Go
Intercom communication isn't restricted to a button adjacent to a wall speaker using Control4. You can also have two-way conversations through the Control4 software on touch panels, smartphones, and tablets. Press a button to quickly connect through video stream by dialing into any room.
The versatility of Intercom Anywhere from Control4 is unmatched. The children alone at home? Around dinnertime, check in on them to make sure everything is okay. Are you sitting by the pool with visitors? All from your phone, greet them over the Intercom and open the gate for them. Intercom anywhere makes it easy to keep in touch with everyone if you own many homes. The connection is immediate, so no one needs to answer the phone.
Making Personalized Doorbells
You may play doorbell sounds around the home using speakers and Control4-connected displays by using the intercom functions of Control4. Depending on where the rings were triggered, you may even customize them. For instance, the bell at the main door may ring differently than at the gate or side entry. Your intuition will tell you where to go depending on the sound you hear.
Bas-IP Intercom
To improve their usefulness, you may add access control or security features to Control4 DS2 door stations. Various Bas-IP modules are available, including video intercoms a BLE or fingerprint reader, a beautiful touch display, and a tamper switch.