The T-FORCE CARDEA Z540 M.2 PCIe 5.0 SSD has been released by Team Group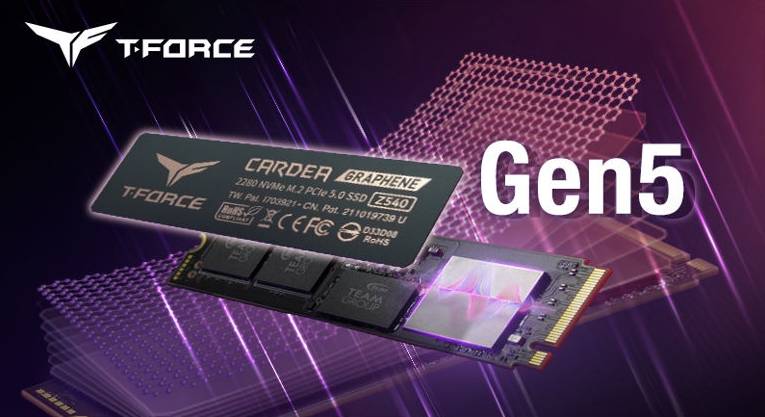 According to what was mentioned by the firm, the most recent version of the T-FORCE CARDEA Z540 M.2 PCIe 5.0 SSD manufactured by Team Group has been officially released. The Z540 PCIe 5.0 SSD is a solid-state drive that supports the NVMe 2.0 protocol and makes use of the most recent PCIe Gen 5 x 4 interface. It is also known as the Z540 PCIe 5.0 SSD. It is able to read data at speeds of up to 12,000 MB/s, while simultaneously being able to write data at speeds of up to 10,000 MB/s. The T-FORCE CARDEA Z540 M.2 PCIe 5.0 SSD was developed with the needs of gamers in mind. It has an ultra-thin graphene heatspreader that is intended to fast and evenly distribute heat in a horizontal direction.
This heatspreader is made from a material that is 100% recyclable, and it combines multiple technologies that have been granted patents. The graphene heatspreader that comes with the Z540 has a thickness of less than 1 millimetre and is compatible with a variety of PCIe 5.0 heatsinks for motherboards. Internal testing conducted by T-FORCE LAB has shown that employing a combination of the motherboard heatsink and graphene heatspreader can reduce the operating temperature of the Z540 SSD by 3-5 degrees Celsius, in comparison to when only the motherboard heatsinks are used.
In addition, the Z540 M.2 PCIe 5.0 SSD is compatible with the patented S.M.A.R.T. monitoring software developed by Team Group. This enables users to quickly monitor the SSD's performance as well as its overall health. Gamers won't have to worry about anything as they take use of Gen 5's high speeds because Team Group will stand behind its products with a warranty good for five years. The first batch of T-FORCE CARDEA Z540 M.2 PCIe 5.0 SSDs will have a capacity of 2 terabytes and will go on sale in the second quarter of 2023 with a suggested retail price of $499.99 USD worldwide. Keep an eye on the official sales channels run by Team Group for any additional information.