Top Restaurants Overlooking The Dubai Fountain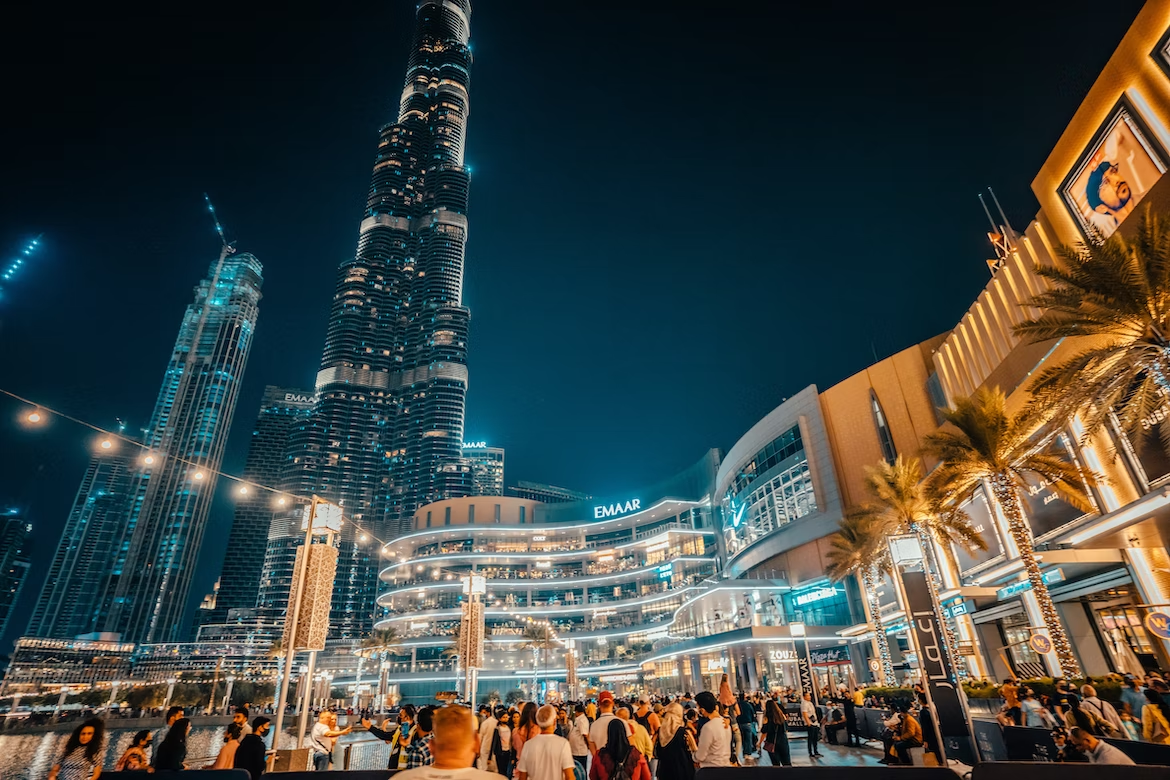 If you are in Dubai and looking for a place where you can not only enjoy delicious food, but also see magnificent views, then our selection of restaurants overlooking Dubai's most unusual fountains is just for you.
And to get to these restaurants with brilliance, use the car hiring service and rent Lamborghini. Firstly, with a rented car you will be more mobile – what if you don't like one restaurant and need to quickly get to another? Secondly, with a rented Lamborghini you will kill two birds with one stone – you will get to a chic dinner as well as an unforgettable driving experience. And of course, as a bonus, the cost of a rented supercar will pleasantly surprise you.
Now let's talk about restaurants.
AT.MOSPHERE
Of course, you have to start at the renowned At.mosphere restaurant, which is situated on the 122nd story of the Burj Khalifa, the highest structure in the whole world. At.mosphere is unquestionably one of the top restaurants in Dubai, providing excellent views of the Dubai Fountain from this breathtaking height. It skillfully mixes an upscale food, contemporary interior decor, relaxing music, and top-notch service.
BiCE MARE
BiCE Mare, located in the Souq Al Bahar complex, is one of the best and most popular restaurants in Dubai. This is an Italian gourmet restaurant, created with love for refined taste and elegant style. The varied menu offers modern gourmet Italian cuisine and seafood, while the wine list includes the finest wines from around the world, including Italy, France, Australia and America.
From the open spacious terrace, a breathtaking view of the legendary Burj Khalifa and its foot opens up.
THE MEAT CO.
One of the top locations for meat lovers is without a doubt The Meat Co. Even the most discerning gourmets will be impressed by their trademark steaks, and you'll be able to combine an unparalleled flavor with a water and light display that begins from this vantage point in full view.
Here, The Meat Co.'s finest steakhouse's distinctive aging process and eclectic ambiance are combined with the meticulous sourcing of the best steaks from around the globe.
ARMANI AMAL
The next restaurant that boasts a magnificent panorama is Armani Amal.
It is located in the Burj Khalifa skyscraper, and here the spirit of mysterious India awaits guests. The menu at Armani Amal Restaurant features fresh and innovative regional Indian cuisine, along with a delectable list of drinks and select teas. Exotic curries and other specialties are prepared at the table, showcasing time-honored traditional cooking methods and ingredients.
Enjoy an unforgettable oriental dining experience with stunning views of Downtown Dubai.
HUQQA
In the Dubai Mall, there is also a great place for a fun company with a hookah – this is the Turkish cuisine restaurant HuQQa, the terrace of which is considered the most desirable place to relax precisely because of the magnificent view of the signature water show. Hukka is more than just a restaurant. It's an oasis in The Dubai Mall, where weary shoppers can unwind with snacks and handcrafted shisha.
It blends perfectly with the impeccable aesthetics of the mall, offering its visitors an exquisite menu. Here you can taste spicy barbecue, tender steak, and even try gluten-free dishes. All this will give you a deep immersion in the enchanting atmosphere of such an amazing place.
ARMANI MEDITERRANEO
The Armani Mediterraneo is one of a prized group of restaurants that serves the best food while providing lavish heart views. This restaurant, which is a part of the renowned Armani Hotel, stands out for its airy environment, enormous picture windows, and first-rate service. Visitors may combine a delicious dinner with an exceptional view at the buffet, which features a fantastic range of popular Mediterranean foods.
ASADO
For those who are attracted by the cuisine of vibrant Argentina, which you can eat while watching the dance of water and light, then the Asado restaurant is exactly what you need. Conceived as a tribute to Argentinean cuisine, Asado captures the quirky and charming vibe of a South American country house. The highlight of the original entourage is "parilla", an open grill where traditional Latin American dishes are prepared. This restaurant is a favorite place to visit with the whole family or a group of friends, because its bright atmosphere and mesmerizing views of the fountain show will not leave anyone indifferent. There are both indoor and outdoor seating available, so everyone can choose a seat to their liking.
It really is such an institution that colorfully stands out from the background of others.