TunesKit AceMovi Video Editor How to Use and Review
It's not always easy to edit video, but it doesn't have to be that way. Using easy video editing tools, you may make a broad variety of aesthetically appealing videos that don't require much technical skill.
Even non-technical individuals may produce professional-looking films with the help of editing tools. New editing software is always being produced, making it difficult to find the best tool for your needs.
The TunesKit AceMovi Video Editor has a reputation for being a reliable source for video editing. Titles, transitions, effects, and filters are among the program's many useful features, which may make narrating a story much simpler. An integrated stock library makes it easy to edit movies and incorporate graphics, video and music.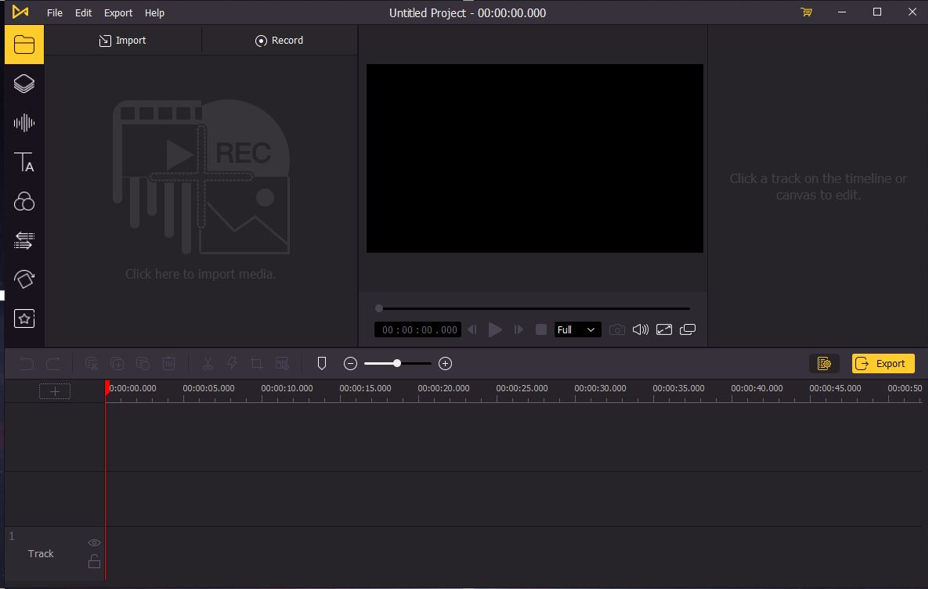 In this AceMovi Video Editor review, we'll go through the many screen recording options as well as video formats. I'm going to take a deeper look at the capabilities of this tool.
AceMovi Video Editor Review
You may use the AceMovi Video Editor to record your screen as well as make changes to it. Videos may be imported, edited, and recorded right from the screen using this software.. There is a preview window at the top of the screen, and a timeline at the bottom of the screen in the main view.
Those who have previously edited video will be familiar with this arrangement. Clips can be reordered in the timeline as needed. In the preview box, you can see the changes that have been made. Additionally, you may add audio to individual tracks, and you can also make additional changes to the timeline.
This strategy should be easy for you to pick up quickly. Using a video editor for the first time isn't a problem because the interface is so intuitive. A mouse and keyboard are all that's required to get started. Shortcut keys can help you work faster.
Features
To quickly generate and improve any movie, Tuneskit AceMovi is an advanced video editing tool that offers a large selection of video effects, filters, patterns, and more.
Because of platform support, it is possible to create high-quality videos on both Windows and Mac systems. Support for many devices and formats — The LG TV, PSP, and Xbox, as well as the Huawei and Galaxy lines of smartphones and tablets, as well as the Apple TV and iPhone, are all currently supported devices and formats, among others.
Basic features such as speed adjustment, rotation, division, and trimming are available while working with videos. It is also possible to drag and drop videos, export them, and share them with others. Other features include adding transitions and other effects, importing content, and recording your screen.
The ability to record webpages, programmers, PowerPoint presentations, and video conversations on your Windows or Mac device is a powerful feature. In this category include actions such as including sound and other media in your designs. You may also use filters and effects to enhance the appearance of your work.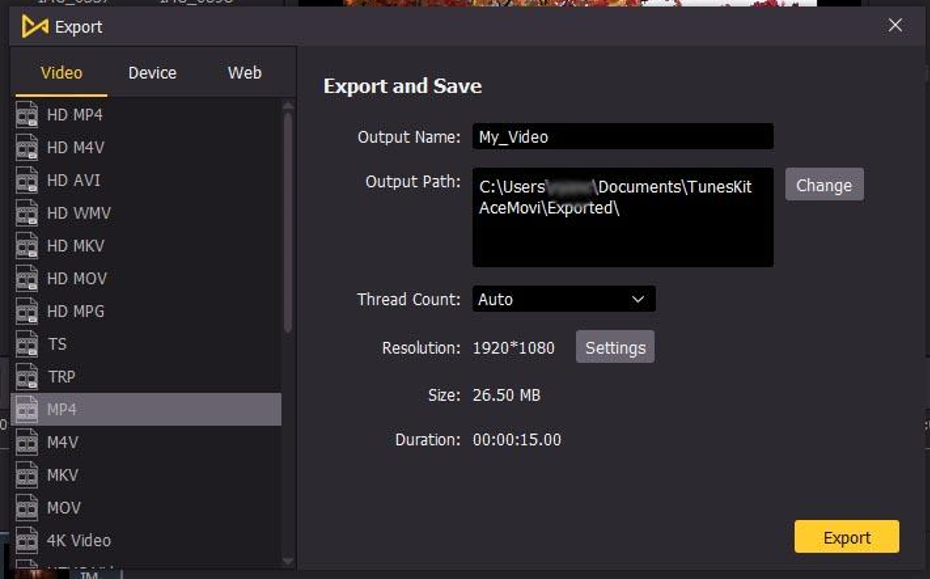 AceMovi Conversion and Formats
Create the final file if you are happy with your work. Files may be exported and saved on your computer at a particular location. As an example of output formats, you have the option to produce videos in MP4 format, MKV format, MPG format, and MOV format. 3GP, 3GP-2, and OVG are all formats that can be utilized. Many different settings may be found on individual gadgets like the iPad and Xbox. A certain system will be the focus of these videos. Publishing directly to social media sites like Facebook and YouTube is now an option as well. Additionally, your video will be tailored to the service in question. When it comes to publishing videos to social media, there is no guessing involved.
It's possible that you'd like to explore even more options. As it turns out, there are a plethora of formats and codecs. What if you want to encode just about any video? The VideoProc Editing Software is a sure bet if that's what you're after. It does not have as many transitions or other features like AceMovi. There are over 420 formats and codecs that may be exported from this program me. Unless you're willing to shell out thousands of dollars for something like Adobe Creative Suite, you won't find software as flexible as this.
Screen Recording and Other Extras
AceMovi's video editor may also be utilized as a screen recorder, as was previously indicated. Zoom calls and presentations may be recorded, and you can even use this to explore the web. Remember that this is not the best method for converting old videos or grabbing them off the internet. You'll lose a lot of quality if you record a video by playing it on your screen. A conventional video converter is the way to go. However, screen recording may be used for a wide range of other purposes. Think about inviting someone to be a guest on your channel. Recording and uploading a video of both sides of a discussion is simple.

As a last bonus, you'll gain access to a vast library of stock video and audio clips. There is no guarantee that any of this information will be useful to you. But the collection of knowledge and templates is always being enriched. At least it's a pleasant addition to a well-designed software package.
AceMovi Editing Capabilities
Once you've installed the AceMovi application, you may import your video. Using the "import" button at the top of the menu bar, you may do this. Alternatively, you may hit the record button to begin recording your monitor's actions. Whatever you record or import will show up in the Media Library on the left side of the screen. It's like a clipboard or a colur pallet here. In this section, your clips will be preserved, and you may drag them onto the timeline as needed. Alternatively, you may save a project and return to it at a later time. It's not necessary to view a lengthy video in its entirety all at once.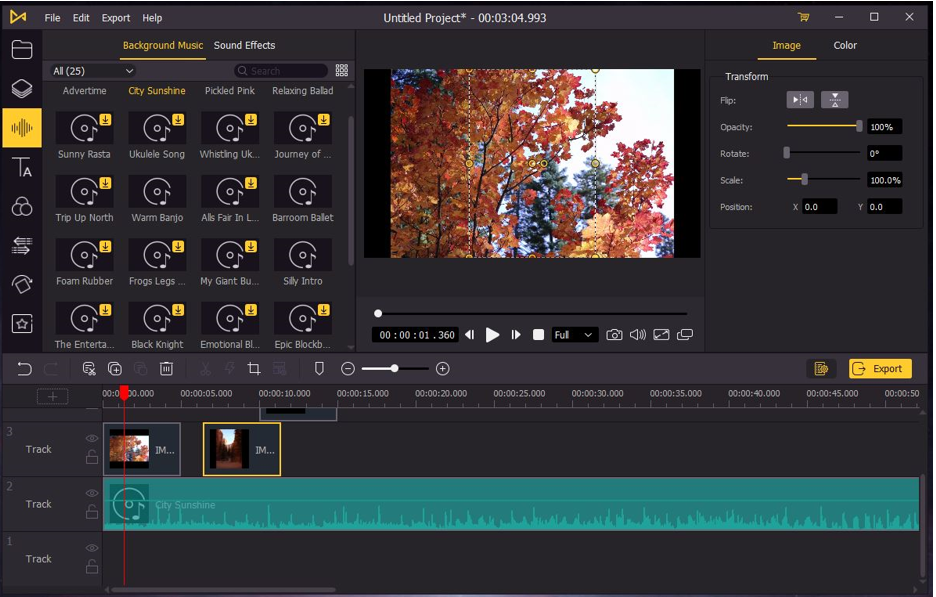 There is a little toolbar between the media library and the timeline on the right side of the screen. Controls such as zoom and divide are available here. You may also use a tool to alter the beginning or end of your movie. The Edit window, which may be reached by clicking the Settings button, offers more options. Aside from adjusting the video's position and volume, the edit box also allows you to fine-tune aspects such as color balance. It's at this point you may add more blue or red hues, make the image a little less harsh or apply other adjustments.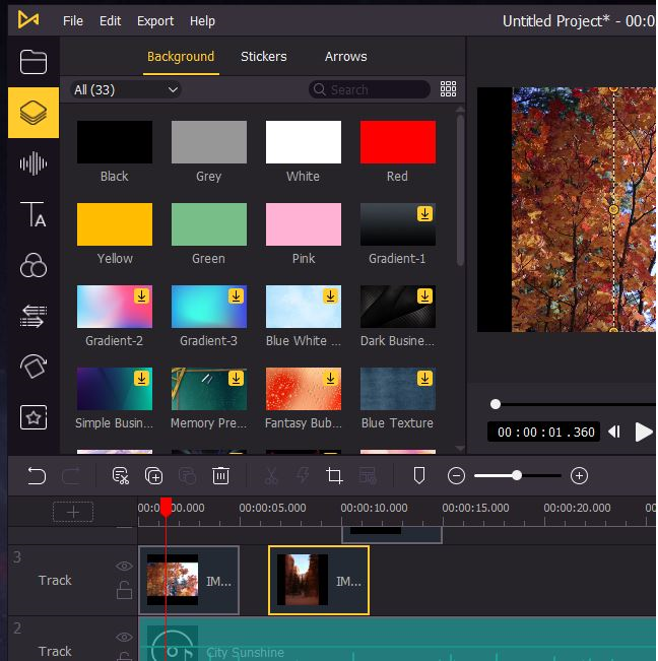 Clicking on additional symbols is when the real fun begins. The "Audio" option lets you begin searching for sound effects right away. A text overlay or one of the many effects akin to Instagram filters can be applied. There are a variety of stickers, arrows, and background images to choose from in the "Element" option.
You may also utilize animations and transitions in your videos. As a result of this, it is easier to move between the clips. There are a variety of ways to use animations, from a full-length film to a single clip. Last but not least, the "Regional" options allow for more creative effects like mosaics and the split-screen option is self-explanatory in nature.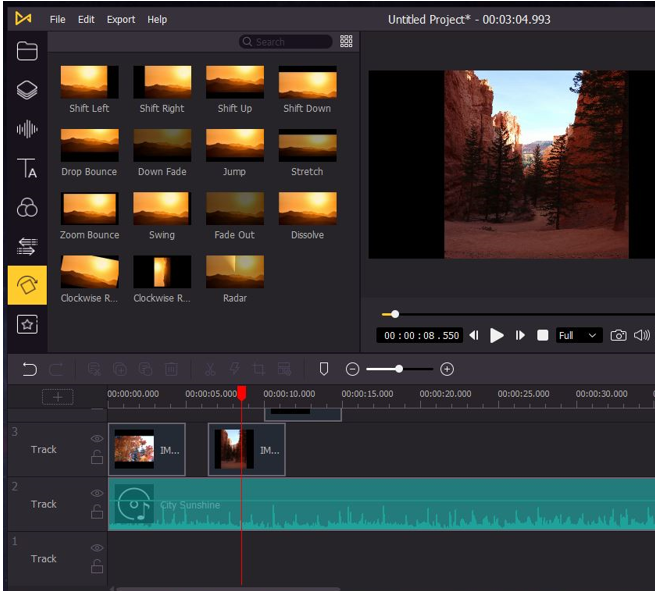 Final Words
The TunesKit AceMovi Video Editor is one of the best video editors on the market today. For starters, it is capable of playing virtually every video format, both major and minor. There is no restriction on the number of sources and outputs that you can employ because of this.