WD Blue Series Gets New SN580 DRAM-less Gen4 NVMe SSD from Western Digital

Today, Western Digital is introducing the SN580 NVMe SSD, the newest member of the WD Blue family of standard solid-state drives (SSDs). It is a DRAM-less PCIe 4.0 x4 drive, and it delivers performance enhancements over the device that is now leading the line, which is the SN570, which was announced in late 2021. The WD Blue product range features its first solid-state drive (SSD) to use the PCIe Gen4 interface. The WD Blue SN580 is a mainstream drive that was designed to meet the demands of consumer systems that require high levels of responsiveness and rapid application launches in multitasking environments.
In a gesture directed toward content makers, WD has also improved the firmware so that it facilitates the rapid loading of huge media files. Most crucially, the lack of DRAM coupled with a performance objective that is not overly ambitious for a Gen4 drive (up to 4150 MBps, which is on the lower end for a Gen4 drive) means that the WD Blue SN580's power efficiency makes it an excellent option for use in systems that are powered by batteries.
The SN570 was initially available in three storage capacities: 250GB, 500GB, and 1TB. Subsequently, a model with 2TB of space was added to the lineup. Today marks the launch of the SN580 series, which will be available in four capacities ranging from 250GB all the way up to 2TB. Each drive has only one side of the platter exposed, has a DWPD rating of 0.25, and comes with a warranty good for 5 years. The most significant performance enhancements when compared to the SN570 are an increase in sequential read / write rates from 3500 MBps to 4150 MBps and an increase in random write IOPS from 600K to 750K at the higher capacity points. Both of these increases may be found in the higher capacity points.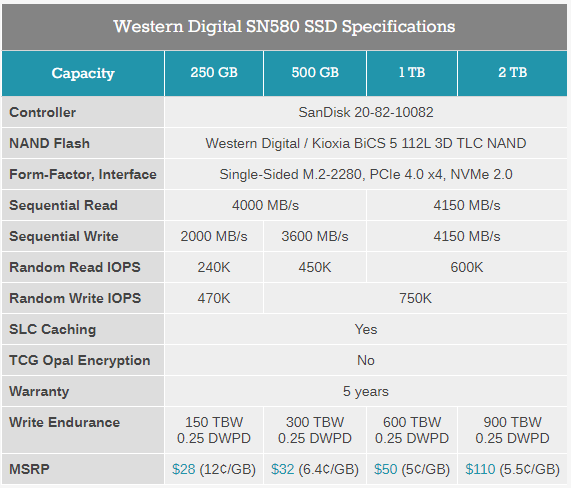 The primary reason for this change is the transition to a new Gen4 controller, as the SN580 still employs the same BiCS 5 112L 3D TLC that was used in the SN570. These drives will continue to use 3D TLC throughout their entire lifetime and will not transition to QLC (which is now reserved for the greater capacity WD Green NVMe SSDs). In reality, the combination of an in-house controller with NAND storage is not something brand new. Recent WD_BLACK SN770 solid-state drives (SSDs) have been found to use the same DRAM-less four channel controller, and these drives also use the same BiCS 5 3D TLC flash.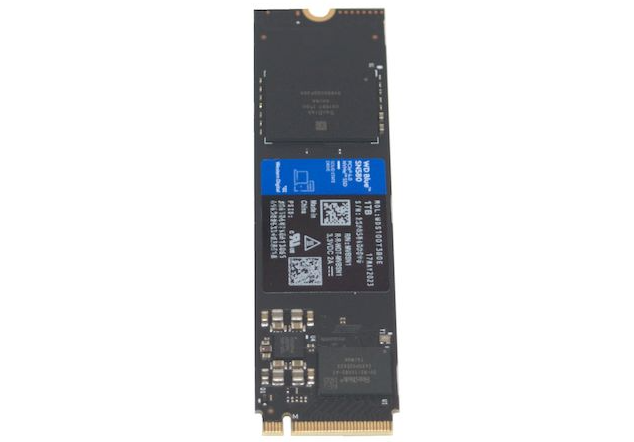 It seems that the primary distinction is that the firmware optimizations put more of an emphasis on typical consumer workloads and power consumption than they did on performance for gamers. WD claims that their hard drives have a sleep power of 3.3 milliwatts and an average active power of 65 milliwatts (when there is no traffic). Additionally, the business asserts that their SLC caching strategy, which they have termed nCache 4.0, provides much improved burst performance in comparison to the SN570 while spending less energy overall.