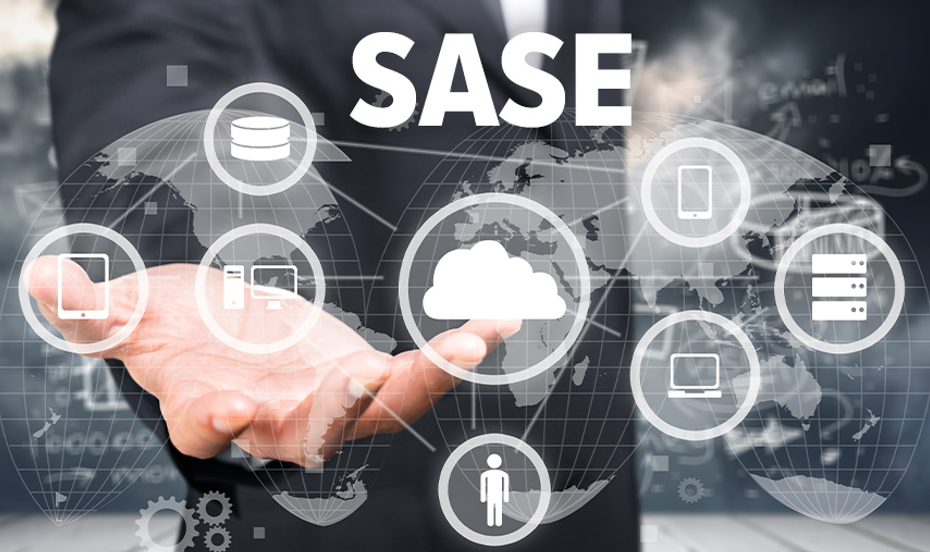 Secure Access Service Edge (SASE) is a security framework that envisions the transformation of security and network technologies into a single cloud-based platform to ensure service availability, user performance, productivity, and secure and fast cloud transformation. Since organizations are digitizing, it is now essential to consider how to manage optimized access to data and apps, both on-premise and in the cloud, as well as the global workforce's growing mobility.
IT and security workers are up against a tough challenge. They're in charge of maintaining consistent cybersecurity across all interactions including people, devices, applications, on-premises resources, the web, and IT infrastructure. SASE platform, which is formed by the combination of SD-WAN, Zero Trust Approach (ZTNA), Secure Internet Access, and Central Management features, is the last point of cyber security and network management processes to maximize efficiency in IT operations
In a 2020 global survey, 86 percent of early adopters of the SASE report increased security as the primary benefit of SASE. SASE services, on the other hand, enable consistent, comprehensive cloud security for each interaction, protecting users across a number of interrelated use cases. Read more to reach the top 4 SASE use cases:
1.   Rapid response to network demand
In reaction to network demand, organizations need to respond as quickly as possible. The 2020 pandemic has shown how quickly companies need to react to problems. Many IT businesses that relied on Poor VPNs had difficulties when thousands of people unfamiliar with remote working were suddenly asked to do so. With a focus on cloud-enabled digital workspaces organized by the SASE architecture, desktops and applications can be quickly uncovered and retrieved just as quickly. In addition, thanks to this feature, all kinds of problems and demands can be solved quickly.
2.   Controlled transition to cloud services
Many businesses in a variety of industries intend to move their data and apps to the cloud, but not all at the same time. IT can gradually migrate from on-premises to hybrid or multi-cloud systems using single interface management for SASE elements, without affecting workplace availability, application performance, or security. SASE offers data protection capabilities like data loss prevention (DLP) and cloud encryption, as well as threat protection against malware and malicious and reckless insiders.
3.   Supporting mobile devices
Internet of Things (IoT) devices and desktops, along with an increasingly mobile workforce,  have posed a challenge to IT in terms of keeping access secure and wireless performance consistent. As 5G becomes more widely available, IoT and automated wireless endpoint applications will become more common in branch offices, factories, utility centers, warehouses, and other sites. Remote workers can bring significant security risks, including theft, malware, and data loss. All of these necessitate the scalability and control that a unified SASE model can provide.
4.   Replacing VPN
SASE can also be a remedy for poor VPN performance. VPNs aren't trustworthy or secure enough to support cloud access from an ever-increasing number of remote devices, especially when users mix and match their cellphones, laptops, and PCs. Digital workspaces managed with Zero Trust can be used instead of troublesome VPNs with SASE. SASE can be a viable alternative when poor VPNs are causing problems.
Why SASE Is Necessary?
With traditional networking and security systems processing pre-existing connections between data centers and branches, organizations have moved to hybrid approaches. SASE will be used to process new connections, devices, users, and locations.
SASE is not a remedy for network and security issues and does not prevent future outages, but allows companies to respond more quickly to outages or crises, thereby minimizing their impact on the organization. Additionally, SASE will allow companies to be better positioned to take advantage of new technologies such as edge computing, 5G, and mobile artificial intelligence.
Conclusion
SASE provides ease of operation by automating the installation and management of the branch and central networks while being easily managed from a single interface. While providing scalable performance with its underlying cloud architecture, it allows saving equipment and human and financial resources with minimum hardware requirements depending on the installation architecture.
SASE offers a comprehensive and integrated approach to security. As the matrix of interactions between users, devices, SaaS applications, on-premises resources, infrastructure, and the web becomes increasingly complex, implementing SASE is the ideal way to most effectively solve a wide array of security challenges.