Add M.2 SSDs through PCIe Card for Hot Swapping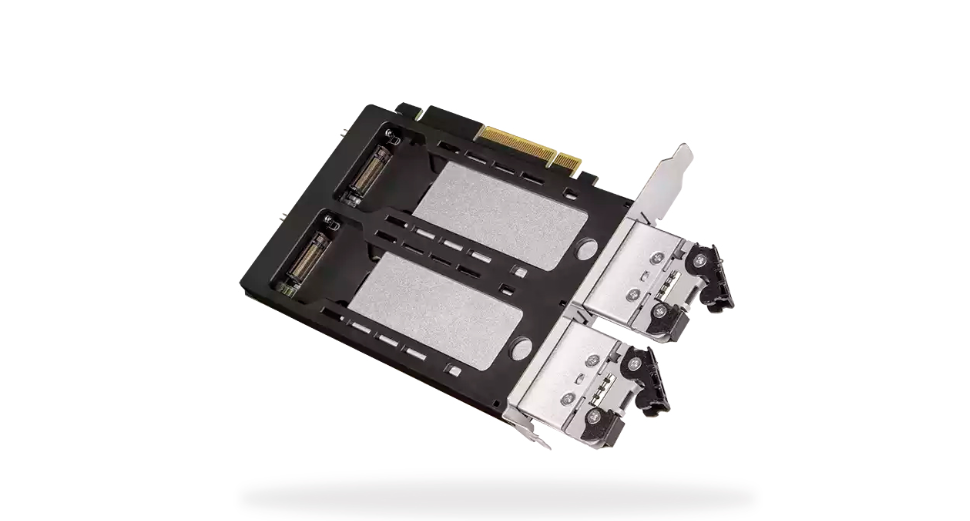 Icy Dock has introduced a new PCIe card called the ToughArmor MB842MP-B. This card comes with detachable bays that can hold two M.2 SSDs. Icy Dock originally introduced the MB840M2P-B three years ago, and now they have released the MB842MP-B as an improvement on it. Multiple M.2 slots come standard on many modern motherboards, and some even have three of them. When users require more M.2 slots than their motherboard is able to give, the ToughArmor MB842MP-B comes into play as a solution. An additional M.2 slot, or in this example two additional M.2 slots, can be added to an older computer even if it has an older motherboard.  This is a viable alternative for owners of legacy motherboards. It's interesting to note that after the card is installed, you may add or remove solid-state drives (SSDs) without having to open the chassis of your computer.
Housing for additional solid-state drives (SSDs) is offered by other solutions available on the market, such as ASRock's Blazing Quad M.2 Card and the PCIe riser cards that come packaged with premium motherboards. The tool-free design of the ToughArmor MB842MP-B, on the other hand, allows users to install or replace SSDs without having to open the computer case. This is one of the selling aspects of the product. The solid-state drive is placed inside of a compact aluminum shell, which Icy Dock refers to as an M.2 locker. Taking off the cover, sliding the drive into place, and then replacing the cover are the steps that make up the installation process. SSDs with the M.2 2230, 2242, 2260, 2280, and 22110 file formats can be stored in the M.2 locker.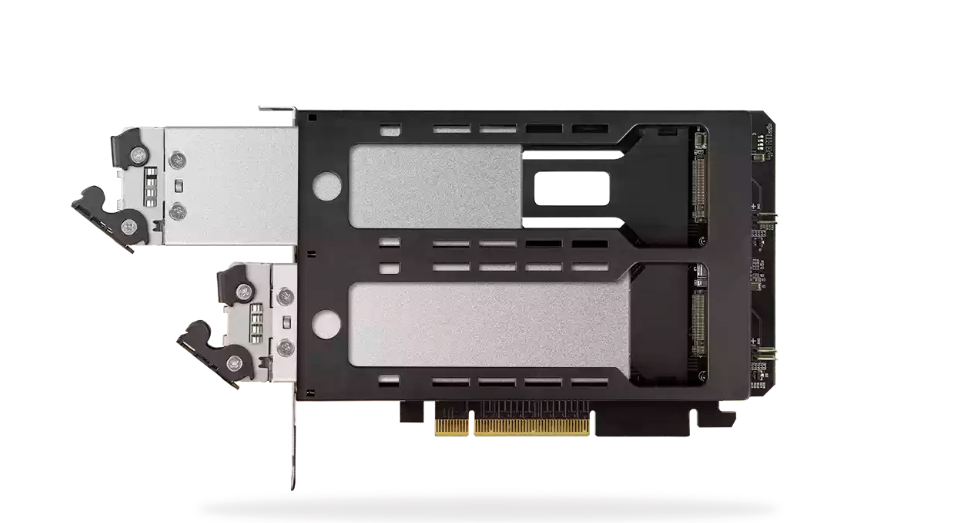 However, the maximum width that is permitted is 3.8 millimeters. The M.2 locker itself is an enormous heatsink, and the thermal pad that is included assists with the process of removing excess heat. LED indicators are included with the ToughArmor MB842MP-B and show the activity of the drive. Icy Dock also offers a 2-pin HDD activity cable as a paid add-on that may be used to connect the ToughArmor MB842MP-B to the motherboard or front panel of your computer. Hot swapping is possible with M.2 solid-state drives, but only if the motherboard and the firmware support it. On popular motherboards, the feature does not appear very frequently. Before replacing or installing SSDs into the ToughArmor MB842MP-B, Icy Dock recommends that owners power down their systems unless their computer already has that capability built in.
The ToughArmor MB842MP-B is compatible with expansion slots that run at either x8 or x16 speeds for PCI Express 3.0 and PCI Express 4.0. In order for the ToughArmor MB842MP-B to function properly, the sole need is that your motherboard must be able to support PCIe bifurcation. PCIe bifurcation refers to the process of dividing the expansion slot into many interfaces of a smaller size. For instance, an x8 expansion slot can be split into x4/x4 configurations, while an x16 expansion slot can be partitioned into x4/x4/x4/x4 arrangements. The majority of today's motherboards come equipped with a PCI Express (PCIe) bifurcation slot. Icy Dock, on the other hand, provides a handy list that you can check in the event that you are unsure whether or not yours has it.