5 Best CRM Software For Small Business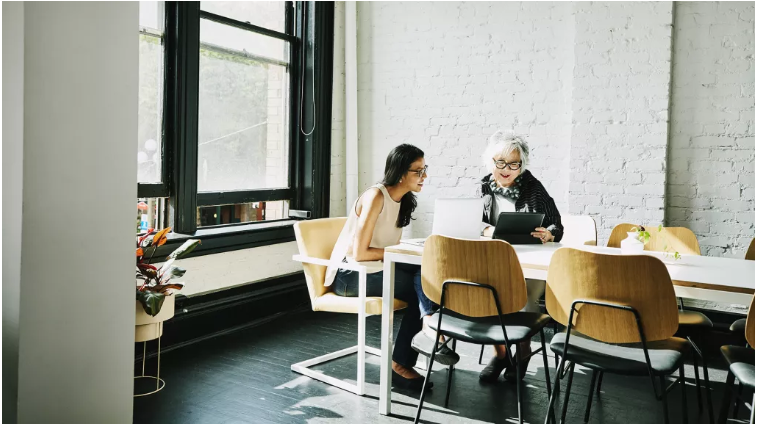 Everyone has the goal of expanding their current small company. Nevertheless, investing in the appropriate areas is necessary in order to improve your bottom line, scale operations, and increase the number of consumers you have.
That is why customer relationship management (CRM) is so essential for small firms. When you have an all-in-one customer relationship management (CRM) system, you have visibility of the client from every viewpoint, which enables you to concentrate your efforts in the most efficient manner possible. When it comes to selecting the finest CRM for a small business, the key is to zero in on a platform that is straightforward, has a short learning curve, lacks features that are superfluous, and has the capability to grow along with your company.
The most effective customer relationship management systems for your small company will show you where to focus your efforts in terms of organising and standardising all of your business procedures in order to make them more efficient.
Why your small business needs CRM
Platforms for managing relationships with customers come in a wide variety of flavours. In the past, CRM software was targeted at enterprise-level companies. However, it is not the case any more.
It is now possible for companies of a smaller size to install a CRM platform without straining either their minds or their finances. The implementation of a CRM system has the potential to raise sales by a double-digit percentage point, so this is really encouraging news.
The capability of streamlining workflow inside a single software makes the work that has to be done on a daily basis easier, which frees up resources for expansion. CRM offers a well-defined set of procedures that may help businesses complete more activities on time, close more transactions, and limit the number of misunderstandings that occur.
Lead management and sales funnel features help you build a better sales process. Streamlining your process is made possible when you build a sales funnel. Tools for opportunity management assist determine the likelihood of future sales, while tools for customer support improve the overall experience of a company's clients, enabling that business to better comprehend its audience and cut customer attrition rates.
Benefits of Using CRM Software
Organize your contacts
Contact management allows you to concentrate information on all of your business relationships, including with customers, suppliers, and others. CRMs provide you the ability to aggregate contact information from a variety of different sources, including social media, emails, LinkedIn, business cards, and more.
Find out who your customers are
Utilize information obtained from customers to do customer segmentation, determine customer profiles, discover where customers reside, and determine which demography has the most lucrative business options. Plus, customise your consumer experience.
Generate reports
You may monitor information, discover issues, display behavioural trends, and find out how your entire return on investment is truly performing with the help of marketing, campaign, sales, and customer reporting. You'll be able to monitor all of the information that's coming in, discover issues, and optimise your sales processes with the help of a sales CRM that can provide reports on sales activity and sales trends.
Save time
By reducing the amount of hours spent each week on annoying administrative duties like manual data entry, CRM frees up more time for you to focus on cultivating relationships with customers and improving the efficiency of your business.
Make more money
You will be able to raise your sales and improve your bottom line if you can effectively manage your sales staff, keep careful tabs on all of your sales operations, and find ways to decrease customer attrition while simultaneously improving customer service. It can't be denied.
5 best small business CRM 2022
These days, there is a vast selection of SaaS CRM choices that are available to small organisations and provide them actual value. Here is a rundown of the most popular customer relationship management systems for small companies, to get you started.
Copper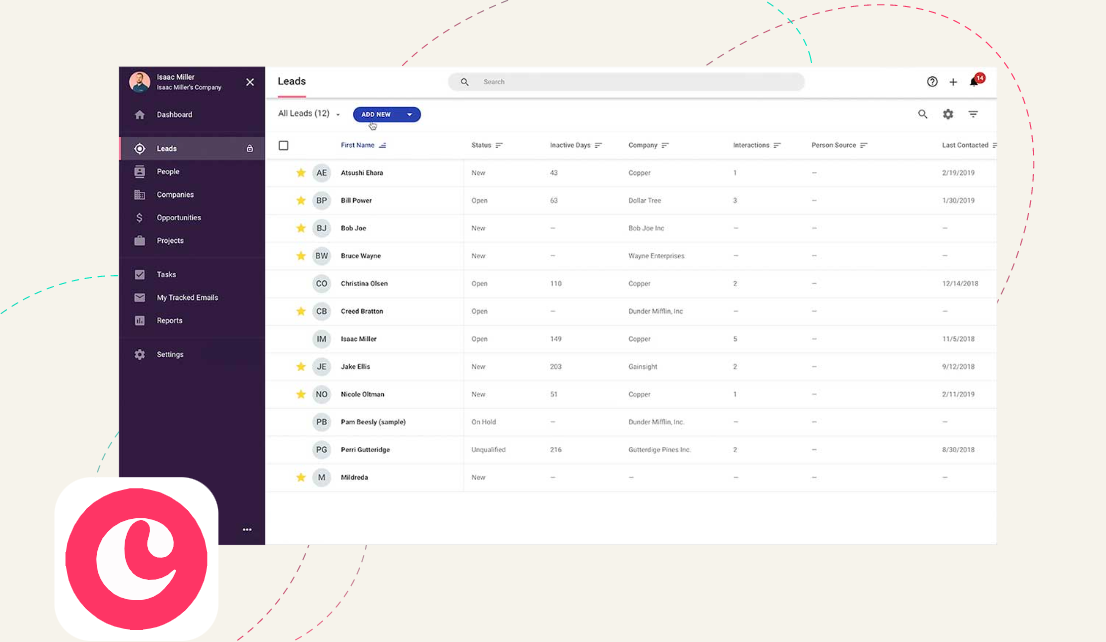 Benefits
Copper's integration with G Suite is a huge plus if you rely heavily on email and utilise it throughout the day. The installation of the system takes around five minutes. You may anticipate having access to capabilities such as automatic data input, intelligent identification, lead and customer tracking, as well as optimization of sales contact and opportunity management once it is up and running.
The customer relationship management system provides a visually appealing sales pipeline that may be used to manage leads through the qualifying process. The ability to easily access contacts via email, phone, and text messages, as well as the capability to record notes in-app using accurate voice transcription, all contribute to an improvement in the quality of communications.
You are able to better the administration of teams and processes by using drag-and-drop capability, custom filters, and warnings when deals may be becoming stale. Weekly pipeline advancement reports are also helpful in this regard.
Drawbacks
Copper is promoted as being highly user-friendly, and it really is, but there is a bit of a learning curve associated with working with copper. You should be aware that in order to truly apply it inside your company, you will need to schedule some time aside.
There may be challenges with importing data from Excel at times, which means that you will be needed to input that information into Copper manually. Additionally, at this time, you are unable to attach files to emails that are sent from inside Copper. Instead, you will need to go over to Gmail in order to send your message.
Pricing
The basic plan costs $19 per user per month and is paid for on a yearly basis.
The cost of the Professional plan is $49 per user per month and is payable yearly.
The price of the Business plan is $119 USD per user, per month, and is paid yearly in advance.
Less Annoying CRM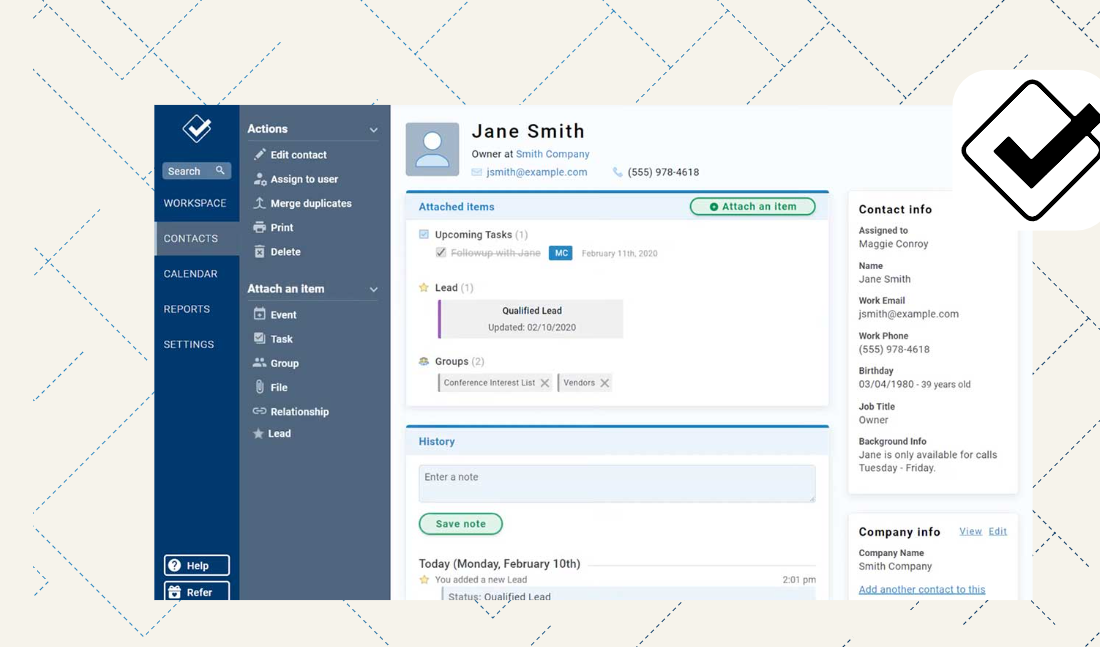 Benefits
Much Less Frustrating CRM, also known as LACRM, was developed with the needs of small enterprises in mind. Task management, contact management, lead monitoring, and ensuring that follow-ups are sent out are some of the services that are included in the all-inclusive package that this company provides.
When it comes to managing all of your customers and other contacts, following your leads through pipelines, and keeping on top of events and tasks, the streamlined and agile toolbox that LACRM provides has got you covered in every way possible (in easy-to-use calendar and agenda forms).
LACRM allows users to track emails sent and received outside of a CRM platform by supplying each user with a unique email logging address. These emails may be documented within LACRM (for which you create a contact with whatever email provider you use).
Drawbacks
There are no connectors with other apps, which, depending on your requirements, may be a key constraint to consider. Notifications may be sent out by text message or email, but not inside the app itself.
Pricing
$15 per user/per month, billed monthly.
Freshsales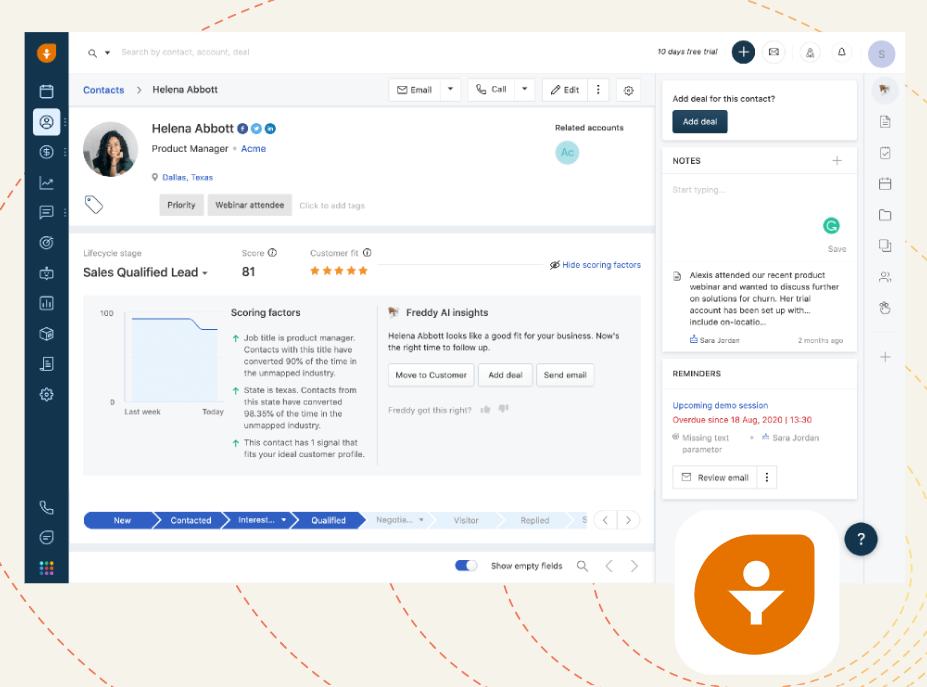 Benefits
Freshsales is an end-to-end solution for sales force automation that is designed for use by sales teams. It gives a salesperson everything they need to do their job effectively, including attracting quality leads, engaging in contextual discussions, driving transactions using AI-powered insights, and nurturing client relationships.
Freshsales enables sales teams to spend more time selling by automating the sales process, which also boosts the teams' efficiency and productivity in their day-to-day operations. Freshsales' built-in email, phone, chat, and telephony features are all included. Salespeople may obtain insights about the best offers to go after, what actions to take, and income predictions with the help of Freddy AI. With Freshsales, businesses have the opportunity to take the next step ahead toward more effective pipeline management. Additionally, having the option to utilise native CPQ makes it simple and convenient to generate and share quotations and other important sales materials.
Drawbacks
As is the case with many other providers, the premium packages have access to some of the most desirable services. Time-based processes, certain chatbot capabilities, and extensive metric reporting are some of the features that are included in Freshworks CRM. However, taking everything into consideration, the free and basic plans are both good places to begin, and you always have the option to upgrade.
Pricing
There is a plan that is free forever for startups.
The growth plan charges $15 per user every month, which is invoiced yearly.
The cost of the Pro plan is $39 USD per user, per month when paid yearly.
The cost of the Enterprise plan is $69 USD per user, per month, when paid yearly.
Salesmate.io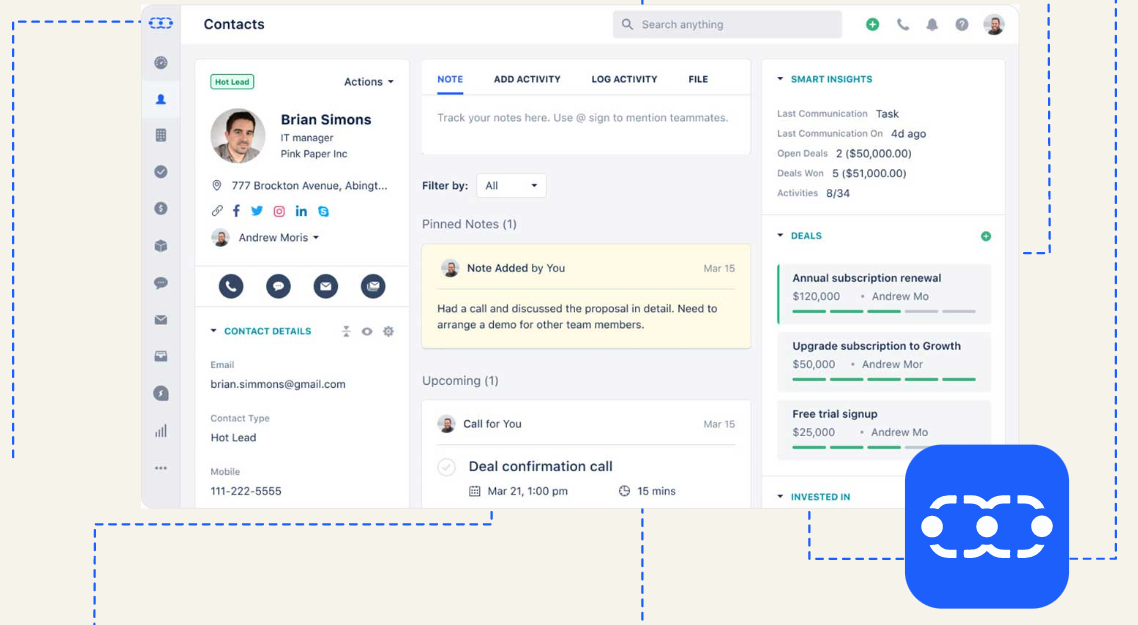 Benefits
Salesmate is a customer relationship management (CRM) solution that helps salespeople spend more time selling and less time learning how to utilise new applications. It works particularly well for newly established companies and smaller companies, but it is equally applicable to the real estate and construction sectors.
This platform is always working to improve itself. It has significantly improved its analytics and reporting capabilities, including introducing a dashboard that is more modifiable and interactive. Salesmate has also improved its mobile app and introduced additional features, including tools for phone calling and transaction management. Integrations with live chat and DocuSign are two of the next services that will be available.
Drawbacks
When it comes to attempting to construct custom data fields, you may find that some aspects of the customisation tools are a little missing. In addition, in order to use important capabilities like email analytics, you will need the more expensive version.
Pricing
The basic edition costs $12 USD per user, each month, and is invoiced yearly.
The Growth edition costs $24 per user each month and is invoiced on a yearly basis.
A yearly subscription to the Boost edition costs $40 per user per month.
Keap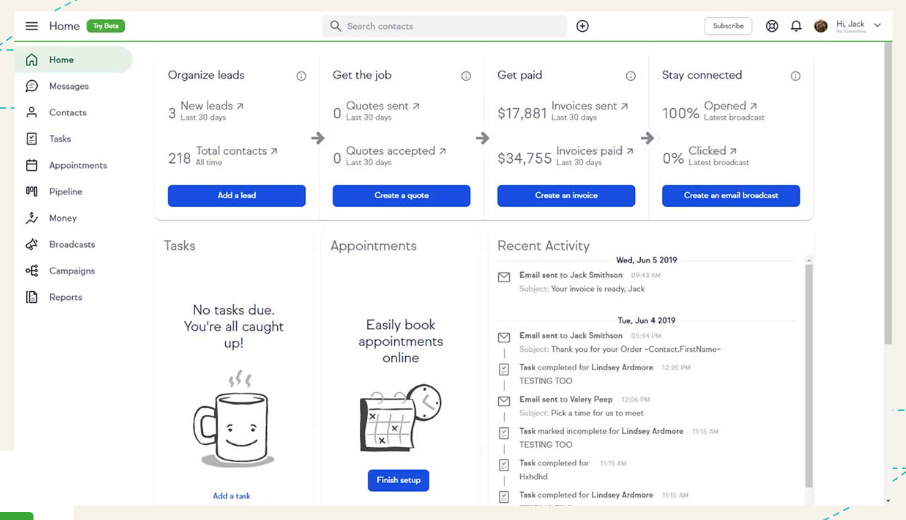 Benefits
Keap is a sales and marketing automation software that also includes a customer relationship management component. It is especially geared toward helping home-run businesses, self-employed individuals, and even small businesses and e-commerce operations run more efficiently by integrating tools to follow up with leads and customers, making payments easier, scheduling appointments, and creating landing pages.
It all starts with compiling a solid leads database and maintaining its order from the start. Collecting contact information may be accomplished by the importation of contact lists from many other CRMs, the scanning of business cards, the conversion of cluttered spreadsheets, straightforward manual input, or the configuration of a specialised form on your website. You also have the option of adding your own personalised fields to the contact information.
After doing the work and being compensated for it, "staying connected" is the last step for Keap, before the process begins again. This is their dedication to turning leads into delighted customers who will not only return but also spread the love by referring their friends and family to the company.
Drawbacks
Due to the large number of features, Keap may, at first glance, seem to be intimidating (and you may not end up using a lot of them). There are few possibilities for integration. People who are working with a limited amount of money may find the price point to be prohibitive.
Pricing
Keap Pro starts at $129 per month, billed annually.
Keap Max starts at $199 per month, billed annually.
Picking the right CRM for your small business
It is likely that doing some comparison shopping will be required in order to get the best answer. But it doesn't matter whatever tool you begin with; you're going to learn a lot about what this sort of software does and what it can do for your day-to-day professional life either way.
Furthermore, as the old proverb goes, knowledge is power!
The use of customer relationship management (CRM) software may provide your startup or small company with a number of genuine benefits, including the ability to pinpoint problem areas and expand the reach of your target audience.
They are an invaluable resource for taming the untamed beast that is the sales process, which may be described as follows: Your company will be more competitive as a result of your use of social media marketing and marketing automation, and you will be better able to remain on top of trends.
My good buddy, the list could go on and on.
We are willing to bet that after you have seen the return on the effort (and money) spent, you will want to continue down the path of harmonising and humanising your job with an all-in-one solution for great customer interactions.
FAQ's
What is best CRM for a small business?
HubSpot. When it comes to customer relationship management (CRM), HubSpot is without a doubt the greatest option for small firms who are just starting started and are searching for an affordable solution. It is an excellent piece of customer database software that can be used to manage new leads. HubSpot is a customer relationship management system (CRM) that is simple to use and provides a broad variety of capabilities to manage the customer journey.
What is the easiest CRM to use?
Best easy-to-use CRM. If you need easy-to-use sales CRM software, the popular Pipedrive is a smart choice. While the platform offers plenty of flexibility, its singular goal is to help salespeople sell. You won't find other apps such as marketing or service features to distract you.
Is Zoho good for small business?
Zoho is one of the best options for customer relationship management software in the market. The lower tiers of the pricing plans are ideal for small to medium-sized businesses, and the upper tiers such as Ultimate work well for larger companies that have more needs and a bigger budget