Best iOS System Recovery Software -TunesKit iOS System Recovery
Are you seeking for an iOS bug repair that you can rely on?
If this is the case, you have come to the right location because we are going to conduct a review of one of the most effective and widely used pieces of best iOS System Recovery software available; it is called TunesKit iOS System Recovery, and it is capable of resolving problems associated with iOS devices directly from your personal computer.
TunesKit iOS System Recovery gives you the ability to quickly resolve any iOS problem without having to get in touch with Apple's technical support. If you are interested in learning more about this iOS repair app, then you should continue reading.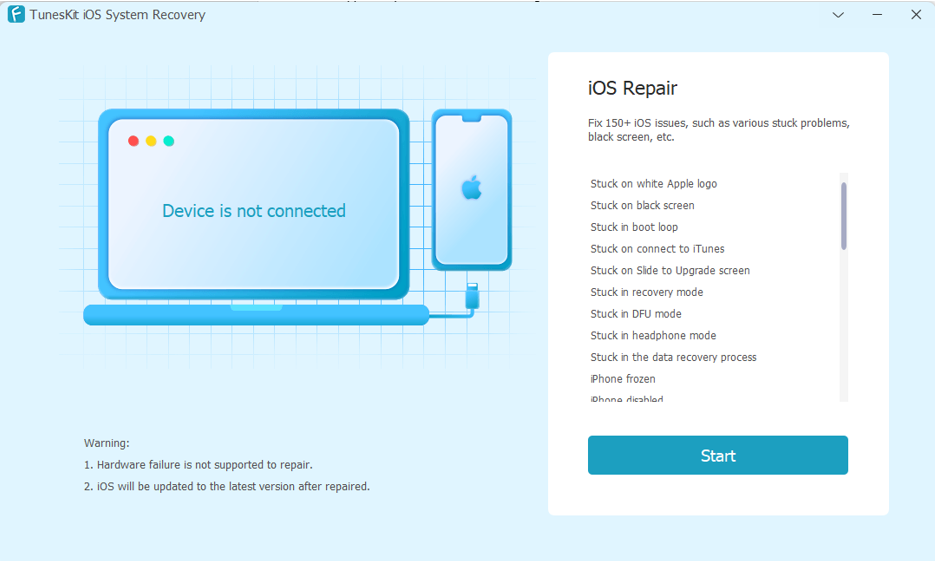 What Is TunesKit iOS System Recovery?
Has your phone been unresponsive?
Do not panic.
The problem that you're having probably isn't as significant as it looks to be at first glance most of the time. For this, all you need is a reliable system recovery program to get the job done. TunesKit iOS System recovery is one example of this type of program.
This tool can assist you if you are experiencing issues such as a black or disabled screen, being unable to move past the Apple logo screen, or being in the midst of an upgrade to your operating system. You can keep using the smartphone as if nothing has happened, despite the fact that it can fix many iOS issues in a matter of seconds with just a few clicks of the mouse.
Therefore, how efficient is it?
Let's look into it, shall we?
Features
This iOS system recovery solution, the business claims, is capable of addressing more than 150 of the most prevalent issues. Now that we have everything out of the way, let's have a look at the most notable benefits that this iOS restore kit offers:
No Data Loss
I am aware of your most dreaded concern.
Data loss.
When utilizing TunesKit iOS System Recovery, fortunately, you won't need to be concerned about anything of the kind. It has been carefully developed to guarantee that in the vast majority of circumstances, nothing will happen to your data.
In the extremely unlikely event that the system suffers a catastrophic failure, then and only then will it be necessary to delete the data in order to correct the issue. But there will be more on that in the following part.
Resolutions in Two Modes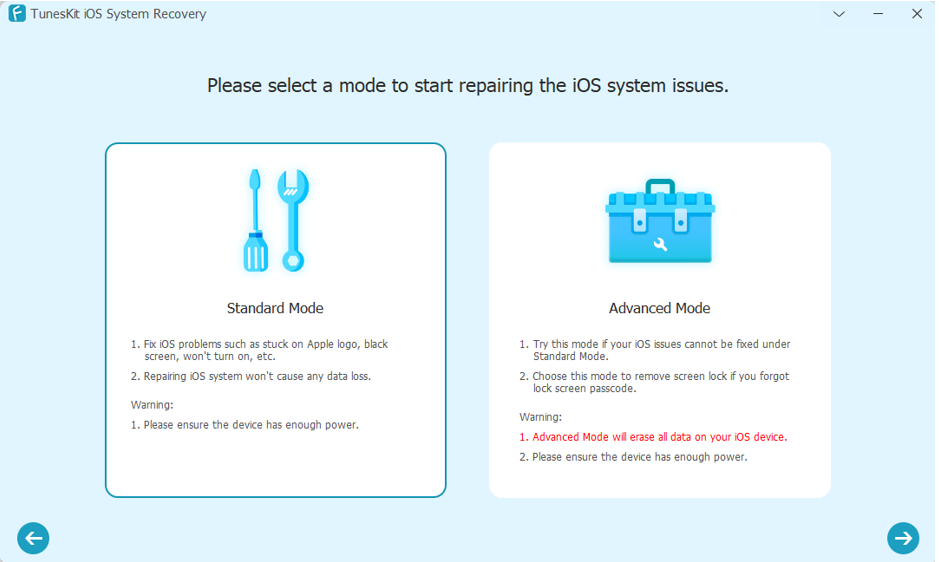 Fixing problems with your iPad, iPhone, and other Apple products is possible using TunesKit iOS System Recovery. It is able to resolve issues with iOS that are both basic and sophisticated.
It can function in one of two ways:
The majority of small problems can be resolved using standard mode.
The most difficult problems can be solved by using the advanced mode.
TunesKit iOS System Recovery will never destroy your data if you use it in the default mode and operate it normally. In the event that this does not prove to be helpful, you have the option of switching to the more efficient advanced mode. On the other hand, it deletes everything that was previously stored on the device.
Bypass iTunes Errors
The app known as TunesKit iOS System Recovery may fix more than only system-related problems. It may also be of assistance with iTunes. And we are all aware of the ways in which that one might go wrong.
When attempting to use the backup or restore functions of iTunes, connected devices become unresponsive or frozen. Therefore, having this feature available is really useful.
Fix AppleTV
You'll be relieved to know that TunesKit iOS System Recovery is able to resolve issues with AppleTV in the same way that it does with all other devices.
TunesKit iOS System Recovery is able to handle the following:
Display just in black and white
problems with the recovery mode
Failed updates, as well as other issues.
Full Support for all iOS Versions
Even though they are meant to, third-party tools frequently do not function properly on iOS devices, even though they are designed to do so. This is due to the fact that they do not support prior versions, and occasionally even the most recent ones.
There is no need for concern on your part if you choose to make use of TunesKit iOS System Recovery for your iPhone. It is compatible with the most recent iOS version as well as all previous ones.
Ease of Use and Interface
Using TunesKit iOS System Recovery for Windows or TunesKit iOS System Recovery for Mac, finishing any task is as simple as it gets. Neither platform adds any complexity to the process. Using a tool such as this one actually allows you to avoid taking your gadget to a specialist, which is the primary benefit of doing so.
When you launch the application, you will be presented with a comprehensive list of issues that TunesKit iOS System Recovery can assist you in fixing. After making your selection, all that's left to do is click the Start button. After that, you will be given the option to select between the Standard or Advanced mode. After that, the app will do everything else for you.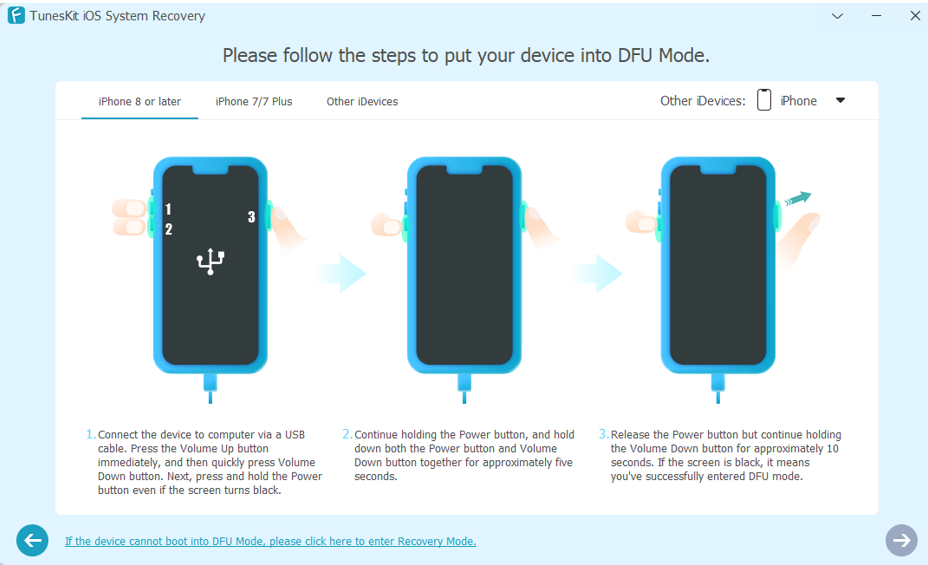 It's possible that the procedure will take a little bit longer to finish depending on the issue that you're dealing with. However, you should be prepared for this while working with a system recovery program.
It is essential to point out that the instructions provided by TunesKit state that users should not close the recovery window or disconnect the device until the process has been finished.
Support
Naturally, in order to provide an accurate evaluation of TunesKit iOS System Recovery, I was required to put the customer service through its paces.
Because of the way in which the process of system recovery is structured, there is a good likelihood that you will be required to contact TunesKit customer support at some stage.
You can only do so by sending an email to the provided address, which can be found on the website of the company. I didn't have to wait more than three hours to get a reply.
Because there isn't a live chat feature, I'm afraid you won't be able to obtain an immediate response to your questions.
Pricing
The cost of the TunesKit iOS System Recovery is something else about which you might be interested in acquiring additional information.
You are welcome to download the program's free trial version at any time prior to making a purchase of one of the bundles that TunesKit has available for purchase. It does not have all of the features that the full version of the program provides, but it is adequate for evaluating the application to determine whether or not it can assist you with the problem that you are having.
This item is available to purchase from the firm in a number of different price tiers. Both the Windows and Mac versions of iOS System Recovery are exactly the same.
Let's look into these, shall we:

You can expand the number of iDevices that are covered by your plan by purchasing the Lifetime License if you have more iDevices than are covered by your current plan. Remember that the price will go up as well, so bear that in mind.
In the event that you are dissatisfied with the application, you have the option to have your money refunded, and no questions will be asked. The money-back guarantee is valid for a period of five days for monthly and yearly deals, but it is valid for a period of thirty days for the lifetime contract.
Verdict
TunesKit iOS System Recovery, in fact, provide a solution to the vast majority of the issues that have been identified. It can handle a wide range of issues for you, from screens that have frozen to gadgets that are completely unresponsive.
In addition to this, utilizing the tool is a breeze. Installing the application is required, but after that, restoring your iOS device may be accomplished with just a few taps of the mouse.
And the most exciting thing is…
Dealing with a technician is going to cost you more money.
Why not make use of the risk-free trial offer? In this way, you will be able to judge for yourself how useful this instrument truly is.