Top 10 Best Nintendo Switch Controllers for Gamers
This article is to guide you about some of the best Nintendo Switch controllers, whether you play with the console docked or in handheld mode.
Nintendo Switch can play in handheld mode, and Mario, Zelda, and Kirby are some of the iconic characters that its extensive library features. These good reasons make the Nintendo Switch one of the best-selling games consoles of all time.
Like everything in this world has some weak points, so does the Nintendo Switch. The controllers included with the console are Nintendo Switch's only weakness. Though the ingeniously designed Joy-Con controllers work well for casual play, you'd likely want something more advanced if you're looking to take your Switch gaming to the next level.
As both officially licensed Nintendo Switch controllers and third-party options are available in the market, it can get tricky to buy the best one. To make it easy for you, we've listed the best Nintendo Switch controllers available in the market. These listed Nintendo Switch controllers range from retro-inspired gamepads promised to induce 16-bit nostalgia to custom-built options complete with additional triggers and mappable buttons.
Before you go to explore the list of Nintendo Switch controllers below, you should also consider the following key points when shopping for a Nintendo Switch controller.
How to decide which is the best Nintendo Switch controller for you?
First, you need to think about the mode you prefer to do most of your gaming in. Let's say if you mostly use your Switch portably, then buying a pricey wireless controller would be like spending your money lavishly. In this case, it'll be better for you to invest in the pads that can be attached to the console, in place of your Joy-Cons.
Likewise, if it's a Nintendo Switch Lite (which can't be docked) that you own, it'd be unnecessary to spend on a fancy controller. You may need it if you want to use a stand to prop the console up on your desk, but, otherwise, you don't.
To experience HD Rumble and motion controls, while playing the Switch Lite, you can only use an external controller. If you like these features, it'll be worth buying a controller that supports them.
Wireless or wired Nintendo Switch controller: Which one should I buy?
After deciding that a controller is better suited to your playing habits instead of a Joy-Con alternative, whether to buy a wired or wireless pad is your next decision to make.
There are a couple of benefits that the wired controllers have over their wireless counterparts. First is, they are a lot cheaper. The second one is, they don't have to be recharged. It means you're not going to run out of battery in the middle of your crucial times. 
It's ensured that you don't have to sit too close to your television, as most wired Nintendo Switch controllers come with 3m cables that you connect to your Switch. But, if you need true freedom, a wireless controller would be a worthwhile purchase.
It is easy to pair the wireless controllers with your Switch. Moreover, they have the feature of enjoying Switch gaming while docked. There's no restriction to sit a definite distance away from your TV, as the wireless controllers remove all cable clutter things.
But there's one thing: the wireless controllers require charging. So, make sure that you check the battery life of the wireless controller that you're going to buy. Though it depends on the features being used and the games you're playing, the most appropriate figures for its battery life are between 20 and 40 hours of playtime. 
Now, before we jump to the list of the best Nintendo Switch controller, there are some other features that you need to know and consider while shopping for a Nintendo Switch controller. These are discussed below.
  3. Size
Nintendo Switch controllers are available in a variety of sizes and shapes. A bulky pad would be hard to grip properly if you have small hands, and you may find it difficult to access some of its buttons comfortably. On the other hand, people with large hands wouldn't find the compact pads comfortable.
  4. Rumble functionality
The use of HD Rumble is what makes the official Switch Joy-Con and Pro controllers great. To enhance the fabulous experience while playing games that support HD Rumble, haptic feedback vibrations are delivered by those controllers. Though certain games could implement it a lot better than others, it's hard to go without HD Rumble once you've got attached to it.
Though many Switch controllers offer standard rumble functionality, there aren't currently any third part Switch Controllers available that could support HD Rumble.
   5. Near-field Communication (NFC)
Switch controllers use NFC to interact with amiibos which are small figurines that make for great desk ornaments and also grant in-game bonuses. These bonuses can vary depending upon the game being played and the amiibos used.
For instance, if you tap a compatible Legend of Zelda amiibos on your controller, while you're playing Breath of the Wild, will net you special chests as well as other helpful items. Moreover, if you use the same amiibo, while you're playing The Elder Scrolls V: Skyrim, it'll give you a chance of snagging Zelda-themed gear for use in Skyrim. 
If it's a large collection of amiibos that you own and you have plans to use them instead of just displaying them, you need to make sure that the Nintendo Switch controller that you're buying supports NFC.
   6. 3.5mm port
You must look out for controllers with a 3.5mm port if playing while wearing a gaming set or headphones is your priority. Because the controllers with a 3.5mm port allow you to plug a headset into your pad. Since the Switch doesn't natively support wireless audio, you're limited to wired controllers.
You'll need a Bluetooth transmitter if you are keen to use your pair of wireless headphones with your Switch. The Gulikit Route Air+ Pro is a popular choice while UGREEN has a solid option available for around £25.
Some more advanced Switch controllers provide you with the opportunity of changing the function of some or all of the gamepad's buttons.  Some Switch controllers offer additional paddles or buttons to which you can assign certain inputs. There are other Switch controllers too, like the 8BitDo Pro 2, that use such software that gives you granular control over the power of vibrations and the stick and trigger sensitivity. Moreover, such Switch controllers also allow you to remap the buttons.
Though most people will be fine with the basic button configuration, if you take your game seriously and play it to the next level like the complex combinations of button inputs, such custom-built options are great.
Assuming that up till now you must have acknowledged the key points that you need to consider while buying Nintendo Switch controllers, we know move to the list of Nintendo Switch controllers that are the best option to buy. 
List of the best Nintendo Switch controllers for gamers to buy:
      1.  Nintendo Switch Pro Controller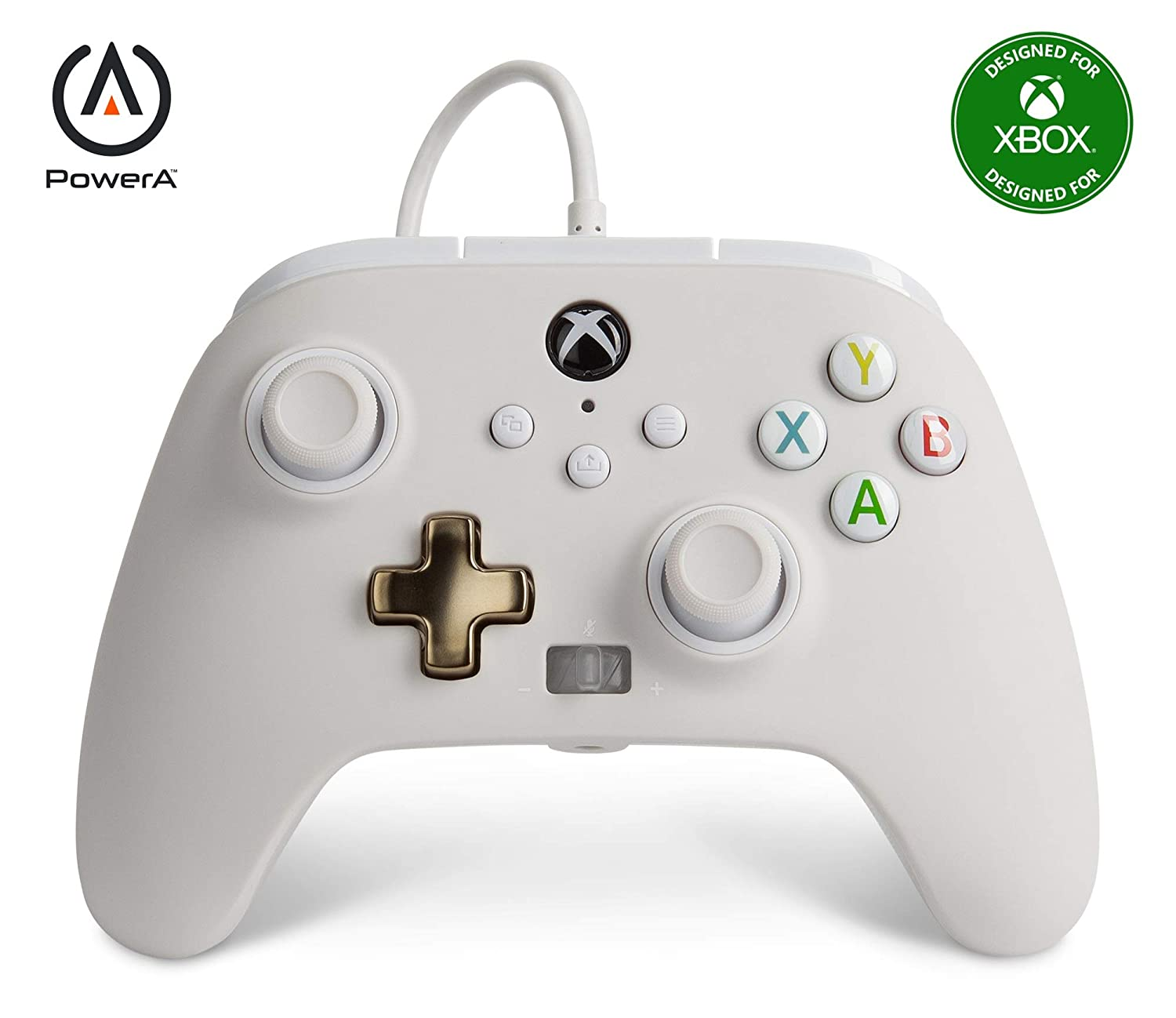 For most people, this official gamepad is the best Nintendo Switch controller. It's reasonably lightweight, has an exceptional battery, and supports all the key Switch functionality: NFC, motion controls, and HD Rumble. The controller is very comfortable to hold. Its A, B, X, and Y buttons aren't too noisy and have a decent amount of travel, and its analog sticks are responsive.
However, despite having all that features, it's not perfect. If you're playing games that require a lot of quick changes of direction, the D-pad would probably register inputs incorrectly many times. Moreover, during longer gaming sessions, the textured-grip handles can get a bit sticky.
As compared with most of the third-party options, this controller is pretty expensive. But if it's a full Switch experience that you want, spending a little bit extra would be worth it.
   2.  PowerA Enhanced Wired Controller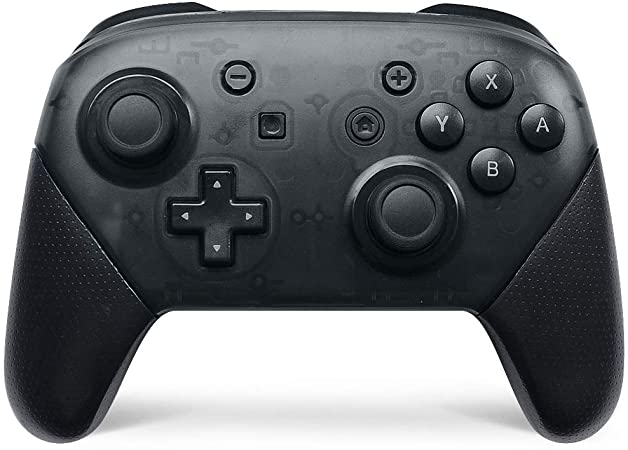 It's one of those best Nintendo Switch controllers that are less pricey yet cheerful. Though being wired and also having the deficiency of the whistles and bells offered by more pricey options, it allows you to map additional actions to two buttons that are located on its rear.
It is available in a wide range of eye-captivating designs and colors. Moreover, it also has a 3.5mm port for plugging in a gaming headset. 
   3. HORI Split Pad Pro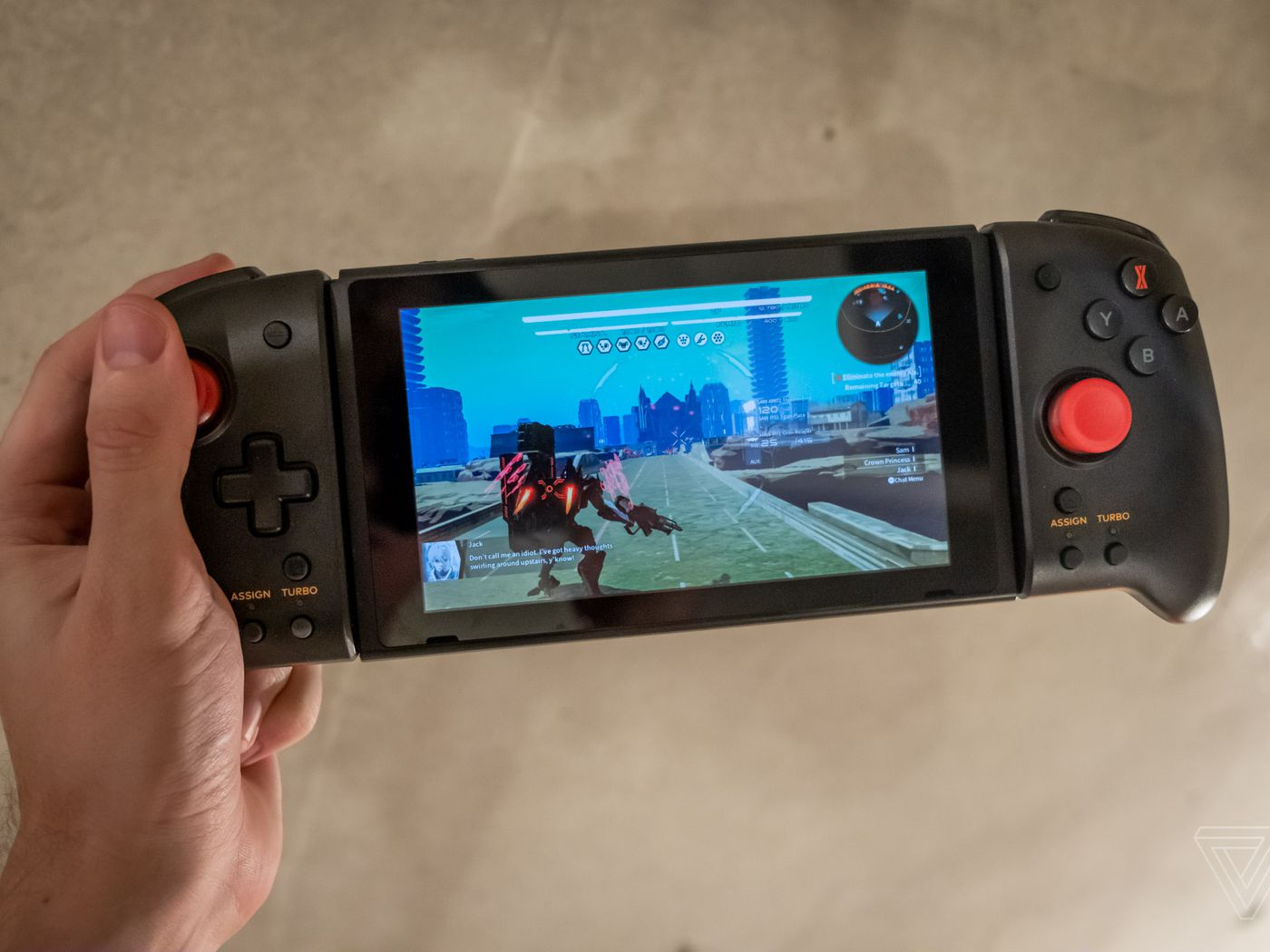 It's also one of the best Nintendo Switch controllers with the option of using the Switch in handled mode. It gives the gamers a full-sized controller experience. Its officially licensed and brilliantly ergonomic pads slot into your console in place of Joy-Cons. It's also extremely comfortable to hold and grip.
The position of the face and trigger buttons and the analog sticks resembles closely that of the Joy-Cons. But, as they are remarkably larger, they make the Split Pad Pro a lot easier to navigate. FL and FR are mappable rear triggers. There's a Turbo mode, along with these triggers, that can be set at three different speeds.
The only weakness that the Split Pad Pro has is that it lacks support for motion controls and rumble functionality. If you don't want these features, you may go for buying this Switch controller.
  4.  PowerA Fusion Pro Wireless Controller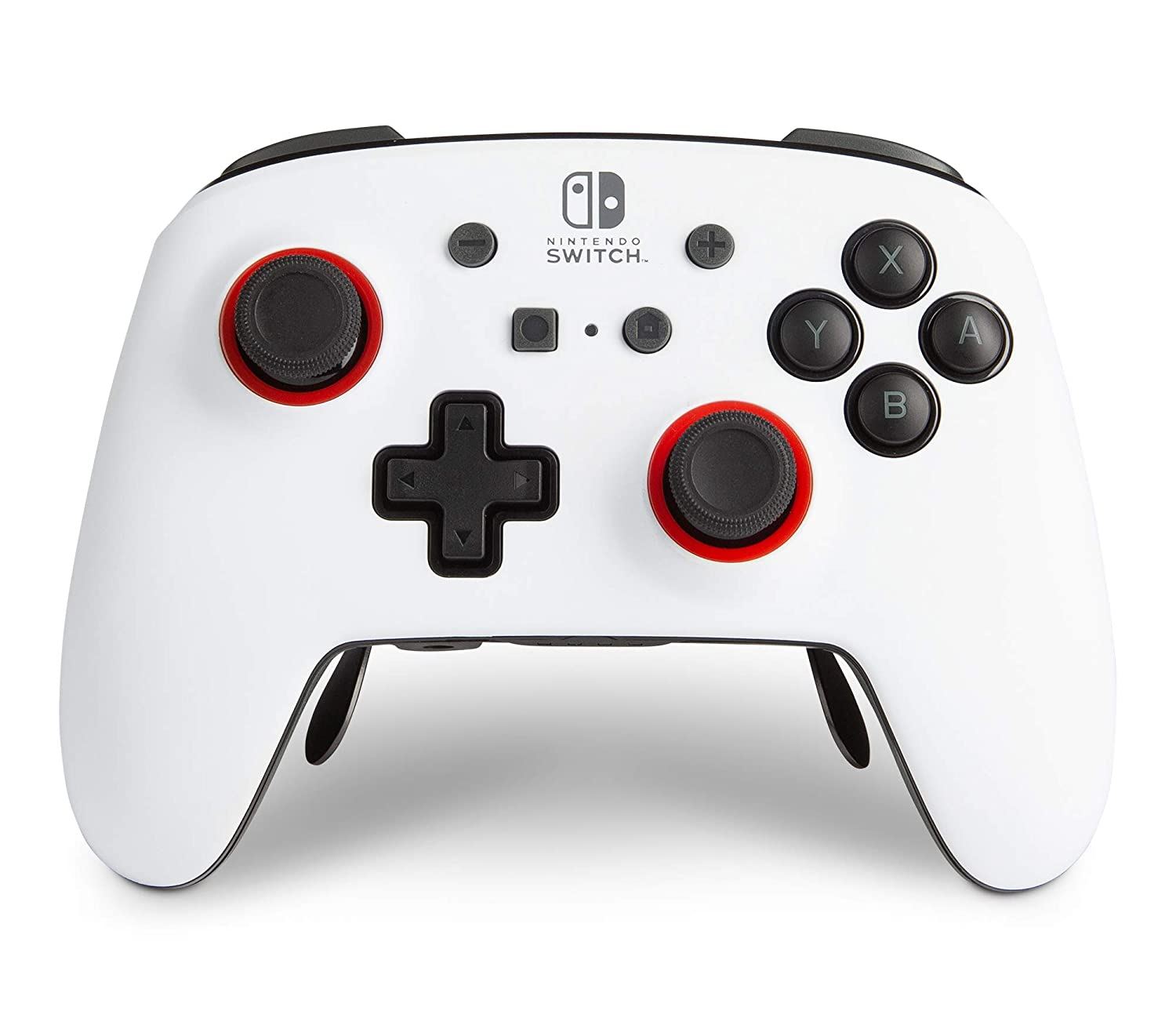 If you prefer personalization options, the Fusion Pro Wireless can be the best Nintendo Switch controller for you. It may be expensive, but its great personalization options like two extra, thumbsticks and removable black and white faceplates, make it truly worthy. One thumbstick is convex as opposed to concave like the other three while the other one is taller than its pre-installed counterparts. 
Though there's a hollower thud and a little more travel to X, Y, A, and B buttons, the face buttons are positioned identically to the official Pro controller. The controller is comfortable to handle and grip as well, and is also heavier than the official option.
The "Mappable Pro Pack" is its best feature, as it clips into the controller's base and has four removable paddles. Each one of these paddles can have a button input assigned to it. 
Though this controller doesn't have NFC support and also doesn't support rumble, the presence of a smart hard-shell carrying case is enough to fill the hole of their absence.
 5.  8BitDo Pro 2
If you value customization in the gaming experience, this Switch controller is one of the best Nintendo Switch controllers that you can easily choose to buy. Using the 8BitDo Ultimate Software mobile app, you can set joystick and trigger sensitivity, remap all of the Pro 2's buttons, create macros – button combinations that can be executed instantly, and control the level of vibration. The 8BitDo Ultimate Software mobile app is available on both Android and iOS.
There are different button layouts available for specific games through which you can create three bespoke profiles. Not only this, but you can also switch between the profiles that you have made just at the press of a button. It may be difficult and a bit struggling for those who have difficulty remembering a single set of controls. But, it is a game-changer for those who want to gain a competitive edge in their favorite titles.
The 8BitDo Pro 2 is versatile and extremely customizable as well, as it can be used to play games on mobile and Steam. It supports standard rumble and motion controls. Moreover, to ensure that the gaming doesn't stop because of the low battery, there's a USB-C cable included.
6. Nintendo Joy-Con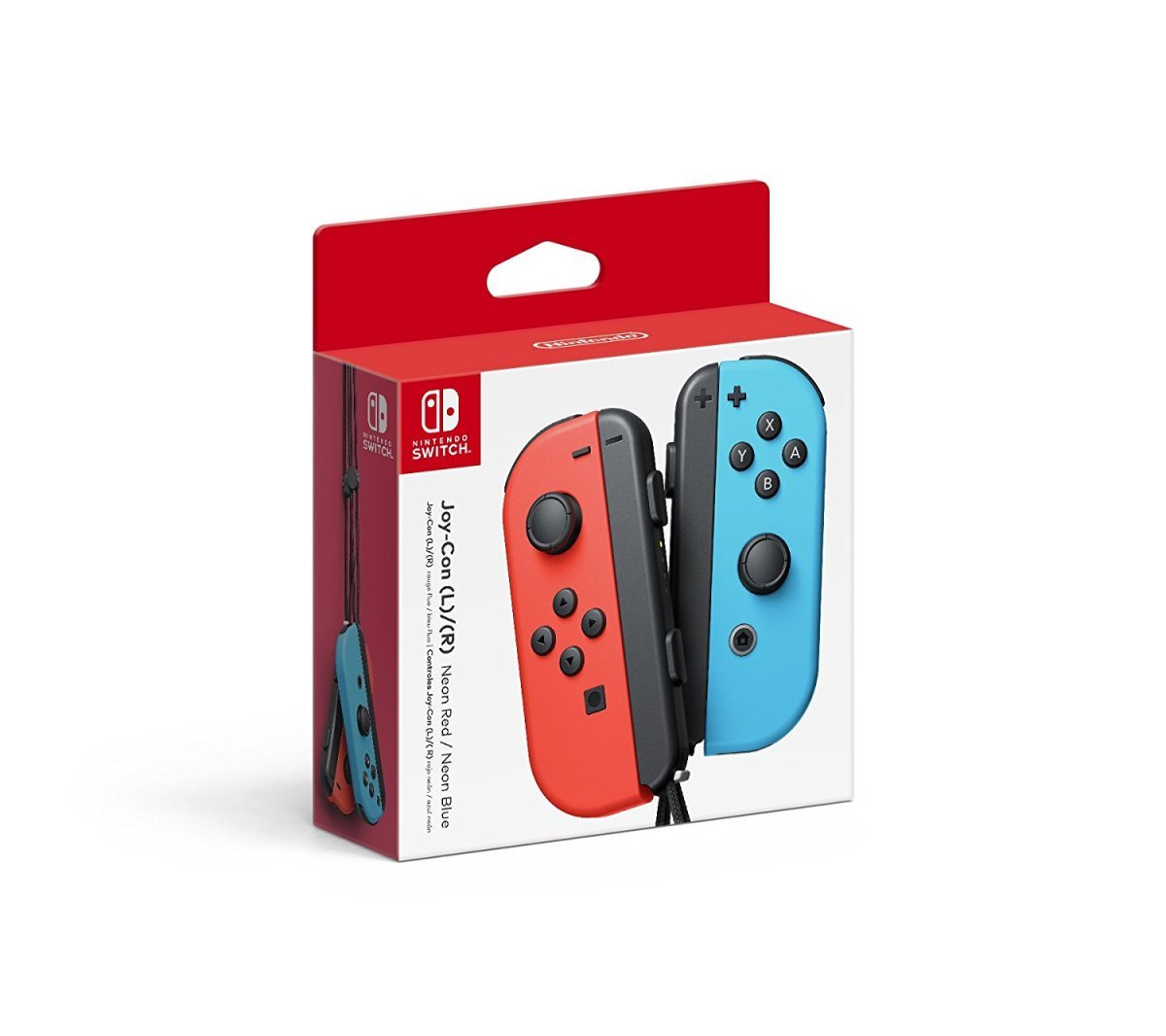 It is a versatile Nintendo Switch controller. What happens when you need to replace the Joy-Cons, though you get a pair of Joy-Cons included with the Switch? Though there are third-party options available, you can never find the real one.
The overall package of this Switch controller is too strong to argue upon its thumbsticks registering ghost inputs or the lack of a proper D-pad. It supports motion controls, HD Rumble, and amiibo functionality. Moreover, the battery life is also strong, and these controllers are greatly versatile.
They function as a single controller if you slot them into a Joy-Con grip. You can also use them as two separate pads when playing with a friend or you can simply leave them attached to the console.
7. 8BitDo Arcade Stick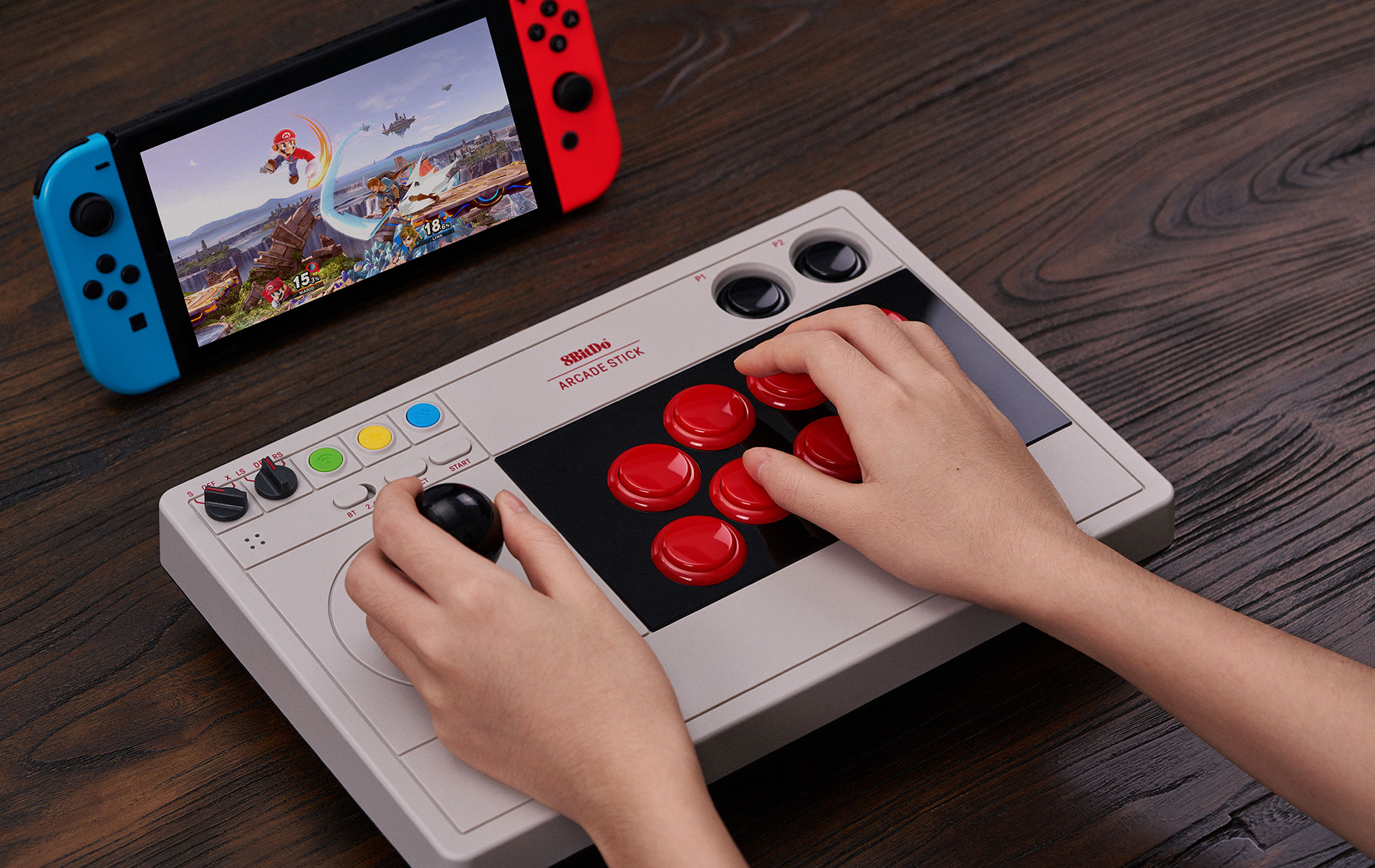 It is one of the best Nintendo Switch controllers for fighting games. This switch controller can be an excellent alternative to your local arcade, as it has some great features that a fighting-game lover always adores. You can unleash your special moves and can perfect your combos through the excellent platform that the 8BitDo Arcade Stick provides.
It can be used as a Switch and with a PC as well. In this switch controller, there are three connection methods available: wireless (via a 2.4GHz USB-A transmitter), wired, and Bluetooth. While playing on Switch, you'll use this switch controller wirelessly. The full recharge takes 4 hours and lasts for 40 hours.
It is extremely customizable as well. Using 8BitDo's Ultimate Software, you can map inputs to the various buttons. You can even create macros and swap out the buttons. 
8. HORI Battle Pad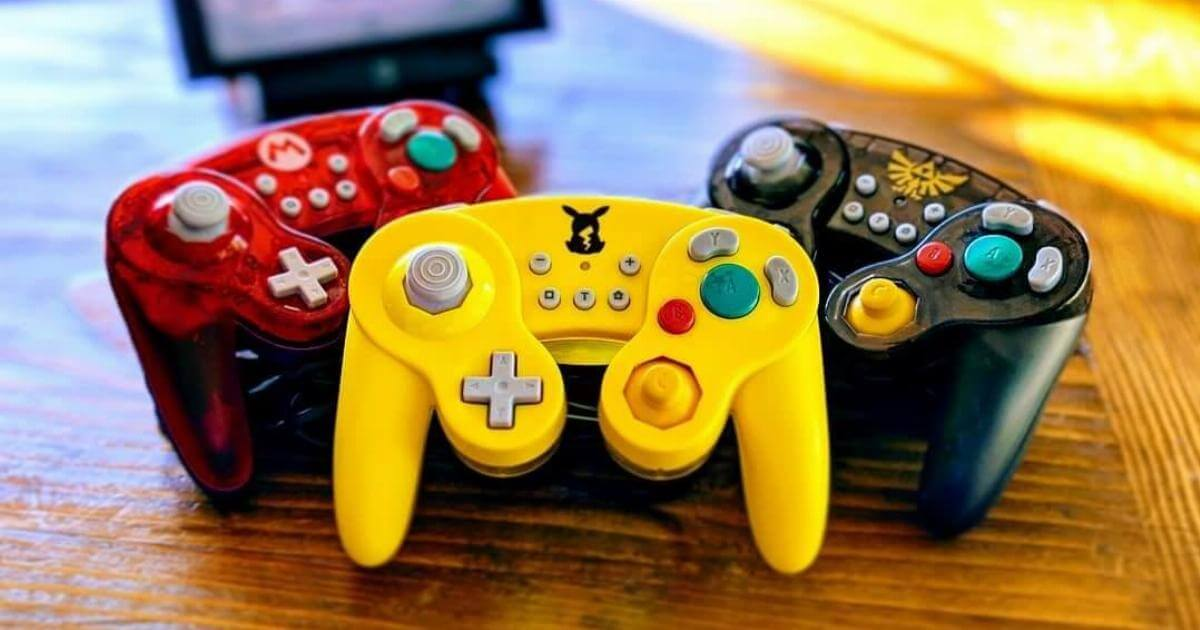 For Smash Bros fans, it's the best Nintendo Switch controller. The 2001 GameCube controller is broadly considered one of the ever made best Nintendo Switch controllers. Its updated version is not so different from the original one, yet it has a few meaningful tweaks.
Using "anti-snapback technology", the thumbsticks help you more precisely execute commands. Moreover, you have the leisure to switch the function of the L/R and ZL/ZR buttons, and the handles have the textured-grip as well. And when you feel too lazy to rapidly hold down or press a specific button, there's a Turbo mode for your convenience that can be set to three different speeds.
This switch controller is designed to keep the Super Smash Bros fans in mind. There are five colorways available that pay homage to some of the leading characters of the series: Zelda, Peach, Mario, Pikachu, and Luigi.
9.  PowerA Enhanced Wireless Controller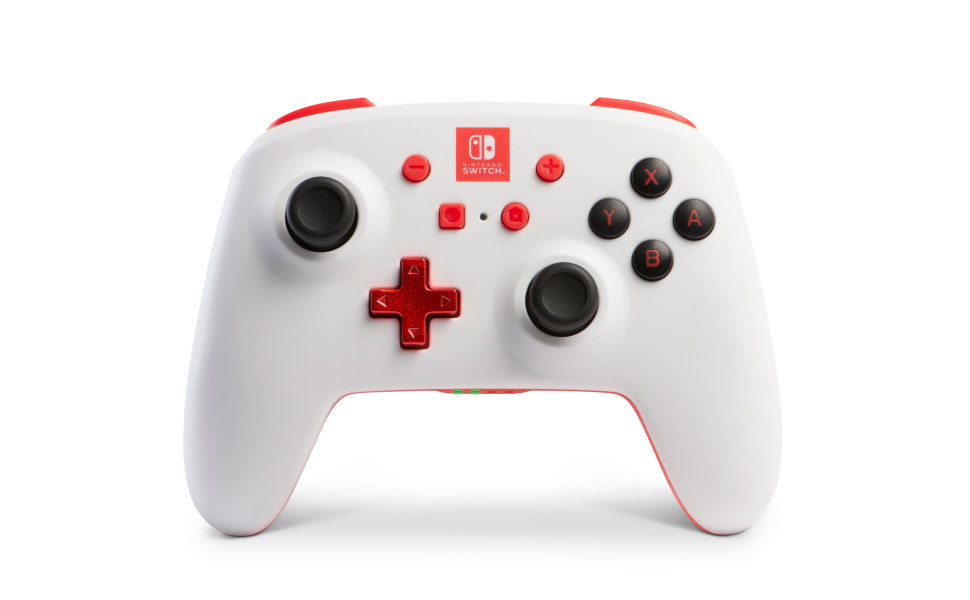 It is one of the best Nintendo Switch controllers as it's an affordable alternative for Pro controllers. Do you want a wireless controller but are not easy in spending huge cash on the official Nintendo Pro model? Then, this PowerA licensed third-party alternative is here to help you out. Though it doesn't have a good battery life as compared to the Nintendo version and also there's no NFC support or rumble functionality, the presence of a couple of extra buttons on the back of the grips (which make it easy to map the inputs to them) make it truly worthy.
It has one biggest benefit over the official Pro controller and that's its availability in an extensive range of attractive designs. In this switch controller, there are game-specific designs available for titles such as Mario, Pokémon, and Animal Crossing.
Some of the older designs are powered by two AA batteries instead of housing a rechargeable battery. It is a worth noting feature. But there are additional costs involved (like buying a pair of rechargeable batteries and a charger) that can push the price up to the point where it'd be better to buy the official Pro Wireless controller. That's why we don't recommend these. But for people who like and prefer specific game designing, it'll be worth buying.
10. 8BitDo SN30 Pro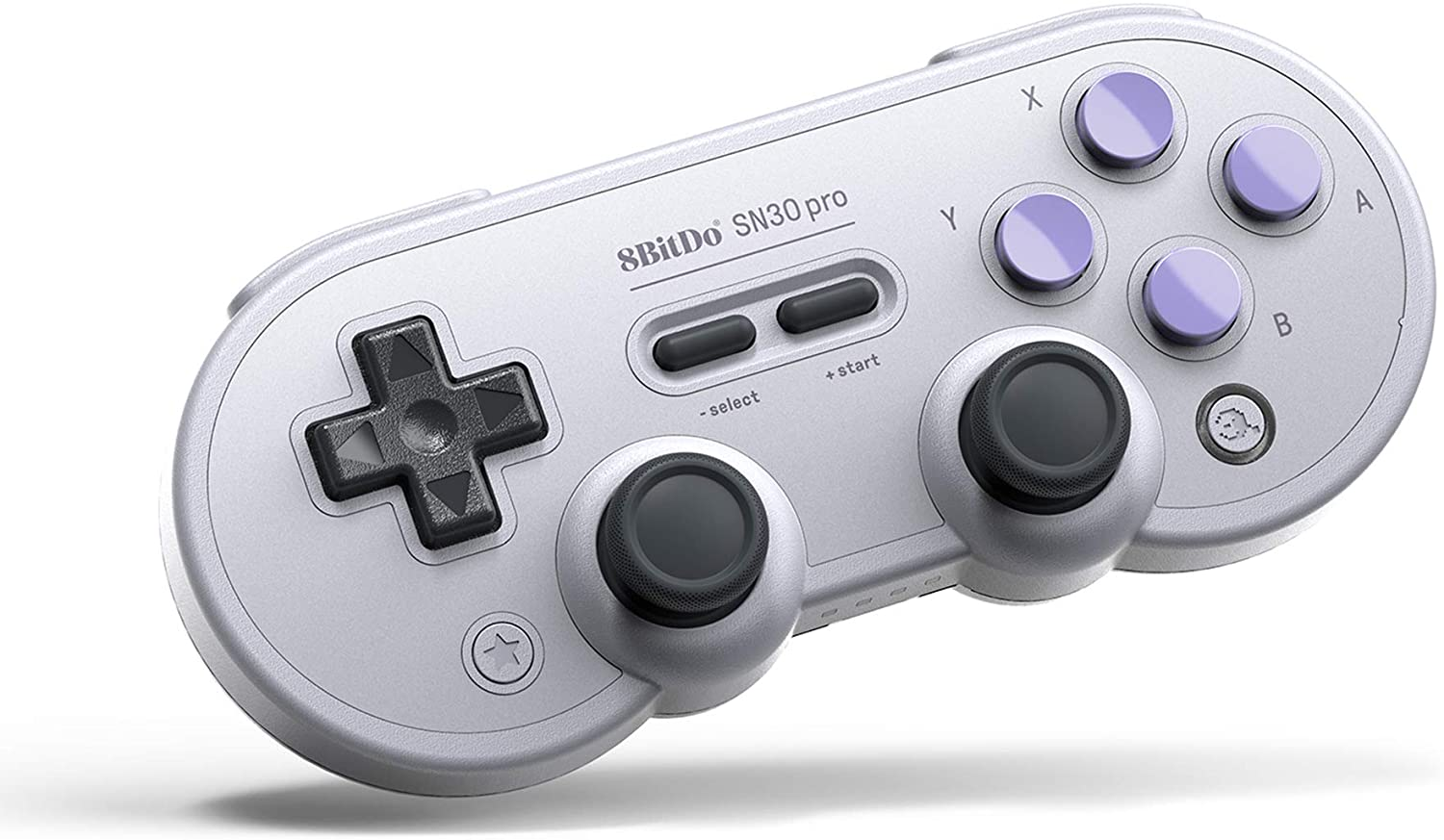 This switch controller offers a modern suite of features. It supports motion controls and rumble, operates wirelessly over Bluetooth, and is compatible with macOS, Switch, Windows, Steam, and Android.
It comes without the typical handles found on the controllers, and thus, it is the lightest of all the best Nintendo Switch controllers. This feature makes it the best switch controller for people with small hands. To ensure the SN30 Pro executes commands accurately and precisely while playing directional input-heavy genres, like platformers, extra attention has been paid to the D-pad.
It is available in two colorways: one resembles the original Game Boy and the other resembles the Super Nintendo. Thus, the SN30 Pro is equally loveable by this generation as well as the 80's generation.
Pro-controller and Joy-Cons: which one is better?
Generally, the pro-controller has many advantages over Joy-Cons. One benefit is that the Pro-Controller gives you a feel of a traditional gamepad. And if compared with the Joy-Con's "drift" issues, the Pro-controller also features more reliable analog sticks. Due to the layout and size of the device, the Pro-controller allows you to be more precise with your shots.
Since the Pro-controllers are expensive as the price range from $60-$70, you can easily get by with the Joy-Con if you don't like the idea of buying additional controllers. It also depends on how you'd use your controllers. For example, if you like to use your Nintendo Switch more in handled mode, you won't need any additional thing as two Joy-Con come with the system by default. Moreover, you'll get two functioning devices in this way, as each Joy-Con serves as its controller. So, choose the one that meets your needs and helps you enjoy the best gaming experience. 
How long does it take to charge Nintendo Switch controllers?
Well, according to Nintendo, it takes three to four hours to charge for the Joy-Con, whether they are attached to the Joy-Con grip or to the Switch itself. Moreover, as far as the Nintendo Switch Pro Controller is concerned, it can take 6 hours to charge. But, we do prefer that you completely charge your device and then use it for the best performance. 
How to check the battery life of the Switch controllers?
When you boot up your Switch, the battery life of your controller can be checked by visiting the 'Controllers' option that is visible on the main menu of the system. 
The Bottom Line
In the list of the best Nintendo Switch controllers mentioned above, choose one that meets your needs. And keep the key points in your mind (mentioned above as well) when shopping for it. Moreover, go for a long-term purchase than just looking out for the most expensive Nintendo switch controllers.