Caviar Grand Complications Skeleton Black & Gold: An iPhone Worth $6,900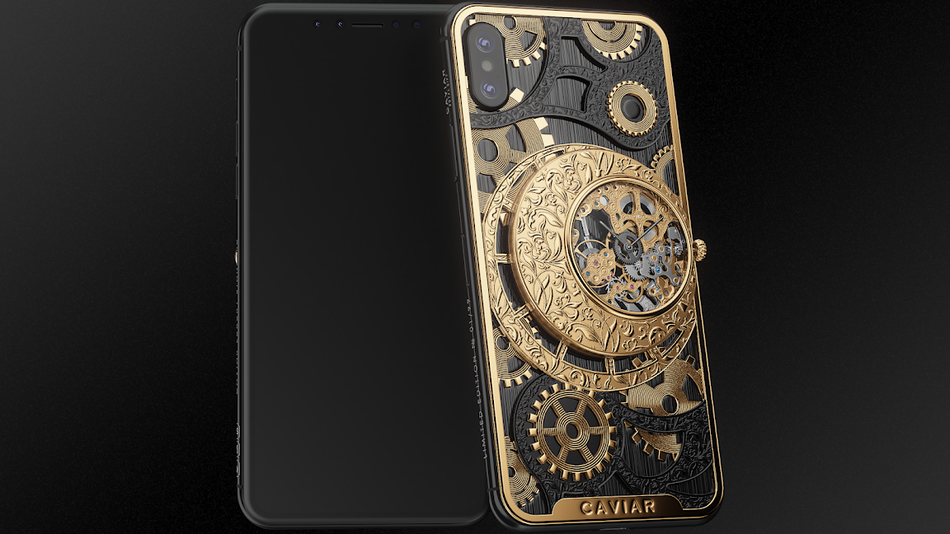 Italian by birth and now under Russian management, Caviar is a brand known for exquisite designs for modern day technology. There are people in this world who like to make a statement, they need to stand out and If you are one of those people then you are not going to walk into an Apple store to buy an iPhone, instead you will order one from Caviar. Their latest iPhone; GRAND COMPLICATIONS SKELETON BLACK & GOLD models XS and XS MAX can go from $6,900 to all the way up to $8,020. The phone has an actual working Skeleton Quartz in the back, unique is not even the best word to explain this work of art.
The company has been around since 2011 they first presented two collections of precious devices based on iPhone 4s and since then they have been updating their devices with new models. They also offer a special line in Nokia 3310 to focus on a nostalgic, retro and luxury purchase all wrapped into one. A few Samsung Galaxy Note 9 phones are in the collection as well but mostly the focus is on iOS devices. They have recently come out with beautiful Apple Watch 4 lineup which is simply breathtaking and so are the prices.
A rather unique model inspired by 3 icons, Steve Jobs, Elon Musk and Nicola Tesla called 'Project Tesla' was introduced by Caviar. A phone that charges via a solar panel attached to the back of iPhone X, XS and XS MAX.
The prices of these products can go from 4 figures to 5 figures depending on the materials you choose. But there is one thing for sure, if you are to own a Caviar device then you truly stand apart from the crowd. The beauty of the designs is that how subtle and elegant they are and not flashy at all. They can be compared to a piece of jewelry or a fine wristwatch, if one has to compare.
Aside from the Grand Complications Design, Caviar offers a wide array of styles for the iPhone XS and XS MAX including Classic, Love, Gold vs Black, Titan vs Carbon, Talisman, Diamond Zodiac, Gulf's Marvels and Credo series. Each with a unique design and plenty of colors to choose from. Many of which are available for iPhone X as well that also has an Apple Edition, Leaders, Space, Titanium and X-Edition.
If you have the money then the choice is clear, Caviar Royal Gift is the way to go.