How to Adjust Message Effects Setting in Your iOS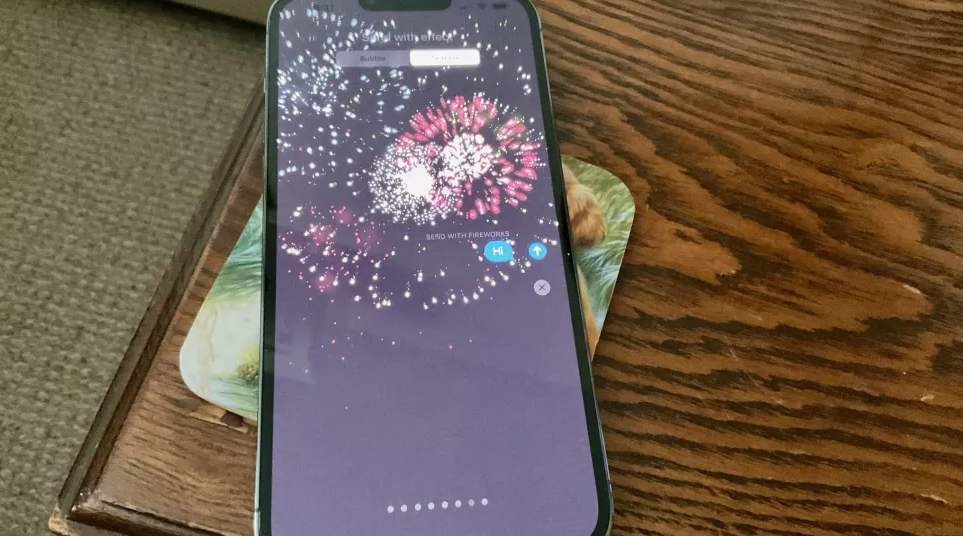 By making use of the screen and bubble effects that are included in the Messages app for iOS and iPadOS, you now have even more opportunities to express yourself when interacting with your friends. These possibilities were previously unavailable to you. You can use iMessage effects to emphasize a point, express an emotion, rejoice, or create odd effects just for fun. You can even use them to commemorate special occasions. This article will walk you through the process of customizing the settings for message effects in iOS. So let's get started:
Read Also: How to Get and Enable Weather Alerts on iOS 15
How to Adjust Message Effects Setting in Your iOS
There are a few options under the Settings app that will determine how the message effects appear and sound. This will show you where to find those settings and how to adjust them so that you can utilize the effects feature without any difficulties.
1. Launch the app that controls settings.
2. Choose the Accessibility option.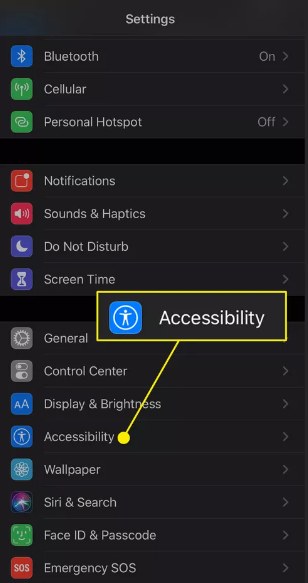 3. Choose Motion from the list of options under the Vision category.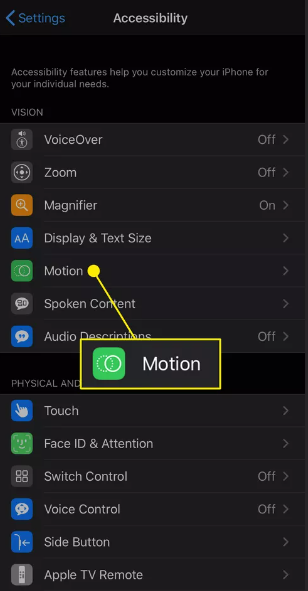 4. Decrease Motion and Auto-Play Message Effects are the two options that are important to pay attention to.
5. It is possible that full-screen effects will not work if Reduce Motion is off; to turn it on, hit the toggle (green).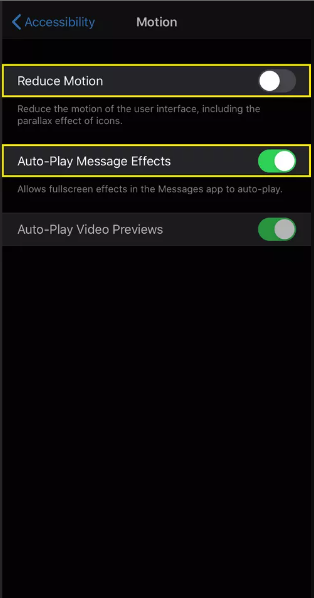 The setting to automatically play message effects can be turned off if desired. As soon as you open a message that has an effect, turn it on so that it plays automatically. If you turn it off, you will have to press a command in order for the effect to take effect again after it has been deactivated.
FAQs
Can you turn off iPhone message effects?
Disabling the auto-play of message effects can be done by going to Settings > Accessibility > Motion. While you're there, have a look at the other settings to determine whether you would prefer fewer (or more) transitions, effects, and animations.
How do I turn off SMS filter on IOS?
Messages does not transmit any of its content or data to Apple when SMS Filter is enabled. You are free to turn off SMS Filter whenever you choose by navigating to Settings > Messages > Unknown & Spam and selecting None from the list of options there.
Why are my iPhone message effects not working?
If you are using an iPhone and the iMessage effects are not working, the first thing you need do is check to see if the Reduce Motion setting is switched on. When the Decrease Motion option is selected, the Bubble and Screen effects do not function as intended. Go to the Settings app's General menu, then Accessibility, then Decrease Motion, and then tap the "Disable" button.
Where is message settings on iPhone?
You can activate iMessage by going to Settings > Messages and then turning it on. Go to Settings > Messages > Send & Receive, then choose from the available options below "You can receive iMessages to and reply from" to select the phone numbers and email addresses you want to use with iMessage. You can do this by going to Settings > Messages > Send & Receive.
How do you customize text messages on iOS 16?
Open iMessage > Find the discussion that contains the message you want to change, then select it. Tap and keep your finger on the speech bubble > Tap the Edit button, then make any necessary changes, then tap Done. Touch the checkmark to resend the message, or tap the X to cancel the previous action.
Why are my Messages being filtered?
Spam and content filtering systems are in place at carriers to protect their clients from inadvertently receiving unwanted messages. When a carrier detects a message as spam, they will suspend the delivery to the receiver. You can avoid your text messages from being filtered by your carrier if you learn how carrier filtering works.