How to Cancel a Payment on PayPal

PayPal is a convenient tool that enables users to send and receive online payments for friends, family members, clients, and customers located in the United States as well as any other country or region in the world. Notwithstanding this, there are situations in which it is essential to undo the outcomes of a transaction. It is possible that the price was entered incorrectly, or that the customer is feeling buyer's remorse for some other reason. Both of these possibilities are feasible. By providing you with instructions that are broken down into individual steps, this article will walk you through the process of cancelling a payment that you have already made with PayPal. So let's get started:
Read Also: How to Link Your PayPal Account to Your Twitch
How to Cancel a Payment on PayPal
1. When you have successfully logged into your PayPal account, the first thing you need to do is navigate to the tab at the very top of the screen that is labelled "Activity."  

2. Scroll all the way to the bottom of the screen to find the transaction that you want to cancel, then click on it when you have found it.
3. From the list of available options, select the one labelled "Cancel."
4. To finalize your choice, go to the drop-down menu and pick the "Cancel Payment" option.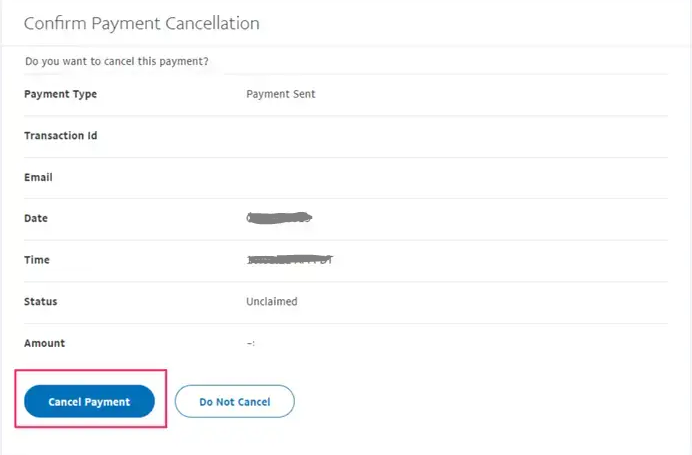 FAQs
Why can't I cancel a PayPal transaction?
You will not be able to use your right to cancel the payment on your own. Within the next thirty days, the recipient is required to indicate whether or not they will accept the money. After a period of thirty days, we will automatically cancel any pending or unclaimed payments and return the money to the method that it was originally paid with.
Can PayPal transfer be Cancelled?
You are unable to reverse a transfer that you have authorised from your bank account to your PayPal account once it has been initiated. After the funds have been deposited into your PayPal Balance or your PayPal Business account, you will be able to send them back to your bank account. Simply navigate to the website where you can send money.
Can you cancel a PayPal payment after its been accepted?
You are only able to cancel payments using PayPal if they are currently in the Pending or Unclaimed status. The vast majority of PayPal transactions are completed instantly and cannot be reversed after they have been processed.
What to do if you sent PayPal to wrong person?
Navigate to your Activity tab, locate the payment, and then select the Cancel button. If the money has already been made, you should approach the recipient for a refund. Navigate to your Activity and choose the payment for which you would like a refund. Make use of the provided contact information to get in touch with the recipient and submit a refund request to them.
Will PayPal refund me if I sent money to wrong person?
You are only eligible for the Purchase Protection Plan if the item you intend to buy was paid for with PayPal. If you merely transferred money to another person — for example, a friend or a relative — and that person received the money, there is no way for you to get the money back once it has been accepted (unless they agree to refund it).
What to Do if You Can't Cancel a PayPal Transaction?
If you are unable to cancel a payment through PayPal, you will need to get in touch with the recipient directly and ask them to reverse the transaction so that you may receive your money back. Sending them an email using the address that is associated with their PayPal account is the simplest approach to complete this task.