How to Cancel Xbox Subscription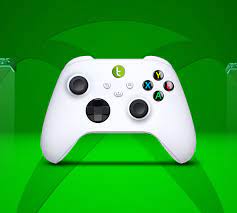 Xbox Game Pass has emerged as a crucial component of Microsoft's Xbox ecosystem. Gamers pay a subscription fee on a monthly basis in order to have access to more than one hundred different games. These games range from influential classics from years gone by to the most recent and popular releases. There may come a moment when you need to cancel your Xbox Game Pass subscription, despite the fact that it may be one of the best offers in the gaming industry. Possibly you are taking a vacation from gaming or you have completed all of the best games that Games Pass has to offer. As long as you know where to search, the people working at Xbox have made the process rather straightforward, regardless of the reason you have for doing it. Follow these steps to terminate your subscription on Xbox.
Read Also; How to Connect an Xbox One to a Monitor or TV
How to Cancel Xbox Subscription
Throughout the history of Xbox systems, the procedure for terminating a subscription has seen multiple iterations, but the company appears to have finally agreed on a straightforward method for the foreseeable future. If you primarily use a console, then you can cancel your Xbox Game Pass subscription by following the procedures outlined in this article.
Step 1: First, press the Xbox Guide button, which is located in the middle of the Xbox controller. This will open the Guide menu.
Step 2: Select your profile from the drop-down menu, and then click the "My account" tab in the new window that appears.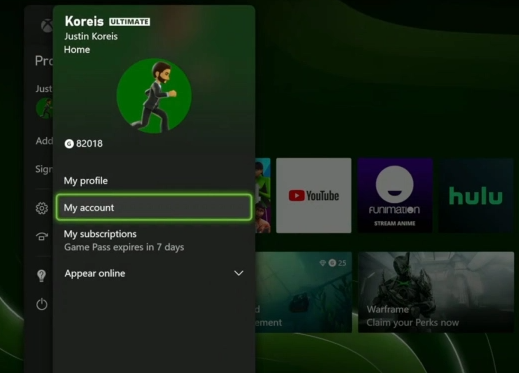 Step 3: From the options on the right side of the screen, select the Payment and Billing selection.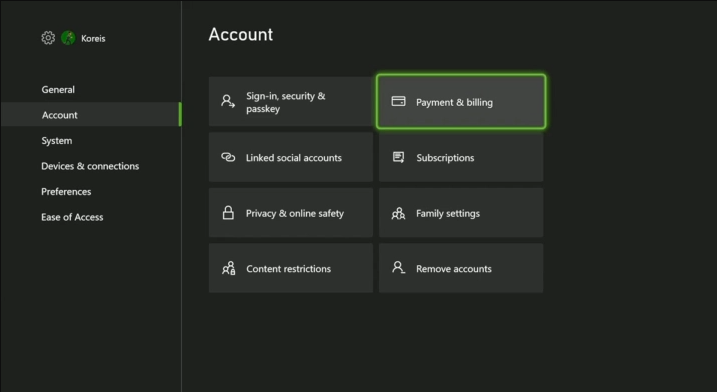 Step 4: Select Xbox Game Pass in the fourth step.
Step 5: Select the option to cancel the subscription.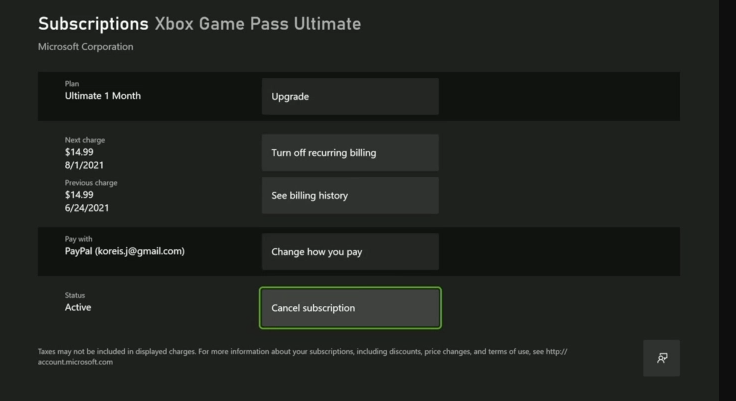 Step 6: To confirm that you want to cancel your subscription, select Yes from the drop-down menu.
FAQs
Why is Xbox not letting me cancel subscription?
If you have a remaining amount on your Xbox Live account, you will not be able to cancel your subscription or remove a payment option from your account. Your Xbox Live monthly subscription will be automatically renewed, but you won't be charged until the renewal date. It will continue to show as "pending" until the subsequent time that it attempts to auto-renew itself.
Why is Xbox Live taking money from my account?
You will continue to be charged unless you turn off recurring billing, which is a feature that is included with all Xbox subscriptions, regardless of whether you bought them online or through the console itself. Either you are sharing your Microsoft account with other people or you do not have a password protecting your account.
Why is Xbox charging me 9.99 a month?
Because the price of Xbox Live Gold is $9.99 plus tax, it is possible that you have been charged for a subscription to the service. It is recommended that you contact Xbox Customer Support and ask them to call you back. When they do, give them the number of the debit card that is being charged and ask them if they can cancel the subscription for you.
Why is Microsoft taking money out of my account?
Find out why a charge from Microsoft is showing up on your statement by following these steps: Log into your account to view your order history. If you want to examine the order history for all of your Microsoft accounts, you need to sign in to each one individually. Examine both your order history and your statement to identify any purchases made within the app.