How to Connect Bose Headphones to Your iPhone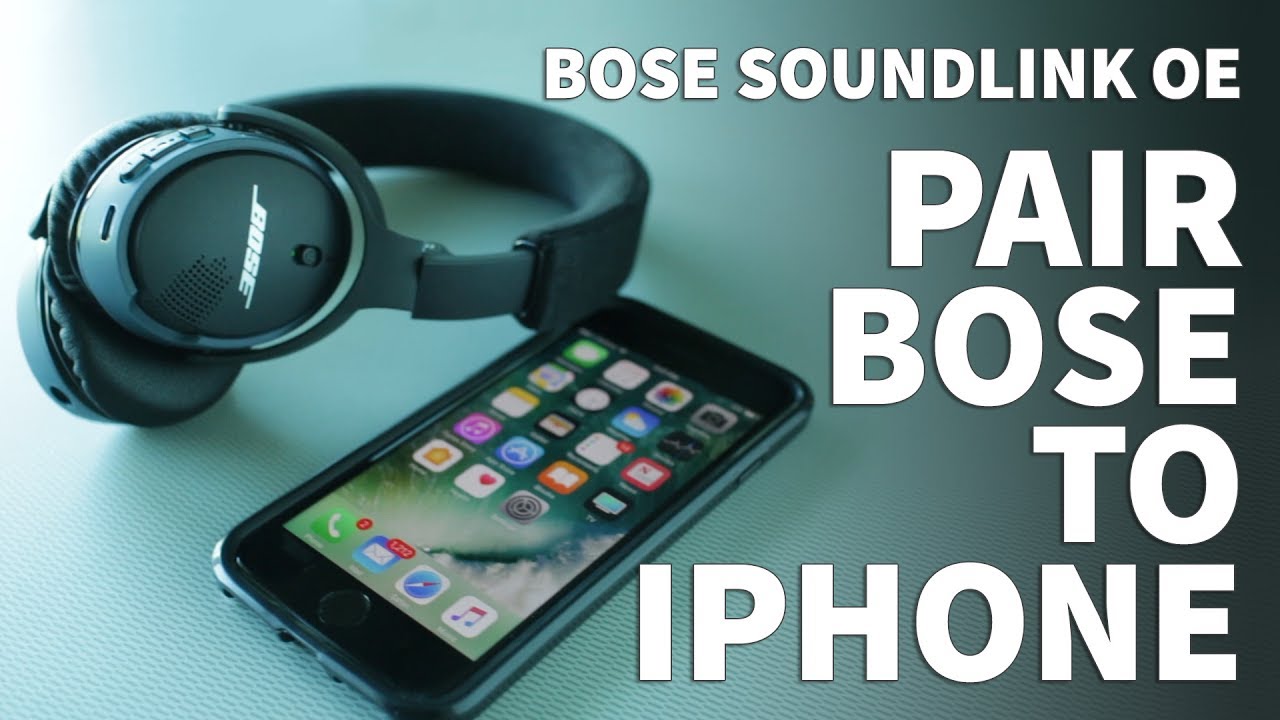 It is explained in this article how to link compatible Bose headphones with an iPhone utilizing a Bluetooth connection and the Bose Connect application. It also offers instructions on how to link the two devices in the iPhone's Settings app, as well as instructions on how to disconnect them.
Read Also: How to Block Spam Calls on your iPhone
How to Connect Bose Headphones to iPhone Using Bose Connect App
All Bose wired headsets may be used with iPhones that have a standard audio port; however, modern iPhones do not have audio jacks, and many headphones are wireless in nature. Connecting Bose headphones to iPhones is made possible through the use of the Bluetooth feature and the Bose Connect software for Apple iPhones and other iOS mobile devices.
Not only does this programme make the connecting procedure easier, but it also downloads firmware upgrades that enable new features and correct audio issues or glitches that may have occurred during the connection.
1. From the App Store, you can download the Bose Connect application for your iPhone.
2. To turn on your Bose Bluetooth-compatible headset, twist the switch on the right earpiece from red to green until it blinks green.
3. Launch the Bose Connect application.
4. The Bose Connect iPhone app should be able to recognise the Bose headphones without any further effort. It displays a picture of your headphones along with the text "Drag To Connect" after it has completed the connection. Use your finger to swipe down on the screen to begin pairing your Bose headset with your iPhone. If your headphones aren't identified by your iPhone, you'll get a screen with numerous suggestions for assisting your iPhone in locating them.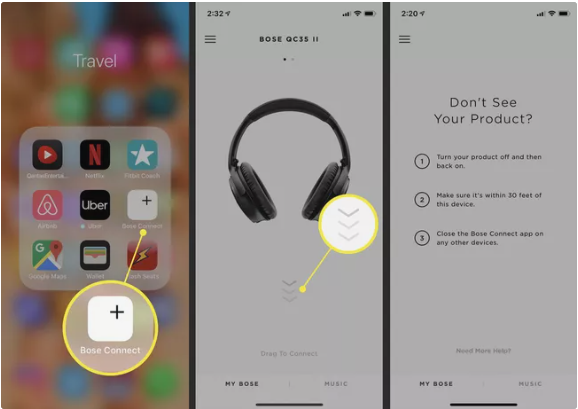 5. Bose Connect begins to sync with your iPhone, and the term "Connecting" appears at the bottom of the screen once the process is completed.
6. After the connection has been confirmed, press the Ready To Play button at the bottom of the screen to begin playing. Using your Bose Bluetooth headset, you can now listen to any audio on your iPhone without having to turn it on.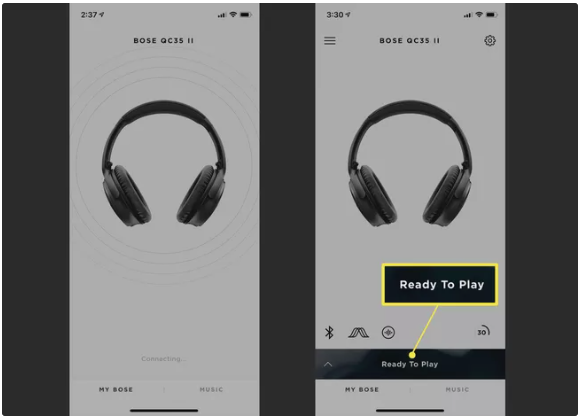 How to Pair Bose Headsets With iPhone Settings
When it comes to pairing Bose headphones with an iPhone, the Bose Connect app is the recommended option. However, you can also connect a Bose headset to an iPhone via the iOS Settings app.
1. On the iPhone, go to Settings > Bluetooth and turn it on. Bluetooth must be enabled in order for this approach to function.
2. Your Bose headphones will come on once you have changed the switch on the right earpiece from the red to the green position.
3. Select the headphones you want to use from the Other Devices section. When the headphones are successfully connected to Bluetooth, they are added to the My Devices area and given the status of Connected.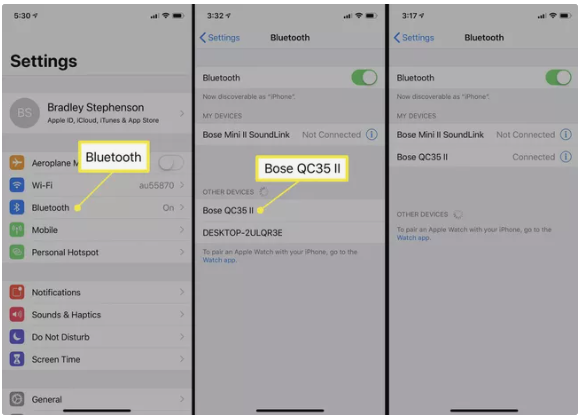 Your Bose headphones have now been successfully linked to your Apple iPhone.
Video
FAQs
Why won't my Bose headphones connect to my iPhone?
On the Bluetooth device, try turning Bluetooth off and then back on again to start a new search for Bluetooth headphones and speakers in the surrounding area. Even if your product does not appear to be accessible, check the Bluetooth settings of your device to see if there is an option to search or scan for available items. Once your product has been identified, click on it.
Why are my Bose headphones not pairing?
Delete any saved Bose app data from your Android device if you're having trouble hearing. It is possible to remove the app data that the Android device saves for the Bose app if you are using an Android smartphone. This will completely remove all of your Bose app settings, allowing you to start over. To accomplish this, navigate to the device's Settings menu and select the Apps option.