How to Enable YouTube Restricted Mode on Your Web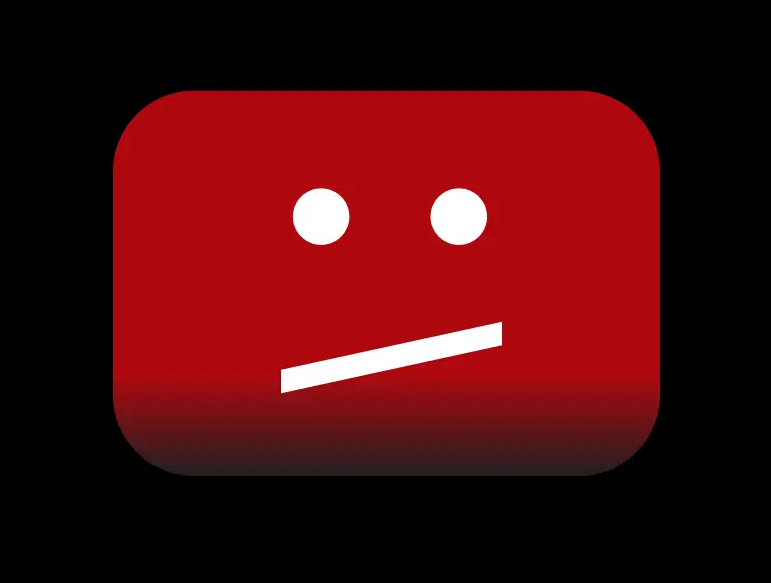 Presently, one of the options available for parental management on YouTube is called Restricted Mode. The Restricted Mode feature on YouTube works to filter search results in an effort to remove more adult-oriented content. In addition to this, it will prohibit your child from accessing content that has been reported as inappropriate by the YouTube community or that has been labelled "for mature audiences only" by the person who created the content. The purpose of the Restricted Mode is to restrict the viewing of content of a more adult nature. YouTube does not provide any promises that it will be successful one hundred percent of the time. This guide will walk you through the steps of enabling the Restricted Mode on YouTube for your web browser. So let's get started:
Read Also: How to Update Payment on YouTube TV on Windows or Mac
How to Enable YouTube Restricted Mode on Your Web
To enter Restricted Mode on YouTube, do the following:
1. After you have successfully signed in to your YouTube account, head on over to the main page.
2. Pick the picture or icon that best represents your profile from the options that show in the upper-right hand corner of the screen.

3. Choose "Off" from the drop-down menu for the Restricted Mode setting. This option is located at the very bottom of the menu.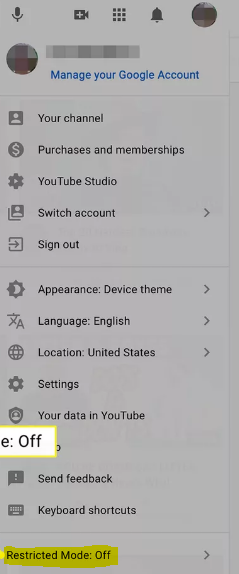 4. To make use of this function, you will need to move the slider that is situated in close proximity to the words "Activate Restricted Mode."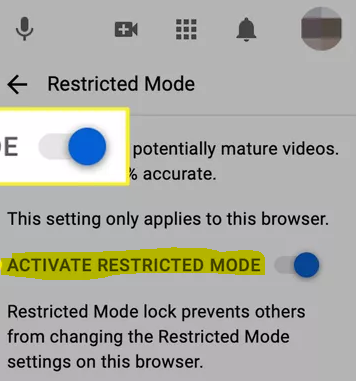 5. You are able to lock limited mode in this browser to prevent your youngster from turning it off. To do so, click the button labelled "Lock Restricted Mode" in the browser's toolbar.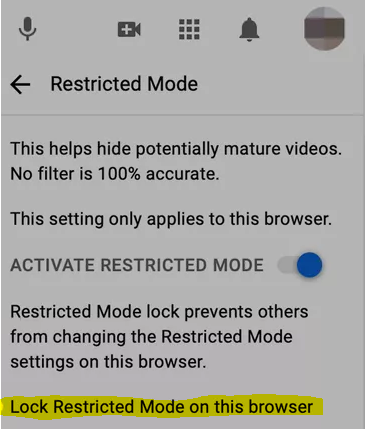 6. You should now be able to load the website you were previously on, but YouTube's ability to spread offensive content will be disabled.
FAQs
Why can't I unlock restricted mode on YouTube?
If the option to activate restricted mode is greyed out, you can click the link that says "Unlock restricted mode on this browser" that is located below the setting with the same name. You will be prompted to enter the password for your Google account. Input the password, please. Simply reloading your browser should cause the restricted mode setting to be removed.
Is it legal to unblock websites?
It is normally lawful to use technologies such as proxies and VPNs to gain access to websites that have been blocked; nevertheless, the laws surrounding this practise differ from nation to nation. Virtual Private Networks are legal in most countries, including China.
How do I turn off 'made for kids' on YouTube?
Signing into YouTube Studio and selecting Settings > Channel > Advanced Settings will allow you to remove the "designed for kids" feature that was previously applied to your channel. Choose No from the Audience drop-down menu to indicate that this channel is not intended for children.
Can the websites you visit be tracked?
When you use the internet, a record of the websites you visit and the actions you take on those websites, including every click you make, is left behind. In order to keep track of this information, many websites will save a small bit of data to your web browser that is known as a cookie. A large number of websites can track your browsing activities not only through cookies but also through your user accounts.