How to Get the Spotify Widget on Your Phone
Small windows known as widgets appear on your screen to provide you with information or enable you to use your preferred applications without having to launch them first. Widgets, like ones for the weather, your images, and others, are already pre-installed on your phone in specific. Additionally, when you install additional applications, the number of widgets available to you will increase. Spotify now has widgets available for both the iPhone and Android operating systems. Although the widget's functionality varies slightly across the two devices, installing it on either one of them is incredibly straightforward.
Here's how to install the Spotify widget on the home screen of your mobile device so you can receive instant access to all of your favourite songs.
Read Also: How to Change Your Spotify Payment Plan
How to Get the Spotify Widget on Your Phone
On iPhone
This is also compatible with iPads.
1. Press and keep your finger pressed down on any vacant space on the home screen of your iPhone, or on the page that is dedicated to widgets on the far left of the screen.
2. When everything begins to shake, you should tap the + sign that appears in the upper-left hand corner of the screen.
3. Select Spotify from the extensive choice of apps that are available to download as a widget by continuing to scroll down the page.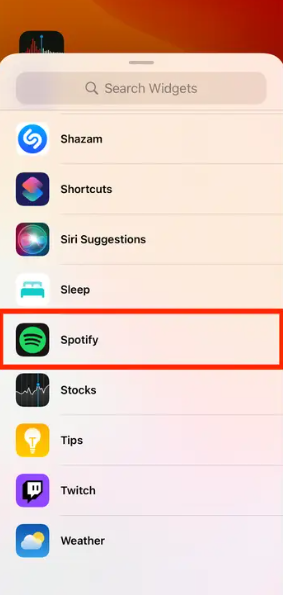 4. After deciding whether you want the widget to be a little square or a long rectangle, touch the Add Widget button. You have the option of making the widget any shape.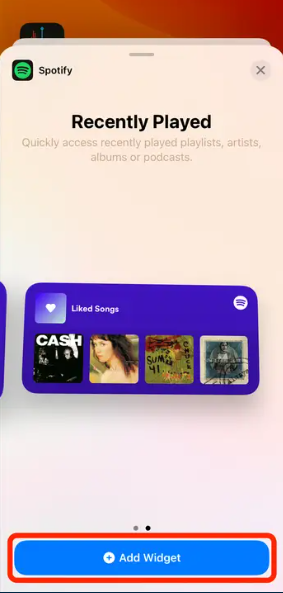 5. The Spotify widget will be added to the page that you have selected. You can transfer it to the location of your choice by tapping and holding on to it as you drag it around.
6. When you are satisfied with its position, select Done in the upper-right corner of the screen.
The Spotify widget on your iPhone displays either the most recent playlist or album that you listened to, or the five most recent albums and playlists, depending on the size that you choose. Simply tapping on any of them will load Spotify and take you directly to the desired album or playlist. To reposition or remove the widget at a later time, you need only tap and hold your finger on it, just like you would with an app.
On Android
1. Place your finger anywhere on the home screen of your Android device, press and hold it there, and then select Widgets when the choice becomes available.
2. A menu titled "Widgets" will then appear. Spotify can be found by scrolling down.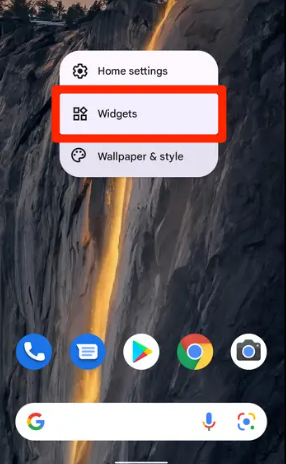 3. It will present you with an option to use a "4 x 1" widget. Simply tap and hold your finger on this widget, then drag it to the location of your choosing, and drop it there.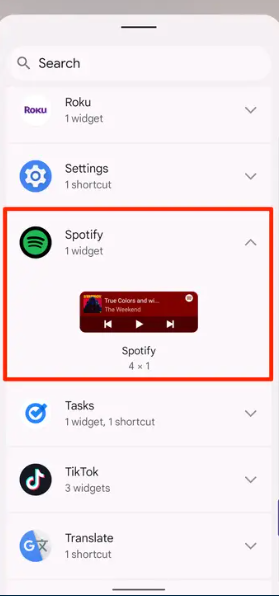 When you finally let go of the widget, it will transform so that it displays the song that is now being played. The controls of this device will then allow you to play, pause, skip through, and go backward via your music. Another option is to press the song's name, which will activate Spotify and take you directly to the album or playlist from which you are now playing the song.
To reposition or remove the widget at a later time, simply tap and hold your finger on it in the same manner as you would with an app.
FAQs
Why is Spotify widget gone?
Navigate to the Settings menu on your Android device. Select the Notifications menu option. Scroll down the list of apps until you find Spotify and then touch on it. Check to see that the Allow Notifications switch is in the "on" position.
Why can't I get Widgets on my iPhone?
Check for an iOS update if the widgets on your iPhone are still not functioning properly. Bugs and faults that are known can frequently be fixed by updating software. iOS updates are also the only means to update native iPhone applications such as FaceTime and the Weather app. After all, widgets became available on iOS after a software update, so it stands to reason that any problems with them may also be resolved by a subsequent upgrade.
Is there a Spotify Mini Player?
Songs can be experienced with full playback directly from Spotify within the Facebook app for iOS and Android on devices that have a Spotify Premium subscription. Users of the free version of Spotify can now enjoy the same high-quality experience while using the shuffle mode.
Did Spotify remove the mini player?
Portable Player for Spotify Mini. Invest on a compact player for your Spotify library. Unfortunately, the music streaming service Spotify does not provide a portable music player option for its users. Using this extension, you will be able to obtain a miniplayer that is functional and has a fantastic appearance.