How to Join Fortnite Tournaments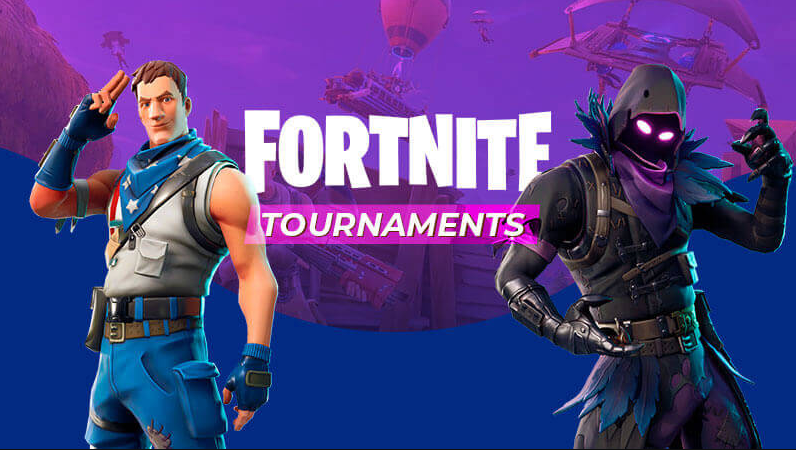 Fortnite has defied the odds by continuing to attract well over a million players over six years after it was first made available to the public. This is due, in part, to the fact that Epic continues to put a significant amount of money and effort into its esports competitions in the form of chances to win cash prizes and other advantages. A good number of players have taken notice of these opportunities and are contemplating how they might seize some of them for themselves.
Players have the opportunity to compete in events that are hosted frequently on Fortnite. Most of them can even be played from the cosiness of one's home, perhaps the greatest advantage they offer. No matter where you are, how old you are, or which gameplay mode you favour the most, there is a perfect tournament for you. Most of them also provide a monetary incentive if you successfully accumulate a certain number of points. You will learn how to participate in Fortnite competitions by reading the following article:
Read Also: How to Get Galactic Reputation in Fortnite
How to Join Fortnite Tournaments
Every week, Epic Games hosts various tournaments, and the winners are determined by which players can accumulate the most points during the competition. The "Compete" option in the lobby of the Fortnite game allows players to browse forthcoming matches.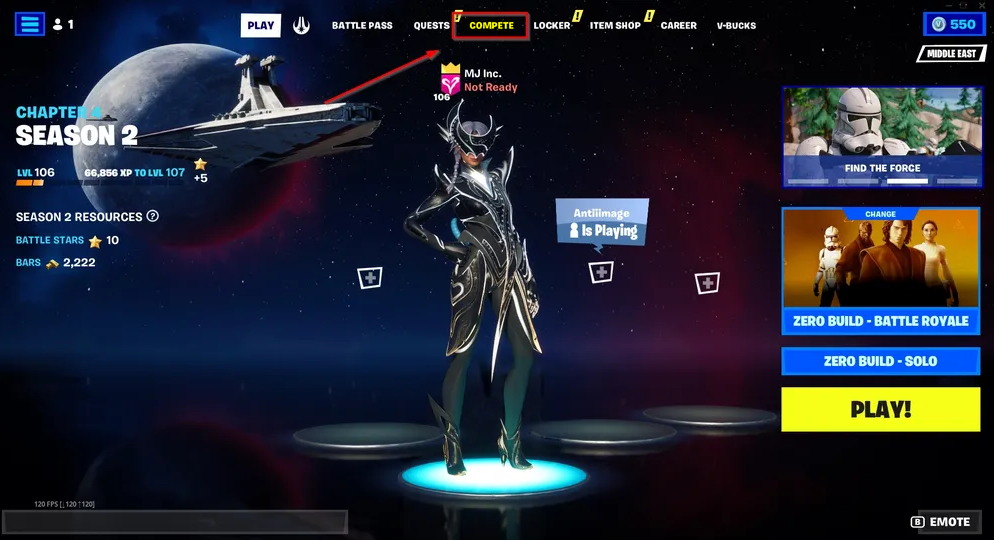 When the tournaments are up and running, the Discover menu will have a new tab labelled "By Epic" that will take you to a unique mode. In addition to this, there will be a symbol in the lobby that will invite you to join.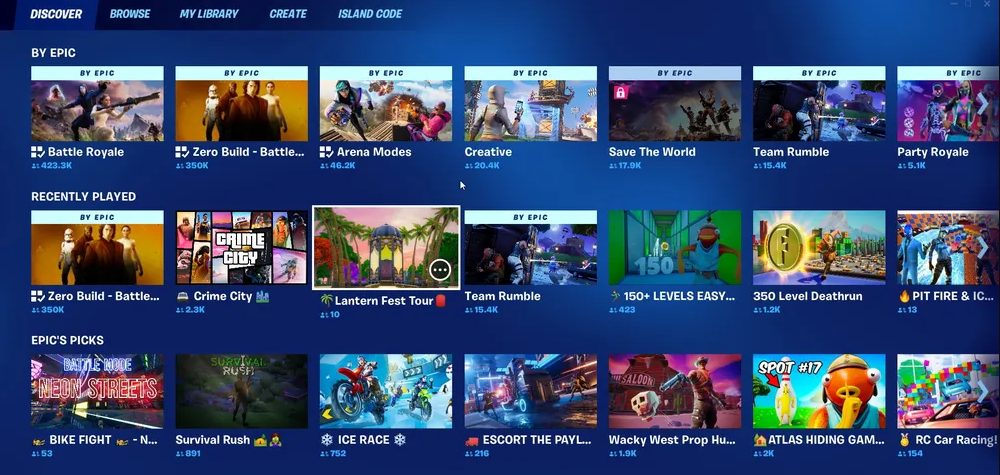 Most of these competitions follow the same guidelines as the Arena modes, and the player's objective is to accumulate as many points as possible by advancing in placement and overpowering their opponents. There are a few fundamental requirements, such as participants being at least 13 years old, turning on Fortnite's Multi-Factor Authentication, and having an account level of 15 or higher.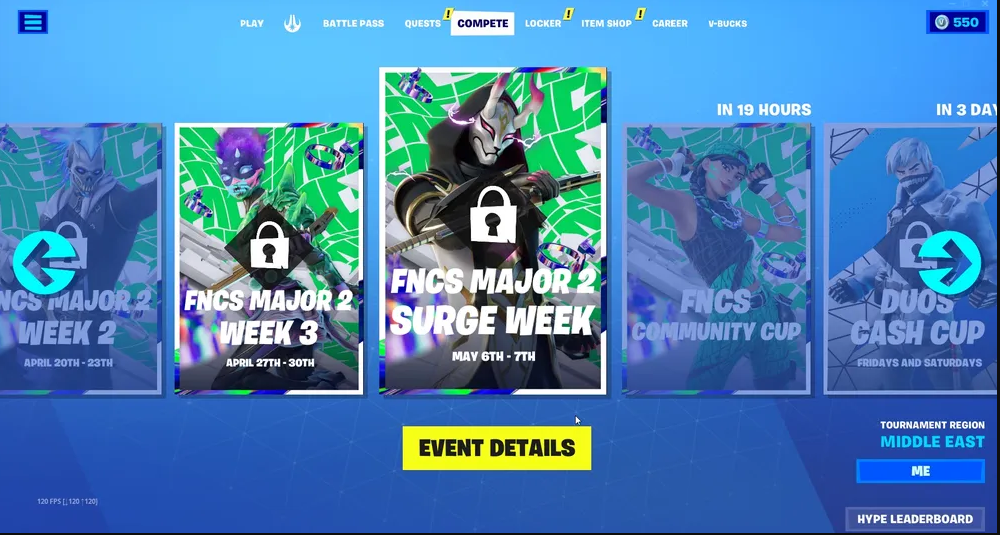 Some tournaments occur every week, while others occur only once a month or once a season. Players who have their minds set on playing in the larger in-person Fortnite events should grind these events and Arena modes to boost their rating so that they may compete in those larger events.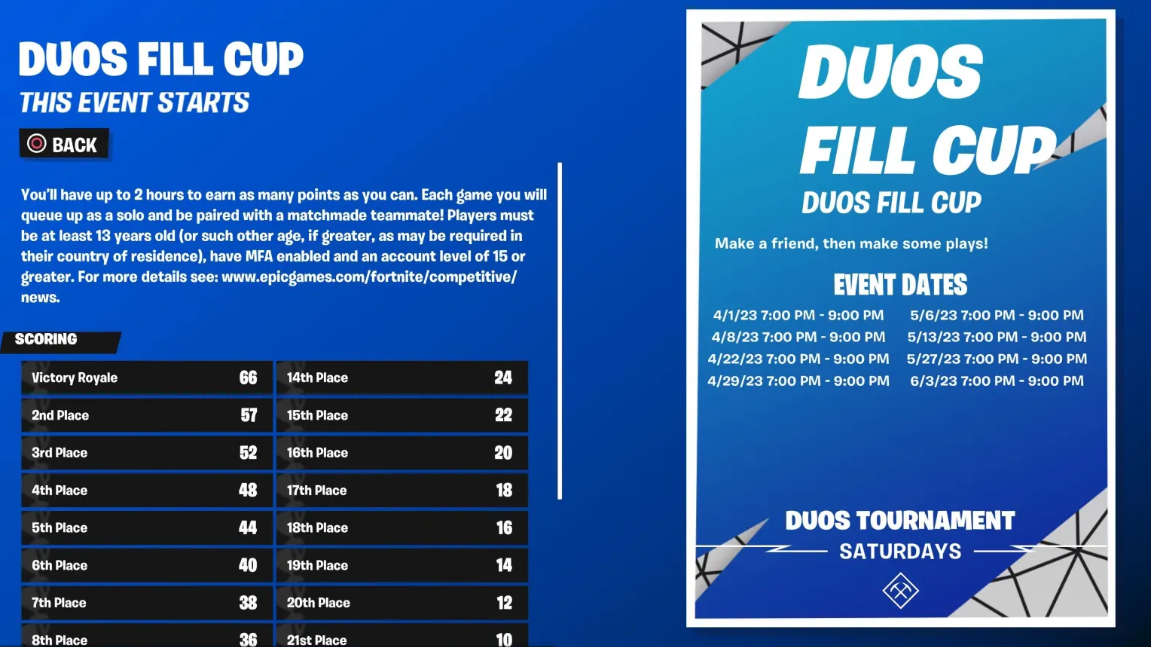 Users can receive an invitation within the game to attend one of these events when they reach a certain level. Just make sure that you are having fun while you are competing as well.
FAQs
What is the minimum age for Fortnite tournaments?
Players younger than 13 are not permitted to participate in competitive events hosted by Epic Games. In addition, in order to collect any awards that they may have won, players between the ages of 13 and 17 are need to obtain permission from a parent or legal guardian and provide financial information before they may do so.
Does it cost money to compete in Fortnite?
Certain tournaments charge an admission fee. The major official tournaments that EPIC hosts appear to have no entry fees associated with them. To compete in certain tournaments, you will need a partner to play in the Duos matches or a whole team to compete in the team tournaments. To comply with the law and claim your reward money, you will be required to present a tax certificate.
Is Fortnite still popular?
Although it was released in 2017, this game still holds a significant lead in the gaming market due to the large number of players. It's not just about the numbers though; the popularity of Fortnite has been able to stay strong thanks to a combination of creative gameplay and strategic improvements.
What grade is Fortnite?
The game Fortnite has been given a rating of T, which indicates that it is suitable for teenagers. The game's content has been described as containing "violence" and "interactive elements," which include "user interaction" and "in-game purchases."
How much ram is Fortnite?
The following specifications are a bare minimum for a gaming system capable of running Epic Games' popular battle royale game, Fortnite: Battle Royale: Windows 7/8/10 64-bit, as well as Mac OS X Sierra, is the operating system. The processor is a Corei3 running at 2.4 gigahertz. RAM – a total of 4 GB of RAM.