How to Lock Explicit Songs in Apple Music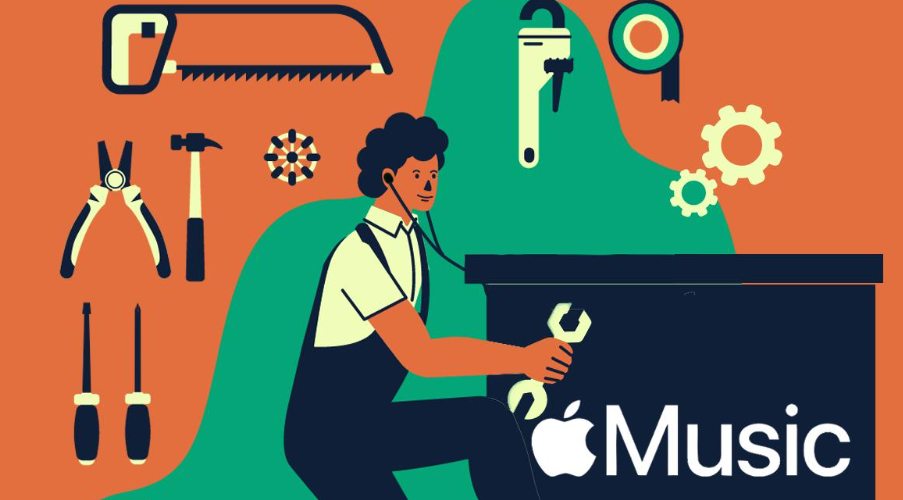 Apple has not provided a definitive explanation regarding the meaning of "explicit content" in Apple Music. However, based on our prior knowledge and observations, the explicit content tag is assigned to a song if it contains any kind of profanity, racial slur, or other language that is similar in nature. Apple Music takes the responsibility of its users' exposure very seriously, which is why it employs such stringent moderation policies for songs, albums, and music videos. This post will show how to lock explicit songs in Apple Music so that only authorized users may listen to them. So let's get started:
Read Also: How to Change Your Apple Music Name on Your Desktop
How to Lock Explicit Songs in Apple Music
As we've seen, the way Content Restrictions operate in Apple Music is a little bit different, which can make them appear unclear to the majority of users. In this section, we will walk you through the steps necessary to lock explicit content on Apple Music once more. To begin, launch Apple Music and then select the button depicted as three vertical ellipses in the upper-right corner of the screen.

Now, head on over to 'Settings.'

When the menu opens, scroll all the way down until you reach the area labeled "Content Restrictions."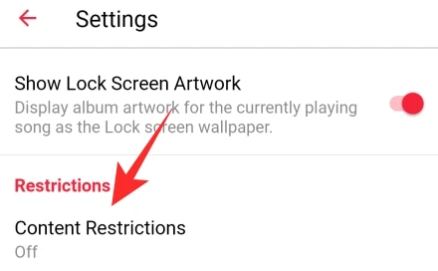 To open it, you'll need to tap on it and then confirm your four-digit passcode.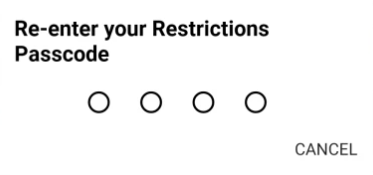 You may easily turn off 'Content Restrictions' and be done with it if all you want to do is disable access to explicit music while still maintaining control over the rest of the service.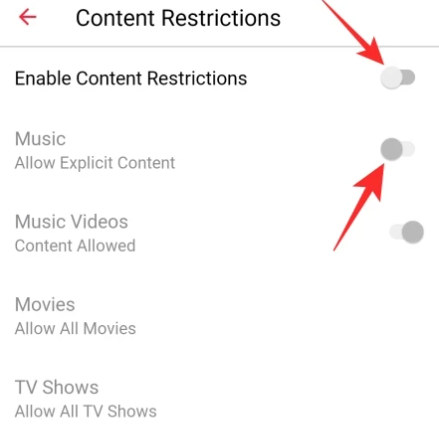 You will, however, need to keep the 'Content Restriction' toggle turned on in order to have greater control over the types of content that may be played through Apple Music. To prevent access to inappropriate material within music, turn off the toggle labeled "Music (Allow Explicit Content)."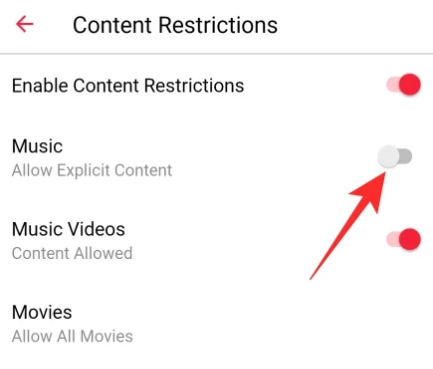 The option to disable "Music Videos" and "Profiles" is also available to you in the same manner.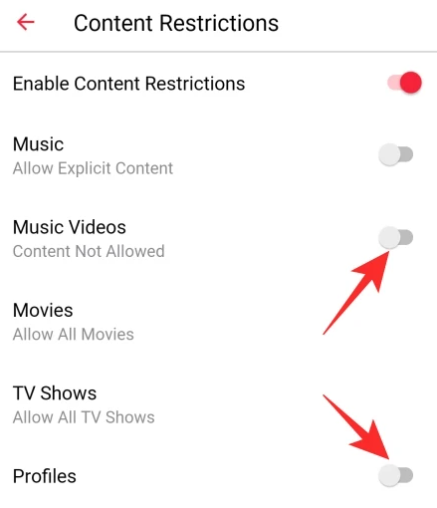 Finally, if you want to prevent access to any television programs or movies, make sure both of the settings are set to 'Don't Allow,' and then leave the room.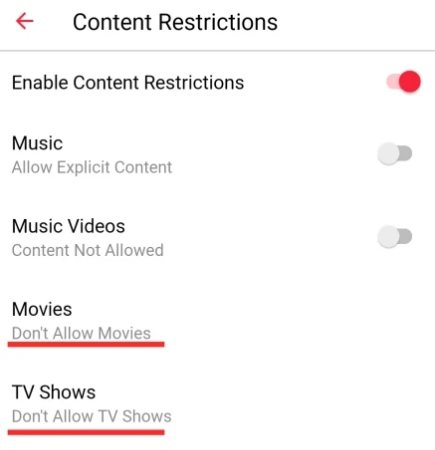 Experiment with the different permutations until you locate the one that works.
FAQs
Can I set restrictions on Apple Music?
You have the ability to set access controls for individual items in Apple Music. Screen Time and Family Sharing are two tools that can be used to implement these limitations. You can remotely manage and monitor a child's device from your own account on any Mac, iPhone, or iPad by using Screen Time and Family Sharing. These features are available on iOS devices.
Is Spotify better than Apple Music?
Apple Music contains music videos, broadcast radio, and shows in addition to having the highest possible sound quality and having the most exclusive features. Spotify is a music streaming service that also offers audiobooks and podcasts, has a free tier of service, and is compatible with multiple platforms.
What makes a song explicit?
A track is considered to be explicit if it contains swear words or language or art that is usually regarded as being sexual, violent, or offensive in its nature. If you indicate that a certain track on your album has explicit content, the entire album will be labeled with the same warning.
Is Apple Music the highest quality?
Apple Music provides users with an unrivaled listening experience that is characterized by the industry's highest possible audio quality standards. We have created our very own version of AAC, which stands for Advanced Audio Codec, and it is capable of delivering audio that is almost indistinguishable from the recording that was made in the studio.
Why is Spotify more popular than Apple Music?
The plans offered by Spotify are more affordable, and it is not necessary for families or groups of friends who prefer to use the family plan to connect their Apple IDs in order to be included in the same plan. Through the promotion of concerts held in users' local areas and performed by musicians whose work they enjoy, Spotify has been encouraging its users to listen to more music outside of the site.