How to Mirror Galaxy S10 to Roku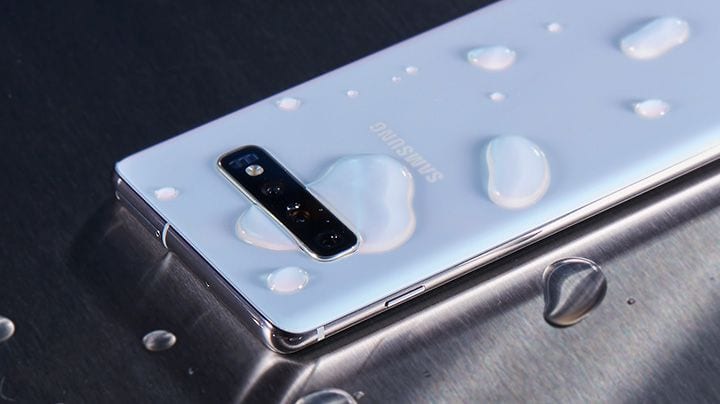 If you're looking for a comprehensive guide on how to mirror Galaxy S10 to Roku, you've come to the right place! In this article, we'll walk you through the entire process step-by-step. By following these instructions, you'll be able to view your Galaxy S10 screen on your Roku device in no time. So without further ado, let's get started!
Read Also: How to Watch Twitch on Your Roku
How to Mirror Galaxy S10 to Roku
1. Using the remote that came with your Roku, press the Home button. Choose "Settings" from the sidebar on the left of the screen.
2. Go to the "System" menu.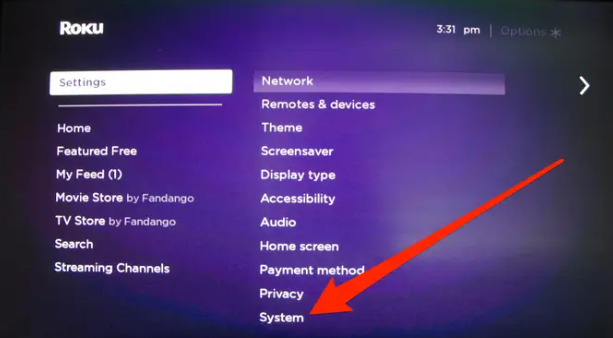 3. Choose the "Screen Mirroring" option.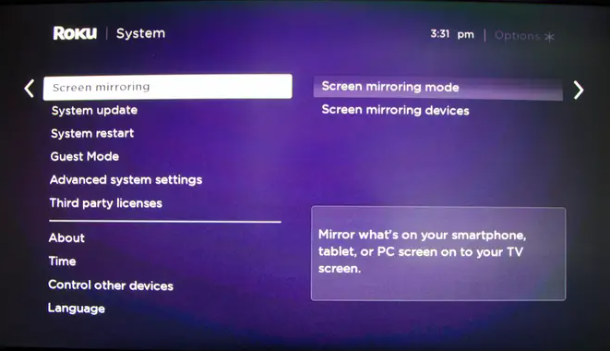 4. Choose either "Prompt" or "Always allow" from the drop-down menu. Always allowing screen sharing is a convenient option to have if you do not mind the possibility of unauthorized users accessing your Roku and sharing their display with others.

5. To access the notification centre on your Galaxy S10, scroll down from the top of the screen in the direction of the arrow. You'll need to pull it down one more so that you can view all three rows of icons.
6. Find Smart View. It's possible that you won't locate it until you swipe through the next two or three pages of icons.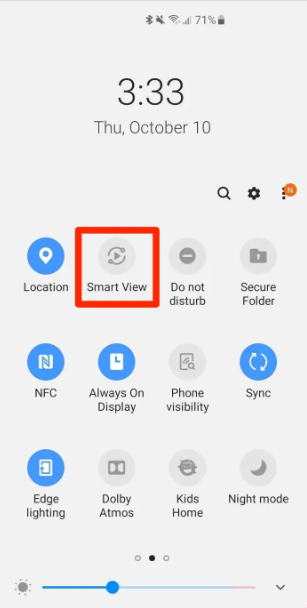 7. Tap "Smart View." After a little while, a list will appear on your phone containing all of the nearby devices to which it is possible to connect.
8. When you see it, tap the entry for your Roku when you get to that screen.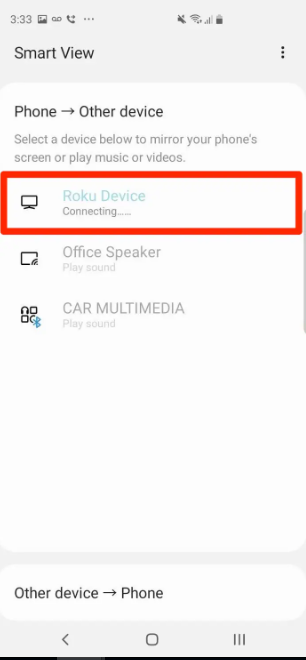 9. If you selected the option to be prompted each time you tried to mirror to the Roku, go back to the screen you were using on your TV and use the Roku remote to select "Always allow" or "Allow." The Galaxy S10 will automatically connect and display on your TV when a moment has passed.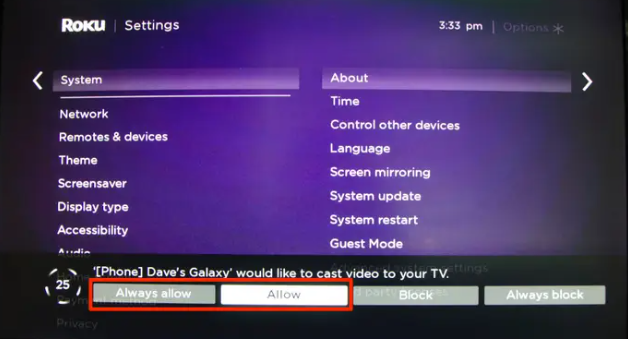 You should be linked at this point, and anything you show on the display of your Galaxy S10 will now appear on the screen of your television via the Roku.
In other words, if you want to enlarge the display on your phone so that it fits the dimensions of the TV screen, your Galaxy S10 may ask you whether you want to modify the aspect ratio so that it is compatible with the television. Pick the alternative that better suits your needs.
FAQs
Why is my Samsung not screen mirroring?
You might want to try rebooting your electronic devices, such as your phone and television. Create a pairing and connection between your phone and your TV through the use of the same WiFi network. Put your television's Bluetooth capabilities on standby. If it is at all possible, you should use a screen mirroring technology provided by a third party.
Why can't I screen mirror to my Roku TV?
Navigate to the settings menu of the Android smartphone you're using and allow screen mirroring. In most cases, this is accomplished by selecting a submenu such as cast, connection, display, or network. Open the Settings menu on the Roku device, then System, then Screen mirroring, and make sure the box next to "Enable screen mirroring" is selected.
Why is screen mirroring not working on my Roku TV?
You should then see a TV dialogue asking "Always Allow/Allow/Block/Always Block," in which case you should select "Always Allow." The Screen Mirroring Mode setting should then be changed to "Prompt," and you should then disable and re-enable Wifi on your phone before attempting to reconnect in SmartView once more (be patient, some devices can take up to 30 seconds to connect).
Do all Samsung phones have screen mirroring?
Every device has its own individual needs that need to be satisfied in order to successfully share the screen. Screen mirroring, also known as Smart View, is available on more recent Samsung smartphones, however this functionality may not be available on previous operating systems or devices.
Why is my phone not mirroring to my TV?
Check that all of your AirPlay-compatible devices are turned on and that they are in close proximity to one another. Make sure that all of the devices are using the same Wi-Fi network and that their software has been brought up to date. You'll need to restart any devices you plan to use with AirPlay or screen mirroring before you can get started.
Can I screen mirror Samsung phone to TV?
Launch the SmartThings app and choose the TV you want to mirror. Tap the More options button (it looks like three vertical dots), then tap the Mirror Screen button (Smart View).