How to Reset Network Settings on an iOS and iPadOS

When fixing network connection issues on an iPhone, iPad, or iPod touch, resetting the network settings can frequently be a helpful solution. This can be done with either wi-fi networks or cellular data connections. In iOS and iPadOS, resetting these settings is a simple process that takes only a few seconds, and the procedure for resetting network settings is the same regardless of whether the device in question is an iPhone, an iPad, or an iPod touch.
It is important to keep in mind that resetting the network settings will destroy any custom DNS settings that have been configured, will remove any saved wi-fi passwords, and will remove any other special customizations such as DHCP settings that have been applied to networks or networking functions. So let's get started:
Read Also: How to Use the Spotify Equalizer on iOS and Android
How to Reset Network Settings on an iOS and iPadOS
There is no difference in the process for resetting the network settings on an iPhone, iPad, or iPod touch; the processes are as follows:
Open the 'Settings' app that is installed on your device.
Move on to the next section, which is titled "General."
Choose "Reset," then from the drop-down box that appears, select "Reset Network Settings."
The iPhone, iPad, or iPod touch will restart after you have confirmed that you want to reset the network settings. At the same time, all of the network service settings on the device will be destroyed and reset to their default values.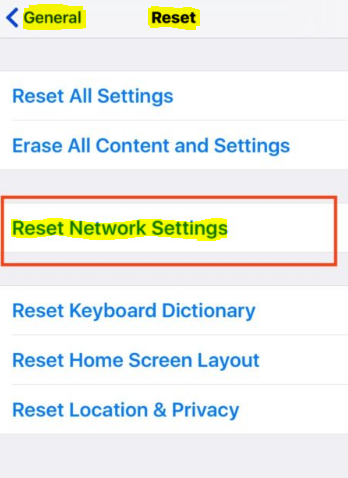 After the device has finished restarting, you will need to either re-join a wireless network as per usual or wait for the cellular data plan to become operational again. Either way, you will need to wait until the device has finished its restart. The settings of the network equipment have been reset to their factory defaults in their entirety!
FAQs
What does resetting networking settings do on iPhone?
When you reset network settings, any previously used networks and VPN settings that weren't deployed via a configuration profile or mobile device management (MDM) are erased. This includes both public and private VPN connections. The Wi-Fi is turned off and then on again, which causes you to get disconnected from whatever network you were previously connected to.
Is it safe to reset network on iPhone?
In the event that you are having problems with either your data or Wi-Fi connection, resetting your network settings will allow you to solve the issue. This is a solution that works well the majority of the time and can be implemented very rapidly. Simply navigate to your device's general settings, select the option to reset the network, and then input your security passcode.
Should I reset network settings iPhone?
It is not possible to send emails or check the weather on an iPhone without first establishing an internet connection, which is required for many of the iPhone's features and functionalities. It is possible that you may need to reset the network settings on your iPhone if you discover that it is unable to connect to the internet, despite the fact that it appears to be linked to WiFi or mobile data.
Will I lose everything if I reset network settings?
If you were to reset the network settings, all of the Internet and networking-related data that was previously stored on the devices would be deleted. During the process of resetting, it is possible that data pertaining to virtual private networks (VPN), Ethernet, Bluetooth, and cellular networks will be removed. On iOS, the configurations for features like as the hotspot, wireless display, and AirDrop will, fortunately, not be altered.