How to send a Fax on G suite?
Wouldn't it be suitable if you could fax from the G suits like Gmail, Google Drive, Google apps, and others platform? A faxed document is saved to Google Drive, Gmail, or Google Voice, which can be a chore if you utilize the old conventional method: a bulky fax machine. 
You have to download the sent documents to that device, print those out, and finally fax those using the fax machine. Regardless to say, the entire procedure is highly cumbersome and inconvenient. 
While Google doesn't offer in-built faxing features, you may enhance their functionality with the help of some third-party plugins. 
In this article, we are going to tell you how to Fax on G suite securely.
The best Plugin for Faxing on G Suite: CocoFax
CocoFax is a top-notch third-party add-in, which essentially helps anyone to send faxes on these G suites. So, this guide is all about showcasing how to fax to G drive, Gmail, and Google Voice in a fraction of minutes.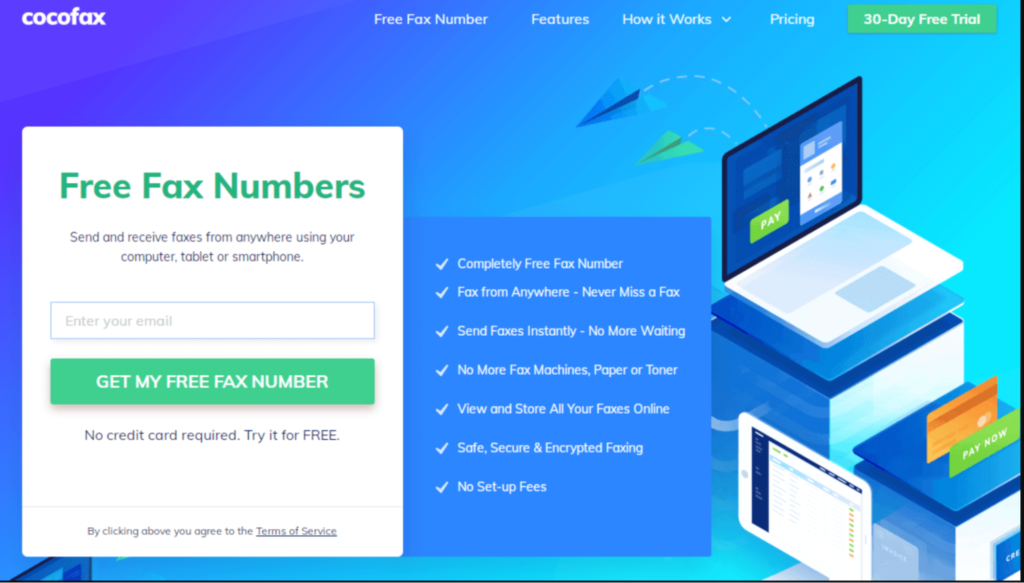 CocoFax – The affordable and professional Fax service
The best-in-class Online Fax Service Provider, CocoFax offers credible, secured and the best encrypted faxing standards. Their service is highly confidential, which means you never have to bother about the privacy and safety of your faxes. 
Moreover, it is HIPAA-compliant, which means it has already been used in various healthcare organizations. 
To send a fax here regularly, there is a little subscription fee. However, it won't require paying the steep charges you generally do. 
Also, first-time users can avail themselves of its exclusive faxing services for 14 days without spending a dime.
How to fax from Google Drive (Sheet, Docs, and Slides)?
You may think of probabilities if is it possible to fax from Google Drive? As mentioned earlier, G-suite doesn't have a built-in feature to receive and send faxes. But, anyone can install CocoFax on their device to efficiently fax from your Google Drive. 
Some major benefits of using a plugin to fax from Google Drive are shown below:
Instantaneous fax sending from your PC and smartphone

Accessibly send out faxes from within Google Sheets, Google Docs, and Google slides

Sending protected and safe faxes with some clicks
CocoFax provides a fax add-on for Google Drive. This is how you can fax from Google Drive with the CocoFax add-on:
Step #1
Make sure to register for a free CocoFax subscription and choose a fax number.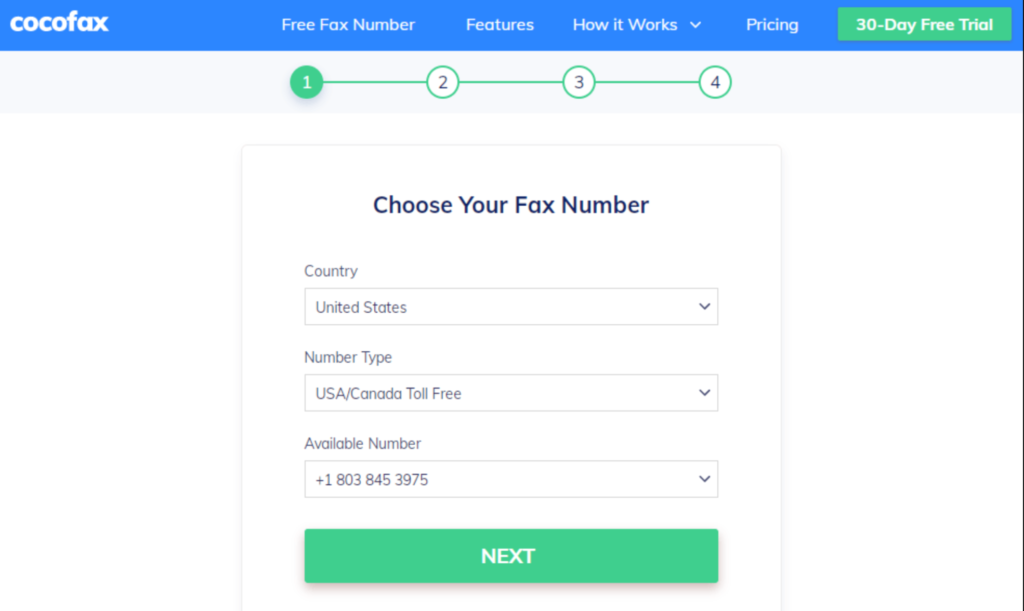 Step #2
Next, provide that Gmail id to be associated with your Google account after you opt for your free number.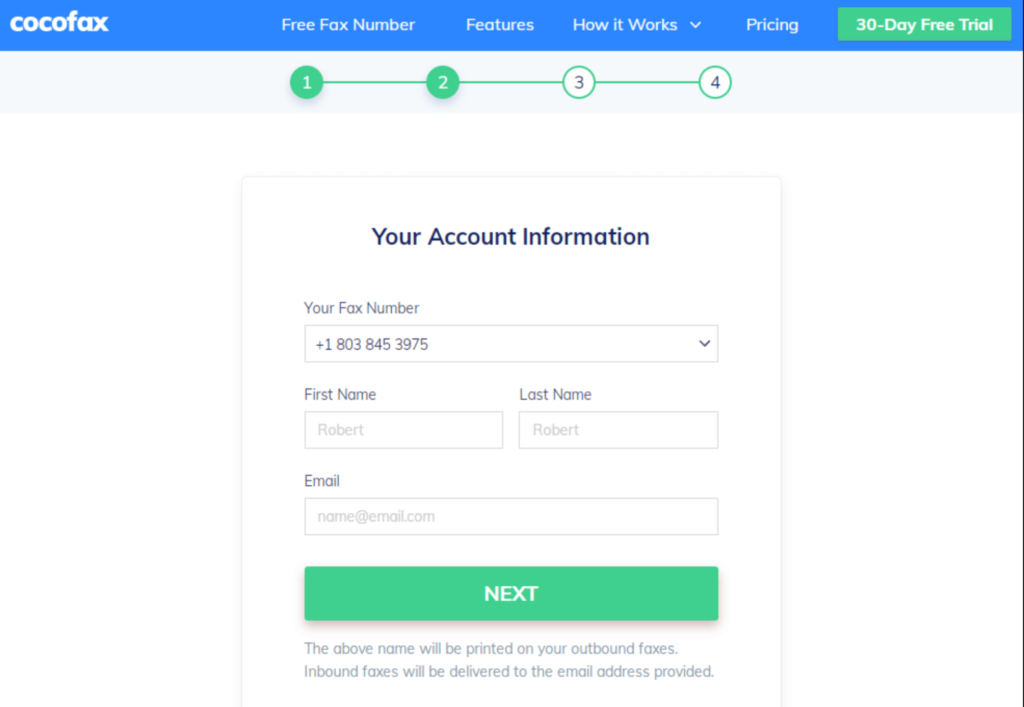 Step #3
Now, log in to your Google Drive, rummage the document you choose to fax and open it.
Find the "add-ons" tab in the menu bar at the top side of the document window. Tap on "Get Add-ons" and look for CocoFax in the vacant place. Now, install the add-on.
Step #4
Now again, click on the "Add-ons" button followed by CocoFax. A compose fax window will quickly pop up where you need to fill out the adequate details. Once you are done, draft the fax by clicking on "send."
Yeah, that's it! This is how you can feasibly fax via CocoFax as it takes a couple of minutes. Well, in order to receive a fax on Google Drive, make sure to use CocoFax integration.
How to fax via your Gmail Account directly?
You will be capable of sending and receiving faxes directly from your Gmail account with CocoFax. Check out the premium features shown below:
You may send faxes just by composing a new email from within your inbox

You need to incorporate the recipient's number in the "to" field followed by "@cocofax.net."

Incoming faxes will be forwarded to your inbox, followed by your fax number

You will also receive fax-related notifications also

Sending and receiving faxes become as hassle-free as using email
Here are the convenient steps to follow in order to fax from Gmail to CocoFax:
Step #1
Start the process by signing up for a CocoFax account and free subscription of 14-days. You need to opt for a free fax number as the primary step of the registration process. The next process of registration includes filling out your credentials. 
Step #2
Provide your valid Gmail ID in order to fax from this step. You may not provide your alternate email Id as CocoFax requires this information only to interlink your Gmail account to its service. 
Step #3
Open the Gmail app on your smartphone or PC to log into your Gmail account.
You will need to compose an email for sending fax where the email body will be the fax cover page, and the attached documents will be converted to the fax documents. 
Gently fill out your recipient id in the "To" section, a subject on the subject line, an email body, and mandatory fax files in .jpg, .docs, .xls formats.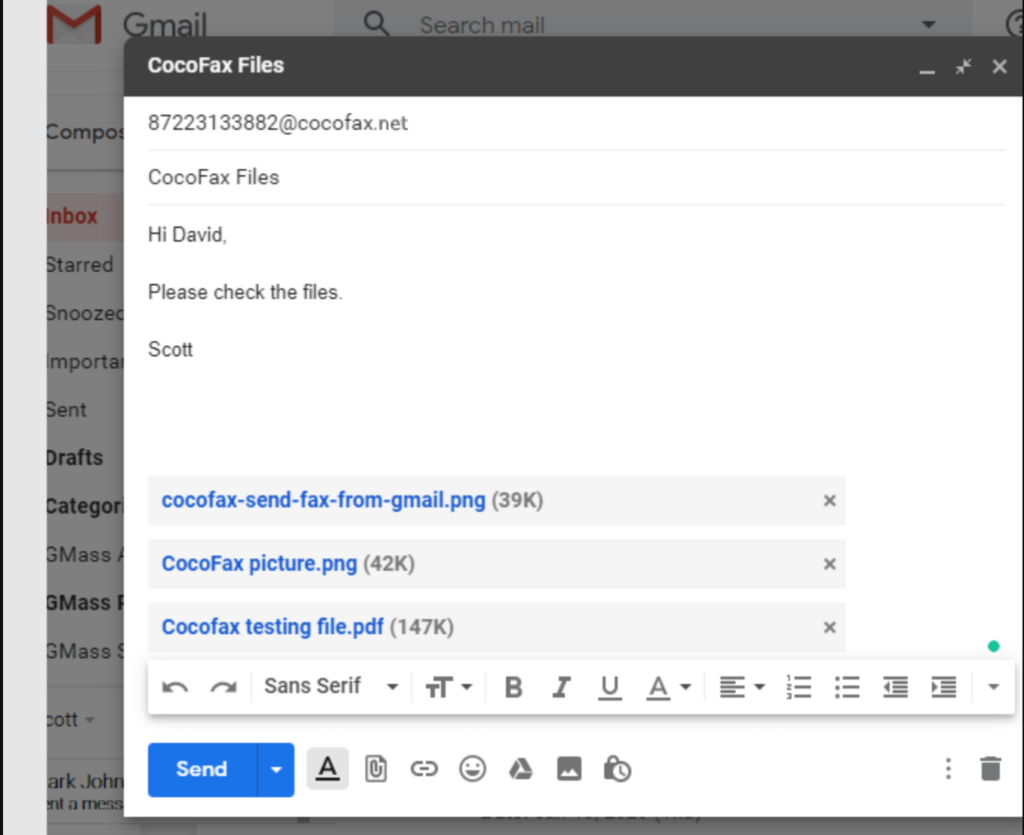 Step #4
Lastly, hit the "send" button once you have completed drafting the fax. That's all, you just successfully sent out your first fax from CocoFax. Once the fax has been sent to your recipient's address, a confirmation mail will pop up to your Gmail id. 
In case it couldn't get delivered, you will again receive a confirmation mail of non-deliverance from CocoFax. Unsuccessful delivery of faxes generally stems from the receiver's end as the incorrect number was entered. You may try sending it again if it's the case! 
However, in addition to sending a fax from your Gmail address, you might also do it from your CocoFax account on your smartphone or PC. 
Remember these things while using CocoFax:
You may fax via the registered email id

You have to enter the country code before entering the fax number

Make sure to fax via the "cocofax.net" suffix and not "cocofax.com." 
However, CocoFax supports all the vital email platforms like Outlook, iCloud, Gmail, and Yahoo.
Concluding words
Taking fax machine services or buying a fax machine also needs investment. In comparison to this, you need not pay for a phone line while using CocoFax. Also, it is enormously faster and easy to use. 
Therefore, you might invest your money and time for better optimization of your company. So, you see, you can send a fax efficiently without any hassles as CocoFax is the best faxing solution.