How to Verify Your Discord Account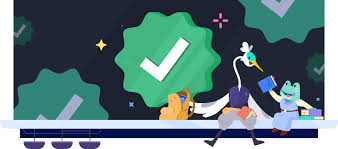 You will be sent a verification email from Discord if you have just opened an account on their platform. By conducting a search for "Discord," you will be able to scan your inbox for any emails linked to Discord. If you, on the other hand, did not get the email, you will need to send it again. Email and phone verification are the two options available for confirming ownership of a Discord account. Verification via email is the method that is considered to be the most important.
On the other hand, phone verification is merely an additional layer of verification, therefore using it is entirely voluntary. Following the instructions in this post will teach you how to authenticate your Discord account by email in just 4 simple steps.
Read Also: How to Check Discord Account Age
How to Verify Your Discord Account
The steps necessary to validate your account on Discord are outlined in the following step-by-step guide.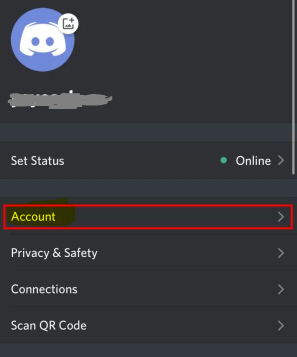 Launch Discord and select Your Profile > Account from the menu. To begin, launch Discord on the mobile device you're using. Keep in mind that the screenshots in this article are for the mobile version of Discord because it can also be used on a desktop computer. After that, if you haven't previously done so, sign in to your account on Discord. Tap the icon that looks like your profile in the bottom navigation bar once you've logged into the Discord app.
After you have tapped on the icon representing your profile, you will be presented with a number of options, including those titled "Set Status," "Account," "Privacy & Safety," and others. You need to navigate to the "Account" tab in order to validate your Discord account, and this is the tab that you want to be on. To access the settings for your account, select "Account" from the menu.
Continue on to the following step to discover the location of the "Verify" button in the system.
Step 2: Tap on "Verify"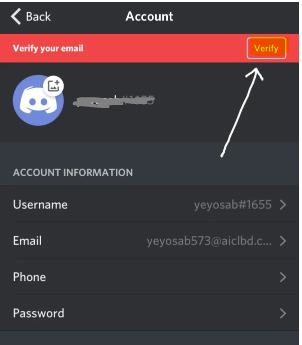 Verify your email > Verify. You will arrive at the settings for your Discord account once you have navigated to the "Account" tab and tapped on it. You can change many aspects of your profile, including your username, profile image, and email address, by going to the settings page of your account. You will be able to view the email address that you used to establish your Discord account if you click on the page labelled "Email."
Remember to jot down that email address, since you will require it in the near future. You will see a banner message at the top of the screen that says "Verify your email" and a button that says "Verify." Click on the banner message. To confirm that your email address is correct, use the "Verify" button.
Continue on to the following stage where you will decide whether to resend the email or change the email address that you are using.
Step 3: Tap on "Resend Email"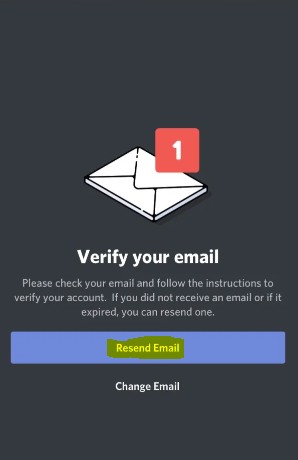 To resend the email containing the verification code, select the "Resend Email" option. When you have finished verifying your account by tapping the "Verify" button, you will be taken to the "Verify your email" page. On this page, you will have the opportunity to select either the option to Resend Email or the option to Change Email. Simply select "Resend Email" from the drop-down menu to resend the verification email for Discord. You can check the inbox of the email address that you used to create your Discord account to find the verification email that has been sent to you there.
In the second step, you will be able to locate the email address that you entered when you initially created your Discord account. In the event that you have just now created a Discord account, a verification email will be sent to the email address that you provided during account creation. If this is the case, before you try to resend the email, you should make sure that you have looked through your inbox for any emails related to Discord, as it is possible that you have overlooked one of them.
On the other hand, if you would like to alter your email address, you can do so by selecting the "Change Email" option from the menu. If you no longer have access to the email address that you used to create your Discord account, you can use this method to receive the verification email and continue using your account.
Step 4: Check your inbox and tap on "Verify Email"
Have you checked your inbox? Please Check Your Email Address Before Joining Discord > Verify Email. The very last thing you need to do is check your inbox for the email requesting verification. Check the inbox of the email address that you used to establish your Discord account first. There may be an important message waiting for you there.
For instance, if you created your Discord account with an email address from Gmail, you should check the inbox of your Gmail account. If you created your Discord account with an email address associated with Yahoo, you should check the inbox associated with that email address. Be cautious to check your junk/spam mail in the event that the verification email cannot be located; it is possible that it was delivered there. You should look for an email with the subject line "Verify Email Address for Discord," since it is recommended that you do so.
After ten minutes have passed, you should try sending the verification email again if you still have not received it. Open the email once you've located it, and then select "Verify Email" from the menu to validate your email address on the Discord server.
Congratulations, the email address associated with your Discord account has been successfully verified! You will be allowed to send text messages on servers that have a security rating ranging from none to high from this point forward.
FAQs
Why can't I verify my Discord?
If you are attempting to complete your verification and you see the notice "Invalid Phone Number," there are a few possible explanations for why this is happening to you: In order to successfully complete verification, you cannot use a VOIP number, a burner or prepaid number, or a landline number. In order to authenticate, you must use a mobile phone number. You have made some errors in the way the text entry box has been completed.
Do you have to verify your Discord account?
Before a user may be allowed to participate in your Discord server, their Discord account must first be equipped with a verified email address. This is the case even if you have your server verification settings set to Low. This article contains the instructions you need to validate your email address.
What is Discord verification key?
It is a backup of the six-digit two-factor authentication (2FA) code that is used for signing in to Discord along with the username and password for the Discord account that is protected by the 2FA. The Two-Factor Authentication (2FA) is an additional layer of protection that must be completed in order to log in to Discord; while its use is voluntary, it is strongly encouraged for reasons of security.
Where does Discord send the 6 digit code?
The two-factor authentication, consisting of a six-digit code, will be provided by either your Authy app or Google Authenticator! I sincerely hope that helps!
Why does Discord want me to verify my account?
In the event that there are unusual or suspicious activities taking place on your account, the administrators of the platform may at times use a preventative step known as occasional phone authentication to verify your identity. It is possible that Discord will never ask you to verify your phone number, but it could happen numerous times every week or month. It is entirely dependent on the manner in which you make use of the site.