Increase your Stash Size in The Division 2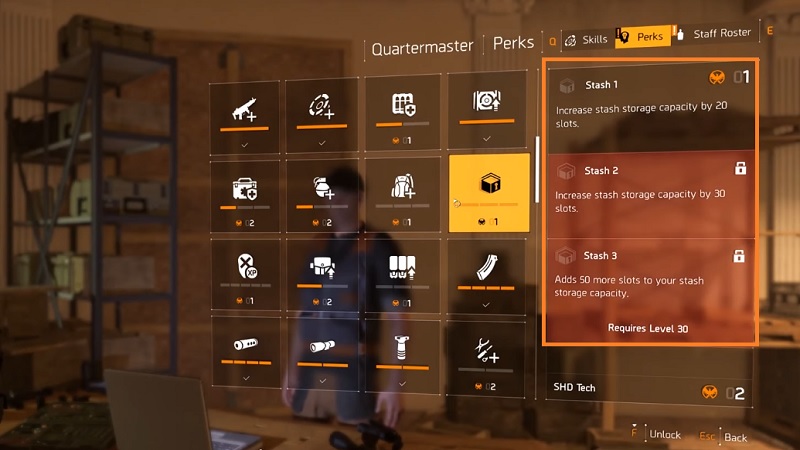 During Tom Clancy's The Division 2 gameplay, you'll find the constant need to double or triple the size of your stash. Of course, you can choose which item to keep in your inventory and which item to drop. But at some point, you'd wish that there should be more space available. We can understand that having an increased Stash size is essential in the game. If you don't know how to increase the stash size, well! Today is your lucky day. We are going to guide you about all there is on how to increase inventory size in Tom Clancy's The Division 2.
How to Increase Stash Size in The Division 2
To maximize the stash size in The Division 2, players should have SHD Tech available at hand. It is used to unlock different perks in the game. Also, Quartermaster skill should be unlocked as well which will help you exchange your SHD Tech for perks. After unlocking Quartermaster and having SHD Tech at your disposal, visit Quartermaster at the White House.
After interacting with him, select the Perks tab. Browse through different perks. From there you can see how to unlock any perk in The Division 2. You'll find a number of perks in perks tab that will be relevant to your stash. Unlock stash at Level 1. It will increase your total storage limit by twenty slots. Unlocking more stash will gradually increase your available slots for stash. 2nd level will add 30 slots to the total storage capacity and 3rd level will increase the total storage capacity by 50 slots.
You can unlock Level 1 of the Stash using a single SHD Tech. But unlocking the next level of stash will require additional SHD Tech points. To equip level 3 of the storage, you must reach level 30 first. We recommend that you at least unlock the level 1 of stash storage to have some extra space at your disposal. Remaining can be purchases later as you see fit.
Now you have a basic idea of how to increase the stash size in Tom Clancy's The Division 2. We suggest that you restart the game and start working on it. If you find yourself stuck on any step, feel free to ask for our advice by asking us in the comments section below.
Check out some of our other guides on The Division 2 below: