Returning after being absent since the time of Covid is Fortnite's long-lost plague doctor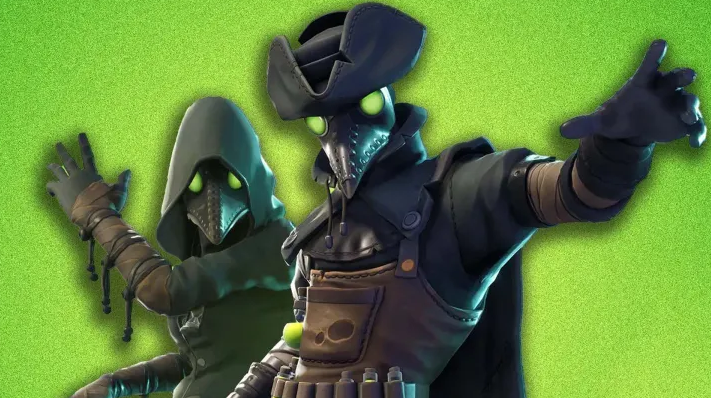 After what is believed to have been a forced absence caused by the Covid pandemic, the long-lost plague doctor character set has finally been brought back into rotation in Fortnite for the first time in three years. After a total of 1080 days away from Fortnite's infamous rotating item market, Scourge and Plague have finally made their way back in at the stroke of midnight last night. Both items cost 1500 V-Bucks to purchase. Both are designed to seem like the beaked physicians who practised medicine throughout the 16th and 17th centuries to treat people who had the bubonic plague.
The skins were initially made available for purchase before the close of 2018, and they were part of a popular set that was regularly updated and put back on sale every couple of months until its final appearance at the end of January 2020. I remember their focus in the item shop raising eyebrows at the time, which is fitting given that the early phases of the Covid epidemic were already dominating the global news at the time.
Since then, Epic Games has not made the plague physicians available for purchase again, which appears to be a purposeful decision on the part of the developer, despite the fact that Epic Games has never verified this fact. There are now more than a thousand different character skins available in Fortnite; however, the majority of those skins are only available for purchase in the item shop and are rotated out every few months or annually to coincide with the proper holiday celebration.
A very small percentage do not, which is something that enthusiasts keep note of, even if it's just to show off skins that are considered unique or rare. It was believed up until this point that the plague doctor skins were purposefully kept out of the item shop and that content makers were unable to include them in sponsored item bundles since they were unavailable.
Other uncommon Fortnite skins include Rue, a woman who wears a trench coat that some players have compared to a Nazi uniform because of its red and black colour scheme (only released twice, last seen three years ago). Another skin that appears to be against the law is for the rapper Travis Scott, whose show at Astroworld in 2021 was responsible for the deaths of several concertgoers as a result of a mass crush (also last seen three years ago).