ROG Strix AMD Radeon RX 7600, Dual, and Dual V2 Graphics Cards are Now Available from ASUS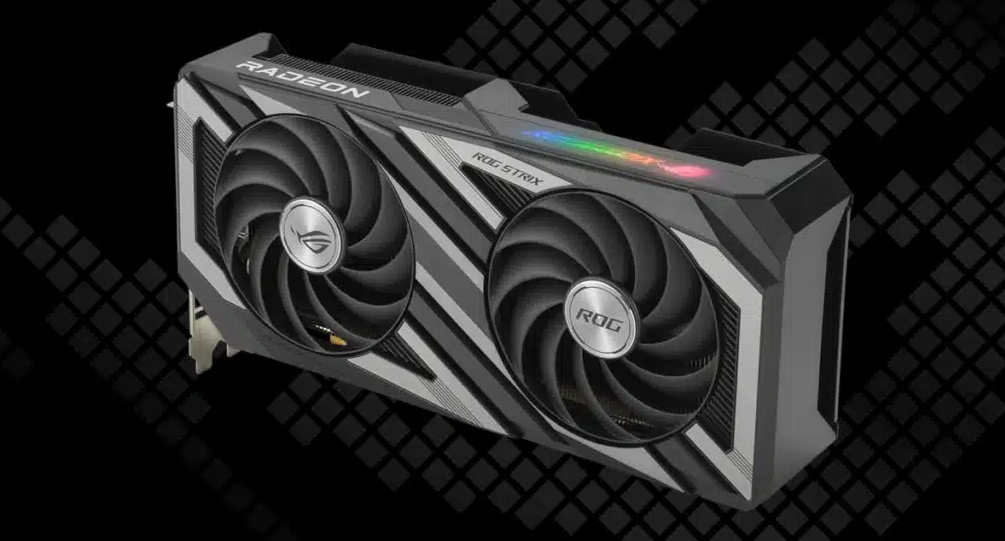 SUS has introduced three new graphics cards: the ROG Strix AMD Radeon RX 7600, the ASUS Dual AMD Radeon RX 7600, and the ASUS Dual AMD Radeon RX 7600 V2. These cards are meant to provide a well-balanced combination of affordability and gaming performance, giving beautiful images and smooth gameplay. They are designed to be used in PC gaming. A appealing option for gamers who are interested in upgrading the capabilities of their gaming PCs, the ROG Strix AMD Radeon RX 7600 features the newest generation improvements available. The previous-generation ROG Strix AMD Radeon RX 6600 XT had a TGP (total graphics power) of 125 watts, while this new model has a TGP (total graphics power) of 145 watts, yet its operational temperatures and noise levels are virtually identical.
It is absolutely necessary to have both an efficient GPU and an effective cooling system. The graphics card has two 11-blade Axial-tech fans that ensure a constant flow of cooling air through its 2.9-slot heatsink. These fans are part of the graphics card's cooling system. Its lengthy lifespan can be attributed, in part, to the dual-ball fan bearings. In addition, the heat is efficiently dissipated thanks to the aluminum protective backplate that features venting. When the conditions are right, the card's 0 dB technology will kick in and cause the fans to cease spinning altogether, resulting in entirely silent operation. The convenience of a Dual BIOS switch, which enables gamers to easily toggle between performance and quiet modes, is also available to gamers.
The ROG Strix AMD Radeon RX 7600 graphics card stands out with its angular lines and contrasting parts, while the metallic black and silver hues on its shroud provide compatibility with a wide range of hardware. Both of these features contribute to the card's ability to stand out. The card's look can be further customized by users using addressable RGB LEDs situated in the top corner. These LEDs allow synchronization options with other compatible hardware through ASUS Aura Sync.
The ASUS Dual AMD Radeon RX 7600 never loses its cool
The dual graphics cards produced by ASUS offer excellent performance in addition to key features in designs that are both compact and space-saving. The ASUS Dual AMD Radeon RX 7600 or the ASUS Dual AMD Radeon RX 7600 V2 graphics card may be the best option for those who are considering constructing a compact gaming computer and are looking for the ideal graphics card to use. Because of the shorter length of the card and the reduced size of the heatsink, they will have enough access to fresh air in circumstances in which cards with a greater thickness would be suffocated.
The ROG Strix Dual models, like the ROG Strix Dual models, include a pair of Axial-tech fans that have been precision-engineered to offer a constant stream of cooling air in a quiet manner. The 0 dB technology of the cards will completely stop the fans from spinning when the workloads are light and the GPU temperatures are low, allowing for silent operation. ASUS Auto-Extreme technology, an automated manufacturing technique that enables all soldering to be accomplished in a single pass, was utilized in the construction of these cards. This results in less of an impact on the environment, lower manufacturing power consumption, and an overall product that is more reliable. It also lowers the thermal strain that is placed on components and eliminates the need for the use of harsh cleaning chemicals during production.
Easy control with GPU Tweak III
Straight out of the box, both the ROG Strix AMD Radeon RX 7600 and the Dual AMD Radeon RX 7600 graphics cards provide a superb blend of acoustic, thermal, and graphical performance. However, a large number of fans will be excited to customize their graphics cards in order to make them work the best for their own needs. This is why ASUS provides the user-friendly GPU Tweak III program for its customers.
This application, which was developed based on years of input from members of the PC community, makes it simple to overclock or undervolt a graphics card, as well as to tune fan curves and monitor essential hardware information. GPU Tweak III provides users with everything they require, whether they are searching for plug-and-play experiences with preset profiles or a comprehensive panel of tools to tune their card exactly to their liking. GPU Tweak III is available for both Windows and Mac operating systems.