Samsung says its new portable SSD can survive a 10-foot drop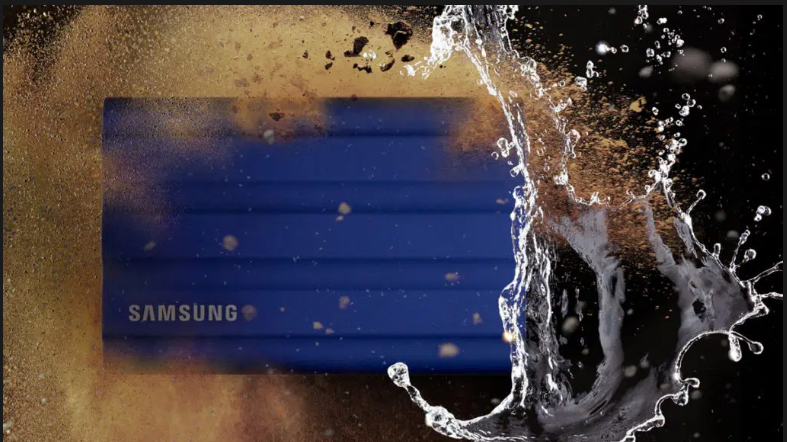 Samsung has added a more durable version of its T7 portable SSD to its existing portfolio of T7 portable SSDs. For starters, the T7 Shield offers better drop resistance than previous models. Samsung claims that its metal body will be able to withstand a fall of 9.8 feet, in part because of rubberized outside protection. It also has an IP65 rating, which means it is resistant to rain, dust, and crushing.
Despite its low heat conductivity, the SSD has read and write speeds of up to 1,050MB/s and 1,000MB/s, respectively, according to the manufacturer. In the case of the USB 3.2 Gen2 standard, Samsung claims that those are the best achievable rates (though the SSD comes with both USB Type C-to-C and Type C-to-A cables). According to the manufacturer, the T7 Shield is nearly ten times faster than external hard drives and nearly twice as fast as SATA-based portable solid-state drives.
The Shield, like the other T7 models, is small and lightweight, measuring 88 x 59 x 13 millimetres. It has a total weight of 98 grammes. It is also compatible with game consoles, mobile devices, and broadcast cameras, in addition to computers and other devices. In addition, the disc is protected by hardware encryption.
The T7 and T7 Touch are among our favourite portable SSDs, in part because of their lightning-fast performance and compact design. This more rugged variant may become popular among travelers and those who like extreme sports like mountain climbing and surfing.
The T7 Shield is available in three different colour schemes: black, beige, and blue. It is currently available in over 100 countries. Price-wise, the 1TB model costs $160, while the 2TB model costs $290.