SanDisk Professional PRO-BLADE Modular SSD Ecosystem Unveiled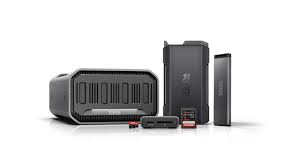 SanDisk and SanDisk Professional will introduce a flurry of new products today at the What's Next Western Digital Event in San Jose, California, which will be attended by industry leaders. The company also provided a second look at items that were presented at the recently concluded NAB conference, including the G-DRIVE PRO STUDIO SSD, which features a 7.68TB enterprise-class desktop SSD, and the addition of 20TB Ultrastar drives to the G-RAID SHUTTLE 8 array. The G-DRIVE PRO STUDIO SSD is a 7.68TB enterprise-class desktop SSD that has been designed for use in the classroom (driving up the top capacity to 160TB).
The new tools that have been launched today are intended to address some of the issues that high-volume video creators are currently facing. They include: The SanDisk Professional PRO-BLADE modular SSD environment, which is now available, is the most exciting of the group. Western Digital has created a tiny enclosure for its NVMe PCIe 3.0 x4 SSDs that is both aesthetically pleasing and useful in its design (with a custom, but not proprietary connector). Two options are available for connecting this PRO-BLADE SSD Mag to a host system: the PRO-BLADE TRANSPORT, which is a portable sleeve that supports a single mag, and the PRO-BLADE STATION, which is a JBOD desktop version that supports up to four mags on a single drive.

The PRO-BLADE devices are aimed at a diverse group of professionals and prosumers that require a number of high-speed portable drives for content capture and backup while on the road, as well as for quick transfers back to their editing desks. Mags with huge capacities and low weight make it possible to carry and consolidate storage in applications that were previously only viable with large multi-HDD systems with large capacities. A real-world situation was presented by Western Digital in which a set of storage devices weighing 42 pounds might be replaced by a set of drives weighing less than 7 pounds, according to the company.