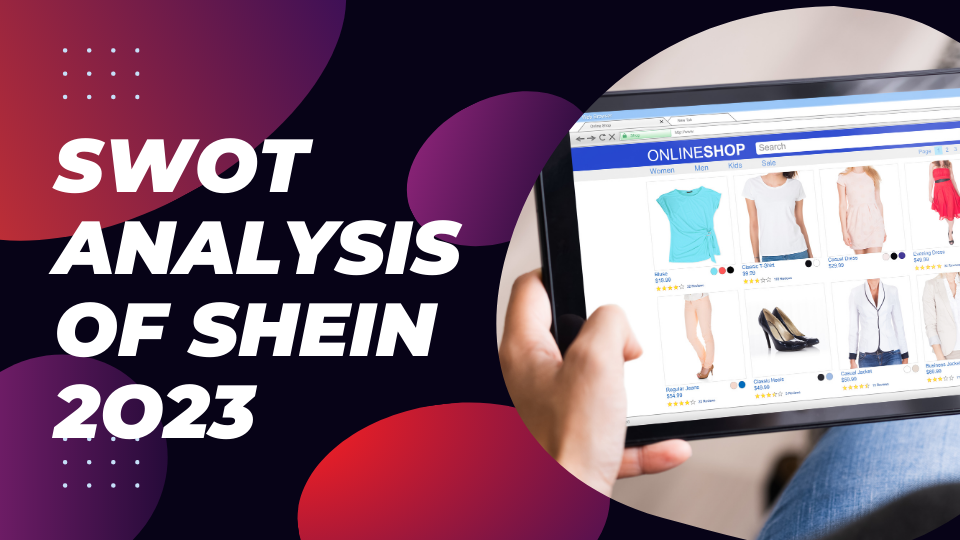 In this Analysis, we will be conducting a swot analysis according to the current situation of Shein in the middle of the year 2023.
Shein is a Chinese brand that started in China in 2008 and is headquartered in Singapore. Shein is now becoming one of the fastest-growing online fashion retailer brands.
What will we understand in this study about the Swot Analysis of Shein?
Strength

: Internal factors that enable Shein's growth.

Weakness

: Internal factors that are hindering Shein's progress.

Opportunity

: External factors that are aiding Shein's rise.

Threat

: External factors that can pull Shein down.
Shein strengths and weaknesses are internal factors that impact shein's growth and progress. While Opportunity and threats are external factors that can help grow or pull brand down.
How Does Conducting Swot Analysis on Shein Will Help?
Swot analysis is a tool/framework that you can use to evaluate a she's competitive position in the fashion industry. Shein had been selling its product only online before, and they recently opened a physical store in Tokyo in November 2022.
Due to the ongoing increase in internet users, Shein has managed to survive and increase its global presence. So, understanding their strategies and competitors' strategies and strengths will be helpful for those who have fashion-related businesses and want to grow their businesses like them.
We will now look into its competitive situation in the market by conducting a SWOT analysis.
1. Strengths Factors affecting Shein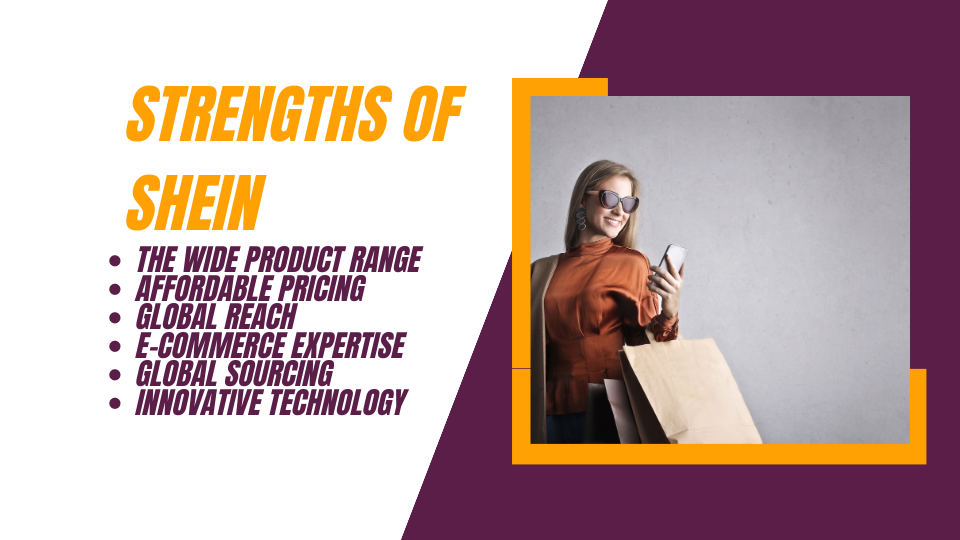 We will now look into the strength factors that Shein has in the competition in the market.
The wide Product Range of Shein makes it competitive compared to its competitors. It offers trendy and affordable products which cater to various styles, sizes, and preferences. Due to these preferences, they get a massive pool of customers to target.
The high Revenue of Shein has made it capable of competing with global fashion brands like H&M. The revenue of H&M and Shein was approximately the same in 2022. H&M generated $22.25 billion, while Shein generated $23 billion. So, having enough funds has made it capable of competing with its competitors.
Shein offers Affordable Pricing for fashionable clothing. It appeals to price-conscious consumers and gives Shein an advantage over higher-priced competitors like Zara.
The fast Fashion Model of SHEIN's supply chain allows it to respond quickly to the latest trends, which ensures that its products are relevant and in demand among its target audience.
The global reach of Shein enables it to have a broad geographic presence to tap into diverse markets and customer segments.
The E-commerce Expertise of SHEIN as an E-commerce fashion store has honed its capabilities, offering a seamless shopping experience through its user-friendly website and mobile apps.
Social Media and Influencer Marketing is a vital tool for the fame and success that Shein has earned over the past year as an online clothing retail store. Social media like Tiktok, Instagram, Youtube, and Facebook hold 4.8 billion users worldwide. The brand has collaborated with many influencers to promote its product, and this approach has made it a top brand today.
Aggressive Marketing Strategies have created a sense of urgency and encouraged purchasing among existing and new customers. So, offers like; discounts, flash sales, and other promotions helped the growth of their business.
Customer Engagement is one of the essential aspects that increases the brand's trust. Shein has huge UGC (user-generated content), reviews, and ratings, which has built brand trust and a sense of community among its customers.
Data-Driven Decision-Making is the art of growing a business smoothly, and Shein has played it so well that it offers tailored offerings to its customers. They utilize data to monitor consumer behavior and trends in the market to make their products.
Responsive Customer Service is a fundamental way of building brand loyalty, and Shein always provides customer support and assistance to address concerns promptly.
Innovative Technology has made Shein capable of avoiding mistakes and improving the online shopping experience. Such as augmented reality (AR) and virtual try-on features have helped achieve low product returns.
Global Sourcing is the main reason Shein can produce goods at such low cost because Shein is a Chinese company, so they source most of their products from China. China has low manufacturing and transportation costs, enabling them to sell at low prices.
2. Weaknesses
Factors affecting Shein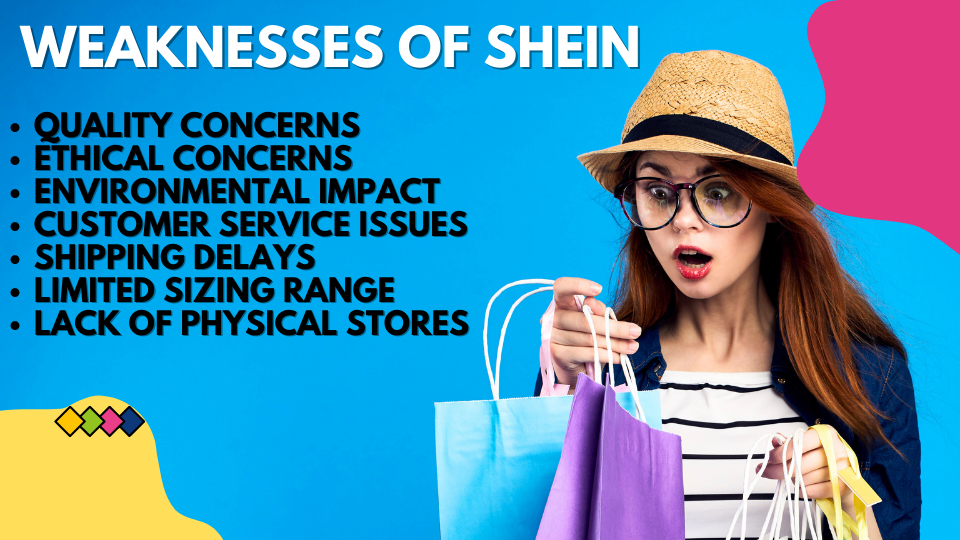 We will look here at the internal factors of shein that might hinder the growth of the Shein.
Quality Concerns: 
As Shein customers are mostly online based, there is some negative feedback on social media platforms from customers about the quality of products. Shein's significant competitors are Zara and H&M, which offer high-quality products at higher prices, whereas Shein products are cost-competitive, and customers expect high quality at low prices.
Ethical Concerns: 
To keep the prices of products at a minimum level, Shein's outsources its production and assembling service to some low-cost suppliers, who are accused of hiring low-cost labor. This practice does ethically affect Shein.
Environmental Impact: 
The fashion industry is evolving, like clothing; Shein has to manufacture in bulk quantities to gain maximum from current trends. Excessive manufacturing means excessive waste, and that harms the environment. 
Intellectual Property Infringement: The company has been involved in numerous copyright infringement cases from independent designers since June 2023. Designers claimed that Shein was selling an exact copy of their work.
Customer Service Issues: 
To solve the customer complaints, Shein's customer support service providers took some time to solve customer issues. These types of delays from customer support service directly impact Shein's reputation.
Shipping Delays:
Customer orders are meant to be delivered immediately to customers; delays in customer orders will affect the chain's reputation since Shein's manufacturers are from China and have directly from China, which sometimes delays shipping. Shein should improve their shipping time by keeping stock in regions where they get most orders of specific types.
Limited Sizing Range: 
Shein offers a large variety of designs and styles, but still, they are targeting a limited number of consumers because of the general sizes of apparel. Customization in sizes can attract new customers and satisfy their current customers.
Lack of Physical Stores: Shein primarily operates online, which may limit its reach and accessibility for customers who prefer in-store shopping experiences.
In a digital era, Shein is successfully competing with its customers in online stores, But the brand has only one physical store so far. There should be more physical stores as well around the world.
Negative Online Reviews: 
Shein has negative reviews about some of their products and services on social media networks that need to be resolved immediately and publicly. Shein should not ignore such negative reviews because they affect the brand's reputation.
Cultural Sensitivity: 
Shein should consider the cultural effects of their apparel while the product is in the research and development stage. In this online era, when Shein advertises their products, they could get viral. So, if it's culturally unacceptable in a particular area, it will affect the brand's reputation.  
There might be some regions in the world where she can sell their products, but she should refrain from selling the famous designs in other areas due to being culturally insensitive or offensive. So they should be aware of their target market while advertising and selling their products.
3. Opportunities for SHEIN from SWOT Analysis:
When we analyze the opportunities of a company or brand, we focus on external factors that aid a brand to get a rise. So, opportunities are the factors that can improve the current position of the Shein and help them achieve their goals.
Selling on Amazon: Shein has also started selling products on Amazon, opening up an excellent opportunity to target the audience of the world's largest E-commerce store.
Promoting During Trends: Shein can sell products online targeting trends as gifts to your loved ones like you can send to your Mother on Mother's Day. So, shein should target global trends according to regions, religions, and other special family days.
Global Expansion: As e-commerce is increasing daily, Shein has the perfect opportunity to cover untouched markets. Shein can use multiple online platforms to reach a wider audience and sell more units.
Rising E-commerce Trend: The increasing preference for online shopping allows SHEIN to continue capitalizing on the growing e-commerce trend, especially among younger generations who are more tech-savvy and open to digital shopping experiences.
Online shopping trend has increased over the years, which is helpful for e-commerce brands like Shein. People of the modern age, especially youngsters, like online shopping rather than going to malls or stores and buying products physically. SHEIN should benefit from this opportunity and target people of every age through various channels online.
Fashion Partnerships: These days, there are more stars on social media apps than in any cinema or drama industry worldwide. Collaborating with these well-known fashion influencers, celebrities, and designers can open up opportunities to target those who have not heard of Shein. This step will also establish the brand image and increase customers. Ultimately social media influencers can help SHEIN reach a broader and more engaged audience.
Sustainable Fashion Movement: As consumers become more conscious of environmental and ethical issues, SHEIN can seize the opportunity to pivot towards sustainable fashion, incorporating eco-friendly practices, materials, and production processes to cater to a growing segment of environmentally-conscious shoppers.
Diversification of Product Range: 
One of the strategies to increase revenue is sometimes to add flanker products; Shein should diversify its product range and include higher-end fashion lines. For example, home goods, beauty products, and activewear to broader their customer's range of shopping on the spot. 
Data-Driven Insights: 
Forecasting by looking at Insights is a critical tool that many companies use. It allows us to understand consumer behavior, preferences, and trends. Making data-driven decisions for product development, inventory management, and personalized marketing strategies is the best way to achieve targeted goals. Shein can use data-driven insights to understand better what their customers like most or where they are, their customers' location, and their purchase patterns.
Innovative Technology: As we know, Technology is a frontier on its own as it evolves and grows over time. We have entered the Digital era of augmented reality (AR) and Virtual reality (VR). These shopping experiences allow customers to buy exactly what they want.
For example, virtual try-on features, personalized shopping algorithms, and seeing a type of shirt and then changing the color by their choice are now the future of online shopping.
Localized Marketing Strategies: Being specific can impact the production capacity of Shein. Also, it can bring more targeted customers. There are so many Arab and Asian regions where people do not wear Western clothing, so Shein can also target these local markets and increase revenue and customers. 
Brick-and-Mortar Presence refers to retail stores that customers can visit in person. Shein needs to improve its physical presence by establishing physical retail stores at key locations globally. This enhances brand awareness and loyalty and brings in more customers. 
4. Threats of Shein
Many factors can pull Shein back; we will discuss a few here. Shein needs to keep improving and watch out for threats out there.
Intense Competition: These days online fashion shopping industry is getting competitive as many other competitors are also trying to generate sales through their online stores. Since Shein is only targeting online users, while other brands have physical as well as online presence, also, many small and medium businesses are trying to capture the market by promoting their stores which can reduce the revenue of Shein.
So Shein faces high competition from both established brands and emerging brands.
Note: Some essential competitors of Shein are Zara, H&M, Forever 21, Boohoo, PrettyLittleThing, ASOS and Fashion Nova, etc.
Negative Public Perception: As a global fashion brand Shein should keep its image clear, but it has faced criticism for its labor practices, environmental impact, and product quality many times. So, they need to work on Negative reviews and fix customers' issues. They must also handle negative publicity, activists, and other media outlets to maintain their brand reputation.
Supply Chain Disruptions: Shein must maintain proper stocks and have their own supply chain system to avoid shortages and delays in product availability. Since Shein relies on a global supply chain, they should not. There can be disruptions in the supply chain due to many factors like trade disputes, sanctions on a country, transportation issues, or pandemic situations like Covid-19. 
Regulatory Challenges: The fashion industry is subject to many regulations, such as labor practices, environmental sustainability, and consumer protection. So, compliance with these regulations is costly and may impact the profit of Shein.
Economic Volatility or High Inflation: Since the covid, it has been seen at the global level that there is a high level of inflation everywhere in the world. Other than that, since Russia attacked Ukraine, it has brought inflation worldwide and disrupted the global supply chain. World has been facing Economic volatility and high inflation everywhere.
Currency Depreciation: Countries, where she sells in local currency, might face a high exchange difference or depreciation. For example: in Turkish, Lira has dropped 4 to 5 times within the last few years. So, if they target countries with high currency depreciation, this can also impact their profit and reserves.
Cybersecurity Risks: Shein needs to have a high-security shield on their online store because hackers can hack their website and might steal important information from their customers. If this happens, she might face legal and financial consequences and lose their customers' trust.
Changing Fashion Trends: Fast- Fashion is a rapidly evolving trend. Shein has been trying to adapt to shifts in consumer preferences, while it can cause excessive inventory, which is against the brand's policy. As they sell up to 98% of their stock, it can be challenging for Shein to comply with rapidly changing fashion trends.
Frequently Asked Question About Shein
Is Shein Legit? Why is Shein so Cheap?
You might think she is so cheap and wonder if it is legit. Shein is 100% legit and has been running an online store since 2008. Shein has billions of dollars of revenue every year. You must check the URL before placing the order and making a payment so that you do shop from the original Shein store.
Shein is so cheap because they sell directly from the factory to the final customers, and they sell most of the stock that they purchase from suppliers. They have very little to no waste, which makes them able to sell at low prices.