Ten Tips and Tricks For Beginner On Windows 10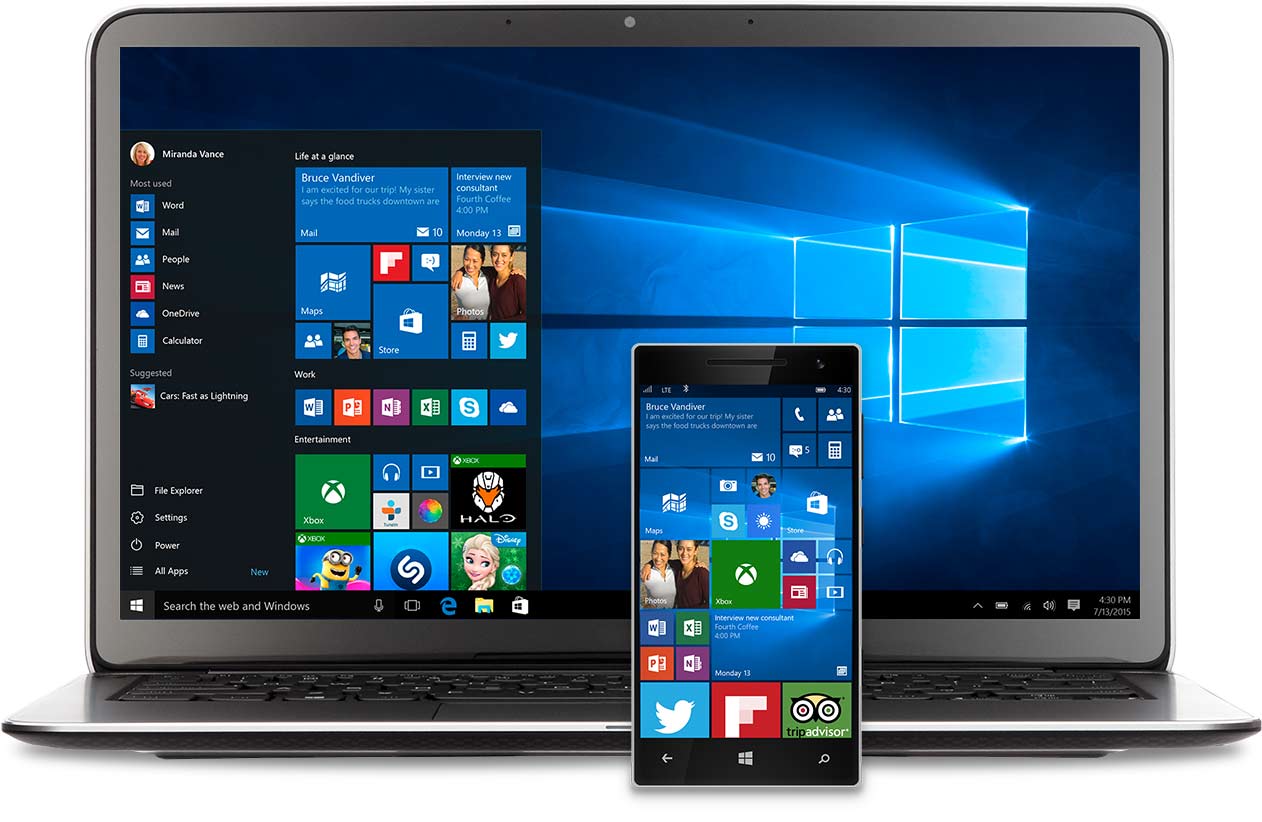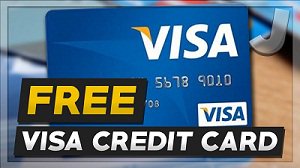 If you have just upgraded your Windows 8, 7 or XP into Windows 10, or probably you have just switched from Mac or Linux, then you will find ten tips and trick for the beginner on Windows 10 here.
Advertisement
Windows 10 delivers various features and changes, along with fixes various bugs problem as well. This new product has gained many positive reviews worldwide.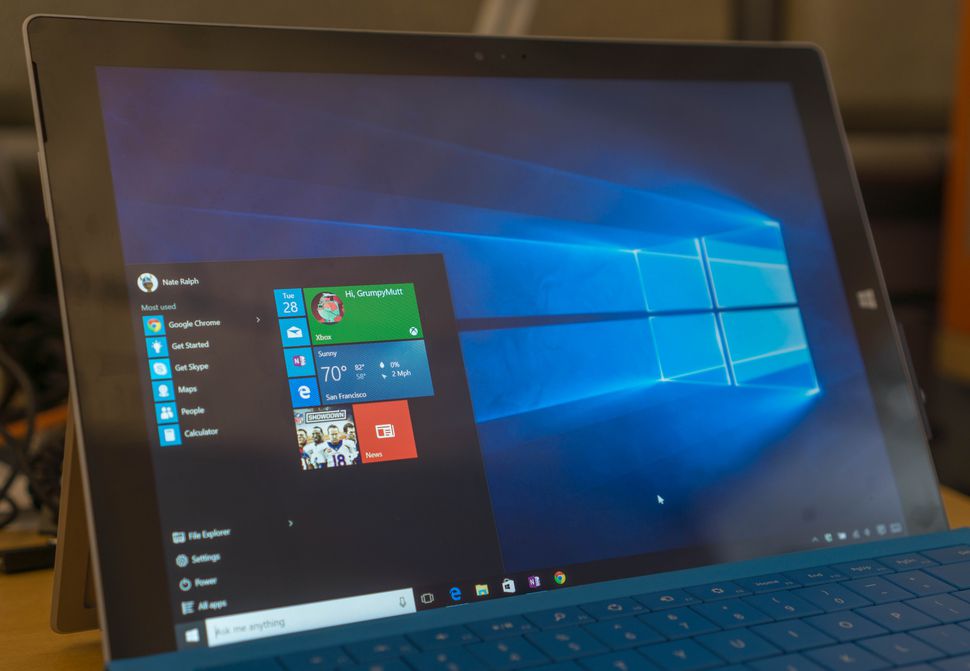 Windows 10 improves Metro UI and also returns the Start menu back as we found in Windows 8 before. It claims to offer the mix match of both Windows 7 and 8 in a new impressive way to improve productivity. Here are some features you can find in Windows 10:
Cortana – the digital assistant
Microsoft Edge – the new and fast browser
Windows Hello – support for biometric authentication
Virtual Desktops
Notification Center
Unified apps and Unified store
For make it easier for you to use Windows 10, here are the Tips and Tricks for the beginner you can check out below:
1. Learn The Useful Of Touchpad Gestures
Go to Settings >>Device>>Touchpad. Here you will find numbers of gestures which available on your Windows 10  for you to learn, for example like:
Two-finger swipes to scroll through a document or web page
Three-finger swipes to switch between apps and launching the multitasking view
Four finger swipes to move between virtual desktop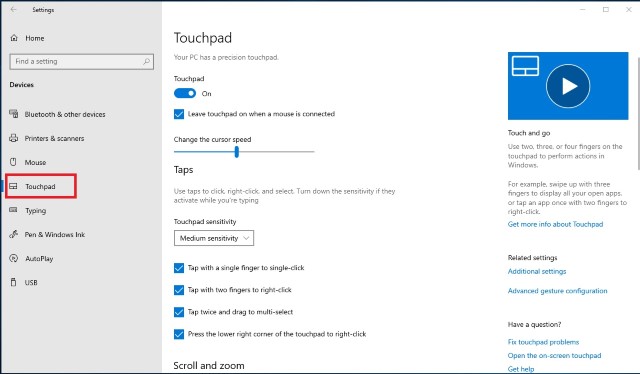 And you will also have the option to enable or disable these gestures.
2. Manage The Storage With The Storage Sense
One of the awesome new features from Windows 10 is 'Storage Sense', which automatically delete temporary and junk files to give space for storage on your device. To enable this feature, you just head to Settings>>System>>Storage and turn on the 'Storage Sense' option.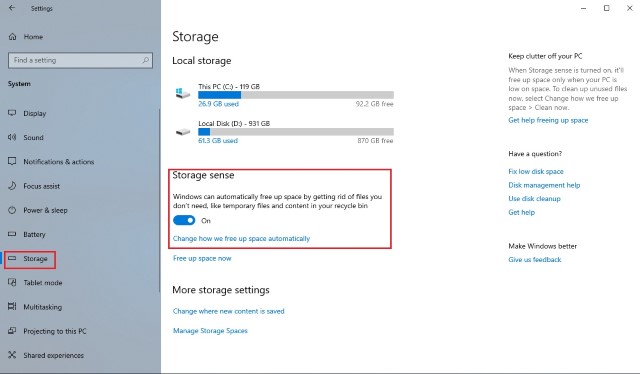 You can also customize it with the option 'Change how we free up storage'. Once you turn on the 'Storage Sense' option, then it will automatically delete unnecessary files such as temporary files and files in your trash to release storage on your device.
3. Turn On Night Light
This new feature removes all the blue light from your screen which is a big reason behind why we remain awake late at night. To activate this feature, go to Settings>>System>>Display, and tap on the 'Night Light'.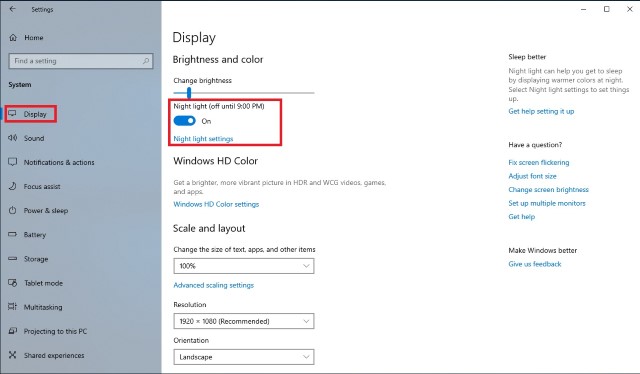 4. Quickly Access Emoji Keyboard
Yes, emoji now has become like the main important stuff to use on any platforms. And Windows 10 presents the Emoji Keyboard feature for the users. To access emoji keyboard, first, you need to enable the virtual keyboard button by right-clicking on the Taskbar and clicking on the "Show touch keyboard button".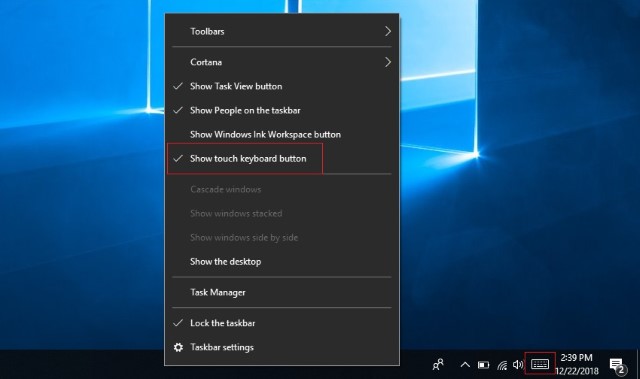 Now you just need to click on the touch keyboard button in the bottom right and then click on the emoji symbol to select and use all the emojis that you want to.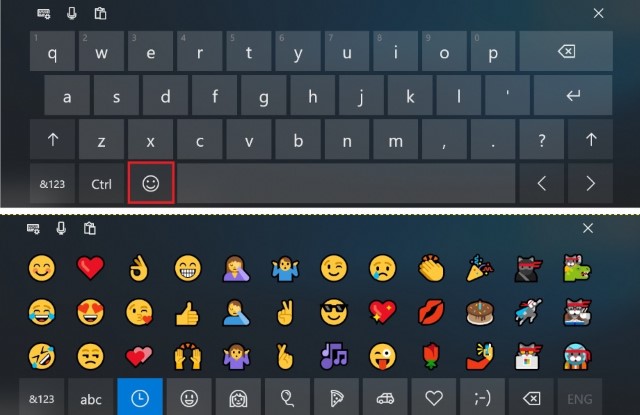 5. Turn on Dynamic Lock
This feature will automatically lock your system you walk away from your work desk. To activate this feature, you will have to pair your smartphone to your Windows PC, as the feature basically uses the Bluetooth connection.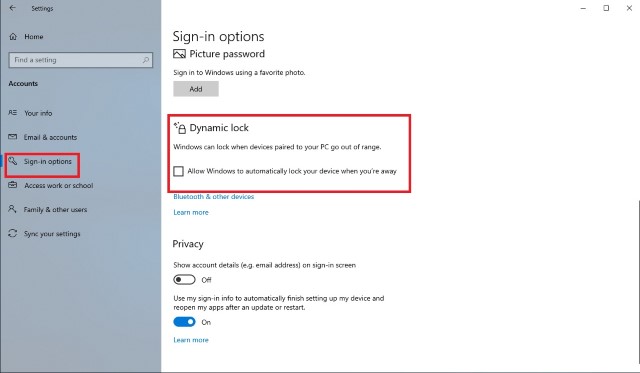 To activate this feature, just go to Settings>>Accounts>>Sign-in Option, and turn on the 'Dynamic Lock' feature.
6. Turn on the New Screenshot Tool
The New Screenshot Tool has been made to give more controls for the users. To activate it, go to Settings>>Ease of Access >>Keyboard and turn on the "Print Screen Shortcut".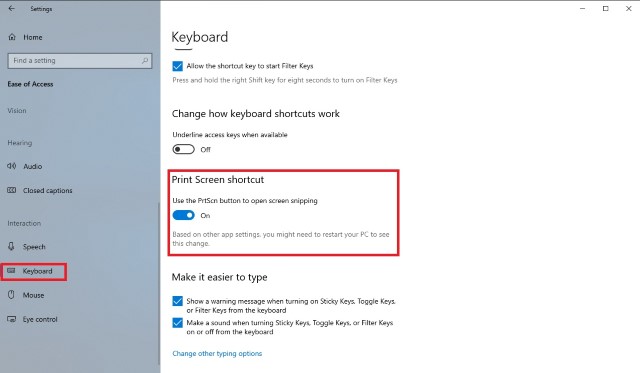 Once you capture the screenshot it will be open in a window where you can also easily bookmark it and share it with anyone you want to.
7. Privacy Settings
If you don't want Microsoft to access your personal data, then you should definitely activate this new feature. Straightaway go to Settings >>Privacy >>General then turn off all the toggles if you don't want Windows to track your history.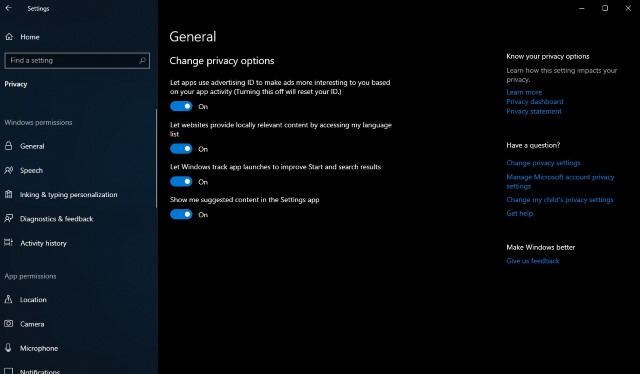 8. Start using Windows 10 Virtual Desktops
Virtual desktops feature allows you to manage the opened applications and windows by collect them in groups. To activate this, open the Tasks View by clicking on its icon on the taskbar (present at immediate right of the Search bar) or hold down Win + Tab keys.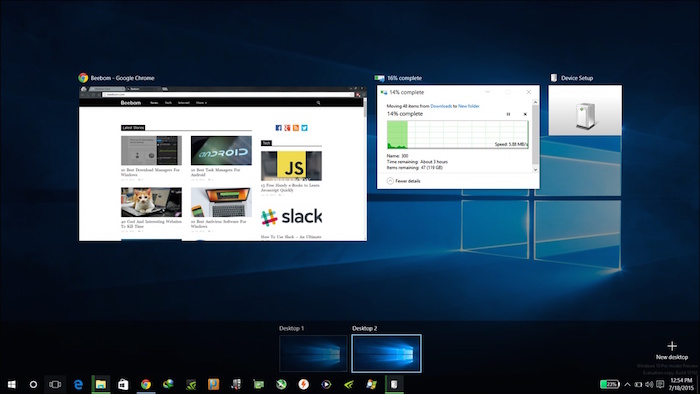 9. Learn new Windows 10 Keyboard Shortcuts
Yes, the most efficient way to do your work faster is by learning the keyboard shortcuts, perform various regular tasks such as using virtual desktops, snapping apps and more.
And here's the list of shortcuts you might need in Windows 10:
Win + Tab (open Tasks View)
Win + Left + Up (move app to top-left quadrant)
Win + Left + Down (move app to bottom-left quadrant)
Win + Right + Up (move app to top-right quadrant)
Win + Right + Down (move app to bottom-right quadrant)
Win + Ctrl + Left or Right (change virtual desktops)
Win + Ctrl + D (new virtual desktop)
Win + Ctrl + C (speak to Cortana)
Win + S (view weather, news, sports, help, etc.)
Win + Ctrl + F4 (close virtual desktop)
Win + Up and Down (snap apps to top or bottom of the screen or maximize them)
10. Improve Battery Life in Windows 10
This one is definitely my favorite feature! Windows 10's battery saver feature will limit the power usage and save power to allow your machine to last longer. The feature in Windows 10 claimed to be better than power-saving modes found in the previous Windows.
To activate it, simply just go to Start menu>>Settings>>System>>Battery Saver.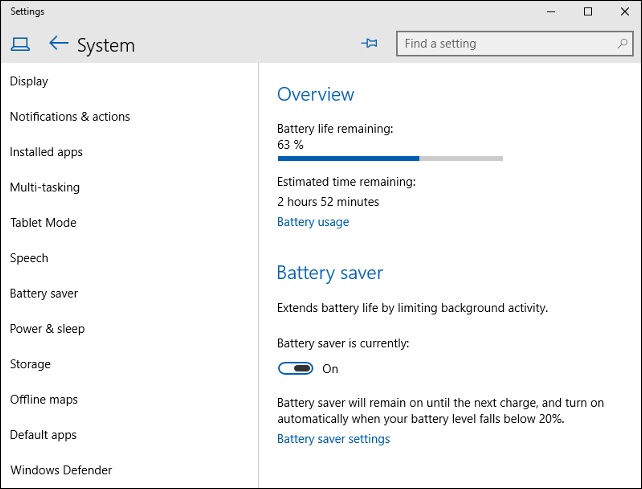 Well, there you go! Hopefully, these ten Tips and Tricks will guide you to use your Windows 10.
Best Three Very Important Features For Microsoft's New Surface Laptop 3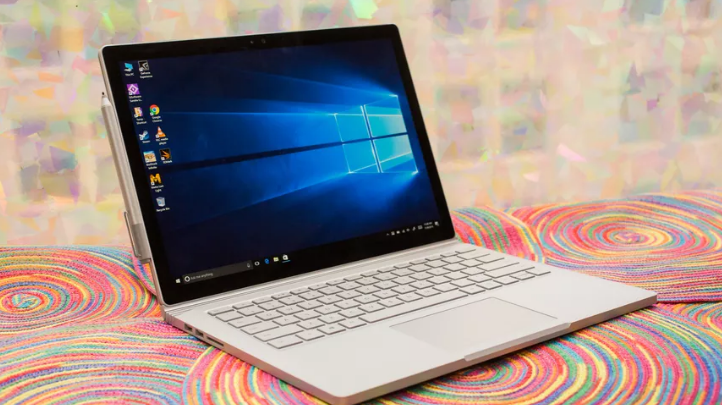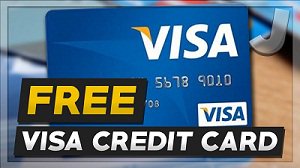 Just as the transformative Surface Book and the ultraportable Surface Pro, Microsoft is relied upon to refresh the Surface Laptop in the not so distant future. Since the arrival of the subsequent cycle last October, the challenge has redesigned the fascination of the Windows 10-controlled workstation.
Advertisement
What could the third Surface Laptop have that would reclaim the crown? Here are three regions which could give such an effect… the screen, the chips, and the associations.
I wouldn't anticipate the essential plan of the Surface Laptop to change. Microsoft's exploration group might be working diligently taking a shot at new pivot structures for any semblance of the Surface Book, however, the Surface Laptop is a significantly more conventional development. The emerge highlight is the Alcantara texture around the keys and I see no motivation behind why this would be evacuated.
What needs to be evacuated is the enormous bezels around the screen. The Surface Laptop has a downplayed style yet arranging it to comparable machines from different makers and the dark fringes are awkwardly detectable. That requirements to change to save the Surface's image estimation of value plan.
What will merit inspecting is the selection of chips in the Surface Laptop? As noted a week ago here on Forbes, Microsoft's ongoing reliability to Intel's silicon might be going to be tried. An AMD-controlled Surface Laptop would offer Microsoft some adaptability to drop the retail cost, increment the graphical favorable position, or parity both of these territories.
Achieve Higher Will Host Annual Beating the Odds Summit For First-Generation College-Bound Students
The key inquiry concerning a move accepting there is a move will be if each Surface Laptop makes the move from Intel to AMD to save the pattern over the range, or on the off chance that it will be only few SKU's that will be utilized to try things out. There's a legitimate contention for every decision.
There's one other change that I would make to the determinations and that is the I/O ports on offer. In spite of the fact that the Surface Laptop 2 came with a USB 3.0 port, it was deficient with regards to Thunderbolt 3 or a USB-C 3.1 port charging was through the exclusive Surface Blade attractive connector. The world has proceeded onward and I'd like to see USB-C for charging, and an expansion in ports for greater adaptability when the new Surface Laptop is reported.
In spite of the fact that Microsoft has not declared a dispatch date for another Surface Laptop, it has customarily uncovered new Surface equipment towards the finish of October. Investigators and reporters are generally tipping the Surface Laptop to be refreshed, nearby the Surface Pro and the Surface Book.
On the off chance that Microsoft leans towards a progressively chic structure, investigate new chipsets, and offer port equality with different workstations in a similar class, the Surface Laptop 3 may not be a feature grabber, yet it will be a solid entertainer in the retail space, lifting the entire environment up.
Also Read:
Microsoft Surface Book 3: Release Date, Price, Specifications And What We Want to See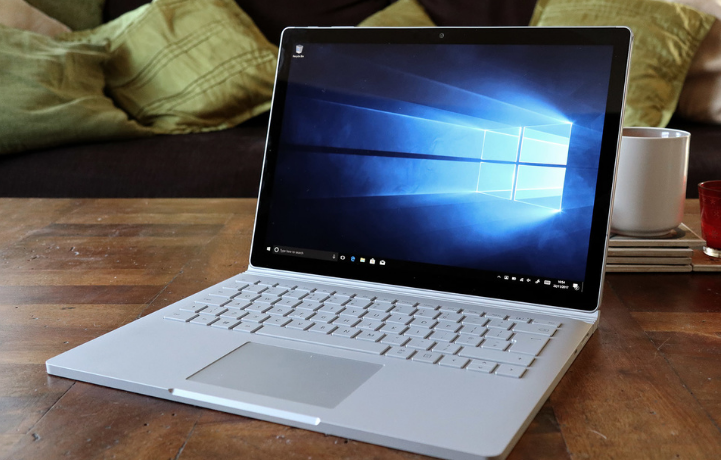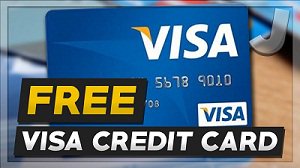 Microsoft's Surface Book had a massive improvement with Book 2, however, there were a few blemishes in it still. Presently, the opportunity has almost arrived for the Surface Book 3 to be superior to its forerunners. The organization has stayed silent about this, however that didn't stop the bits of gossip for flying around on the web. There is plenty of gossipy tidbits around the web on this bit of tech. Book 2 has a USB-C 3.1 port, which was decent, yet it wasn't sufficient. Yet, Microsoft may update that to a Thunderbolt 3 port which would not exclusively be quicker yet, in addition, be a greater similarity with an assortment of extras, particularly screens and outside illustrations cards.
Advertisement
A standout amongst the most significant explanations behind it to move up to Thunderbolt 3 is on the grounds that Microsoft is buckling down on the up and coming Holo Lens 2 and is endeavoring to be AR/VR neighborly. The most ideal approach to make it more easy to use is to make its next enormous PC model good with AR and VR headsets which incorporate the HoloLens. In any case, it requires a lot of intensity just as a solid GPU and an association as amazing as Thunderbolt 3. This workstation may get an all the more dominant Nvidia GPU, which bodes well for Microsoft's contiguous objectives. The Book 2 had a few gestures to Xbox players, and it had simple remote controller support just like an expanded spotlight on Play Anywhere titles.
On the off chance that Microsoft needs the Surface Book 3 a gaming gadget, they need to move up to quicker Nvidia designs. Also, on the off chance that they truly need individuals to play AR/VR content from the Surface Book, at that point overhauling the GPU is important to help the headsets individuals will utilize. There are two primary issues, one of which is that the cost will increment and the genuine advance forward in cooling in the event that it wants to make the Surface Book 3 a genuine choice for imaginative experts. With respect to the capacity, the Surface Book 3 had a 1TB of SSD stockpiling and up to 16GB of RAM. This is very great, and it would be the equivalent in Surface Book 3, yet RAM may be expanded on the grounds that it would require more RAM if Microsoft needs to promote it as a VR-prepared gadget.
The processor of Surface Book 3 may be Intel's Ice Lake processors which are landing in 2019. They are explicitly made in view of tomorrow's 2-in-1 PCs, and if Microsoft is wanting to discharge this workstation in 2020, it will bode well to get this processor on the off chance that they discharge it sooner than more seasoned Whiskey Lake processors will be the choice to go for. The cost of Surface Book 3 hasn't been formally discharged at this point, yet it may begin around $1,200 and might finish around $2,500. With respect to the discharge date, it may discharge in the not so distant future in the long stretch of October.
Also Read:
Xbox Project Scarlett: Microsoft Reveals First Details on Xbox Gaming Consoles and 8K Graphics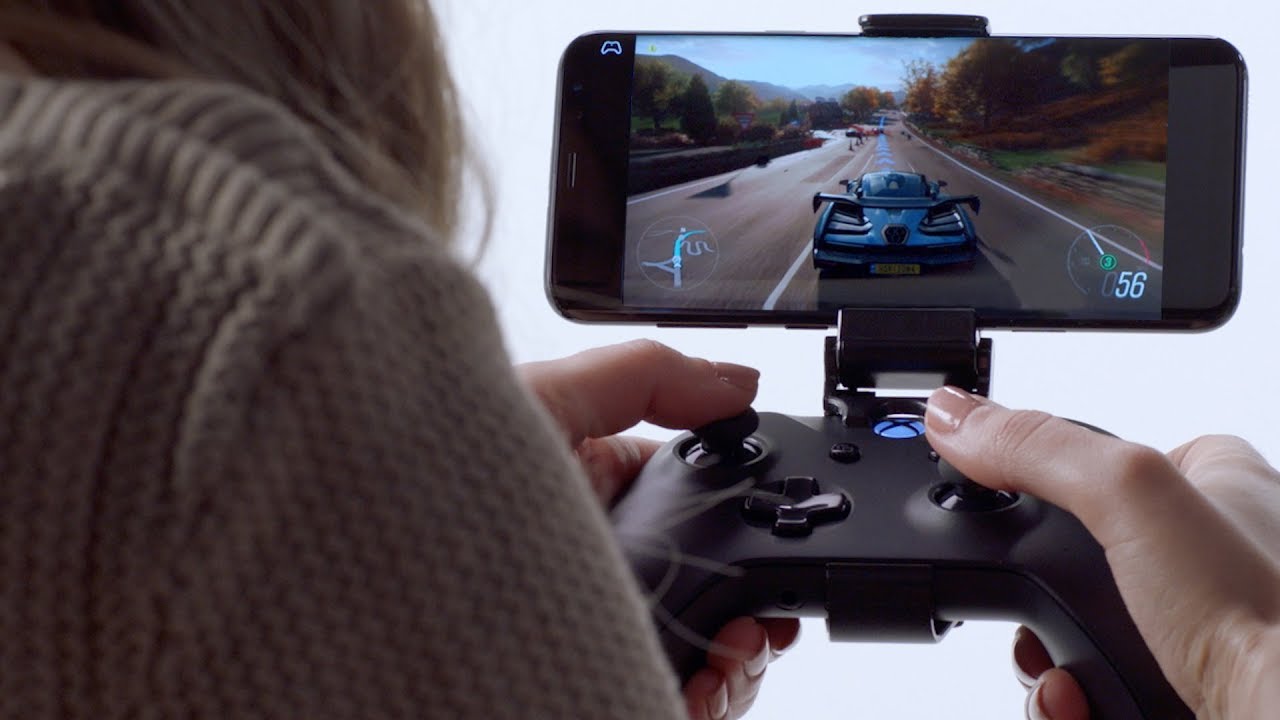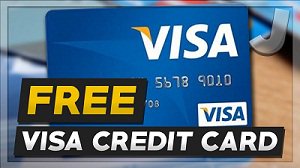 In the Gaming Network, Xbox is an immense name, and it has a dedicated fan base. Everybody realizes that Microsoft is buckling down on the age of the reassure, which is alluded to as Xbox Scarlett. It was likewise revealed that Xbox Scarlett is one of the two cutting edges reassures that Microsoft is chipping away at which is called as Anaconda which should be a cutting edge spending console that may not highlight a circle drive. This implies Scarlett will be the top notch powerhouse of Xbox's cutting edge plans.
Advertisement
They said that it incorporates a specially crafted CPU that depends on AMD's Zen 2 and Radeon RDNA design. It is likewise informed that it will be multiple times more dominant than the Xbox One X and Microsoft is utilizing quick GDDR6 RAM, that it cases will "introduce goals and framerates we've never observed."
Additionally, Project Scarlett will bolster 8K gaming, framerates of up to 120fps, beam following, and variable invigorates rate support. The organization is utilizing an SSD on Project Scarlett, and an Xbox representative stated, "We've made another age of SSDs. We're utilizing the SSD as virtual RAM". As per Microsoft with this, the presentation will be supported by 40x when contrasted with the present age, which means diversions load significantly quicker.
Then again, Sony guarantees that equivalent thing that their PS5 will bolster 8K designs, 3D sound, SSD stockpiling just as in reverse similarity with existing PlayStation 4 titles. PS5 will utilize an eight-center CPU put together that is based with respect to AMD's third-gen Ryzen line, and it ships with a GPU which supports beam following designs. Additionally, Sony is likewise prodding 4K designs at a 120Hz revive rate support.
Corona Infinite will dispatch with Project Scarlett, and this comfort is setting the phase for the up and coming age of Microsoft's gaming console, and it will discharge in the second 50% of 2020. Microsoft didn't demonstrate to us what it precisely resembles, yet it is like that of Project Scorpio, which eventually turned into the Xbox One X. For the time being, this is all the data we jumped on Xbox Scarlett for the present, and we will doubtlessly observe much more of it at one year from now's E3.
Also Read: