The ASUS GT-BE98 and ASUS RT-BE96U are two new gaming and business routers that both enable WIFI7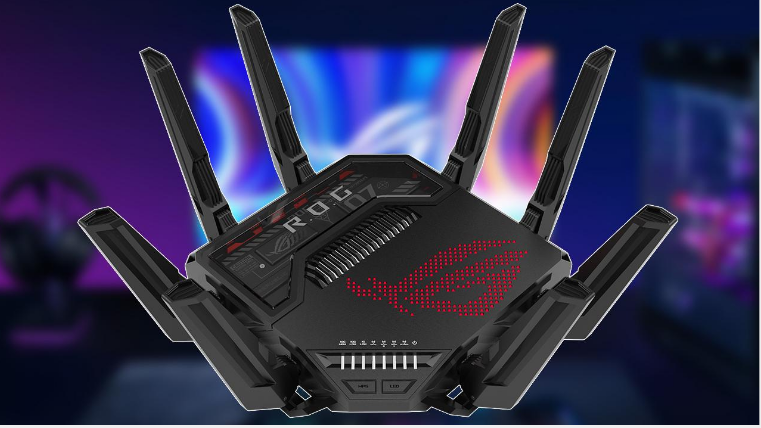 At CES 2023, ASUS revealed two new WiFi 7 routers: the ROG Rapture GT-BE98, which is the world's first quad-band WiFi 7 gaming router, and the ASUS RT-BE96U, which is a tri-band WiFi 7 router designed for residential and business use. Both of these routers are equipped with the most up-to-date technologies available, which are unique to the WiFi 7 standard. These technologies include extended 320 MHz channels in the 6 GHz band, 4K QAM modulation, Multi-Link Operation, and Multi-RU Puncturing.
ASUS is also introducing three new ExpertWiFi devices designed specifically for companies. These are the EBM68 mesh system, the EBR63 router, and the EBA63 access point. More networking solutions are expected to be released in the second half of 2023. These devices feature an enterprise-grade level of network security, as well as the industry's greatest possible number of SSIDs, self-defined networks, and up to 12 mesh nodes. The free ASUS Router mobile app makes it simple to control each and every one of your devices. ASUS offers the ZenWiFi Hybrid XC5, the world's first Multimedia over Coaxial (MoCA) mesh router, for locations that are hindered by thick walls made of brick or concrete. This router provides four ways to connect to hybrid backhauls while supporting connections of up to 2.5 Gbps through wired backhauls.
The highest degree of both speed and style:
The ROG Rapture GT-BE98 offers up to 25,000 Mbps of bandwidth for unparalleled gaming experiences, and the ASUS RT-BE96U offers up to 19,000 Mbps; both deliver to the pioneers of tomorrow a premium experience with the most cutting-edge technologies. In addition to a new set of networking features, the ROG Rapture GT-BE98 also offers up to 19,000 Mbps of bandwidth for unparalleled gaming experiences. The 6 GHz channel on both routers offers rates of up to 11,525 Mbps, which delivers ground-breaking performance for online gaming, streaming, downloading, and other online activities.
The top of the GT-BE98 is partially see-through, allowing users to get a glimpse of the sophisticated circuitry and heatsinks that contribute to the router's impressive performance. In addition, the GT-BE98 boasts an eye-catching design. At the same time, an eye-catching graphic design conveys the ROG spirit as well as some of the essential technical specifications.
The RT-BE96U and the GT-BE98 are both powered by potent quad-core 2.6 GHz processors. The GT-BE98 has three 10 Gbps LAN ports to handle the heaviest network traffic, whereas the RT-BE96U has one 10 Gbps LAN/WAN port and one 10 Gbps LAN port. Both routers have one 10 Gbps LAN/WAN port and one 10 Gbps LAN port. In the meantime, users can take advantage of increased signal coverage and range thanks to an ASUS-exclusive technology called RangeBoost Plus. Additionally, the GT-BE98 comes equipped with triple-level game acceleration that can improve connections starting from the local network and going all the way to a game server located anywhere in the world. 2023 will see the release of additional WiFi 7 routers by ASUS.
An entirely new generation of ExpertWiFi routers:
The outside of the ExpertWiFi series is white and spotless, giving it a clean look that is meant to be unobtrusive in a professional setting. The aesthetic is streamlined and sophisticated. According to the choices of the user, these devices can either be fixed on a wall or ceiling, or they can be permitted to stand on their own.
With the help of the self-defined network feature, the Ethernet ports on these ExpertWiFi devices can each be assigned to a distinct virtual local area network (VLAN) to accommodate a variety of corporate use cases. The owners of businesses have additional options available to them in the form of a variety of guest portals. Some of these guest portals allow for social logins, while others provide access to public WiFi. All of these ExpertWiFi devices enable custom logos, branding, and visual templates, making it possible to adapt the devices to specific business models and to interact with customers in a variety of unique ways.
ExpertWiFi networking devices are designed to be scalable to meet the requirements of the customer, no matter how large the factory or how small the business. Because the EBM68, EBA63, and EBR63 each allow up to 12 node connections, organisations that use devices that are compatible with the AiMesh standard are able to significantly increase the size of their networks. Other routers and mesh systems typically have a maximum capacity of nine nodes in the mesh.
This ExpertWiFi series has the added benefit of being able to give backup WAN access in the event that the internet services that are normally provided on the premises are unavailable for use. In this instance, the operator of the business can use a USB cord to link one of these ExpertWiFi devices to their Android or iPhone phone in order to turn that phone into a mobile hotspot that can be used by the entire local network.
Last but not least, this series provides enterprise-grade network security in the form of a complimentary subscription to ASUS AiProtection Pro and Safe Browsing features. Additionally, the all-in-one ASUS Router mobile app makes it simple to set up and maintain a WiFi network.