The best Adult Electric trike for spring excursions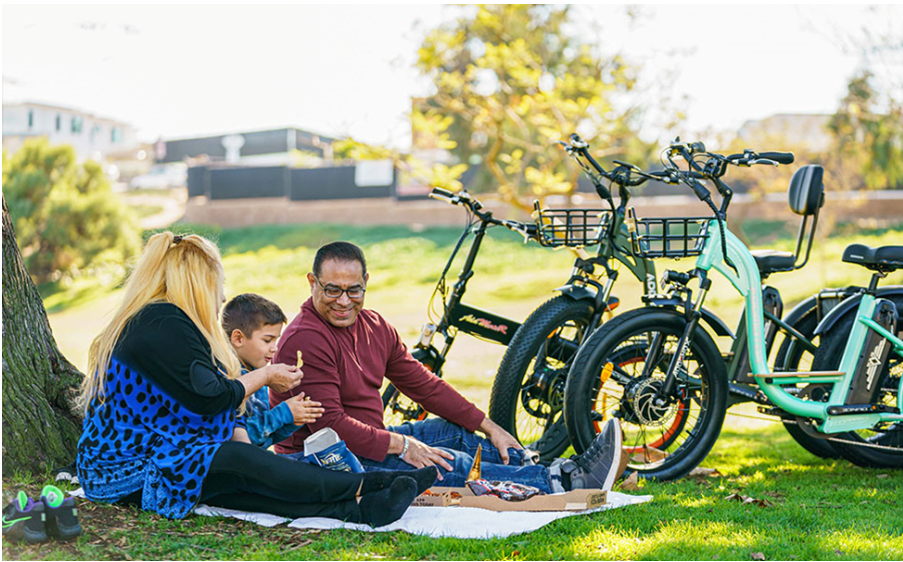 Addmotor Grandtan E-trike Series: Perfect way to experience the spring scenery and enjoy family company
What's better than a shining sun and flowers blooming all around you? Spring is the perfect time to get outside and enjoy the beauty of nature. One of the best ways to do that is by going on a cycling excursion. With the warmer weather and longer days, a spring cycling trip is an ideal way to explore the countryside, take in the fresh air, and enjoy some exercise. Whether you're an experienced cyclist or a beginner, there are plenty of options for everyone to get out and experience the joy of cycling. From scenic routes along quiet country roads to challenging mountain trails, there's a spring cycling excursion for everyone to enjoy. So pack your gear, grab your bike, and get ready for an adventure in the great outdoors!
Before you grab your gear, the best electric trike option for you is Addmotor Grandtan City electric trike. It has all that you need to go on your city and urban commuting. The 750-watt hub-drive fat tire bike with a stretched seat position and a lot of features as well as an all-purpose setup. The comfortable fat tires, comfortable adjustable front fork, comfortable handlebar adjustment, and a comfortable yet adjustable seating angle all help in your touring.
Review
This adult electric trike is a powerful hauling machine, the included front basket and rear waterproof storage unit and sturdy frame mean that you can carry a lot of cargo in addition to yourself. The official weight capacity is 350 pounds, which seems a bit conservative since the frame is built with grade 7075 aluminum alloy (tougher than the 6061 we usually see for bike frames) but with the addition of an extra 100-pound weight does the job.
The derailleur is the entry-level option from Shimano which helps save cost while still being reliable, this is a pretty basic setup that has a range of 14-28 teeth across 7 speeds. This gets the job done for a trike where the shifting and pedaling range needs are lower than on a standard bicycle, and I appreciate the double-sided alloy chain guide that will keep the chain from jumping free, this is especially important on a fat tire electric trike since the chain is longer than standard.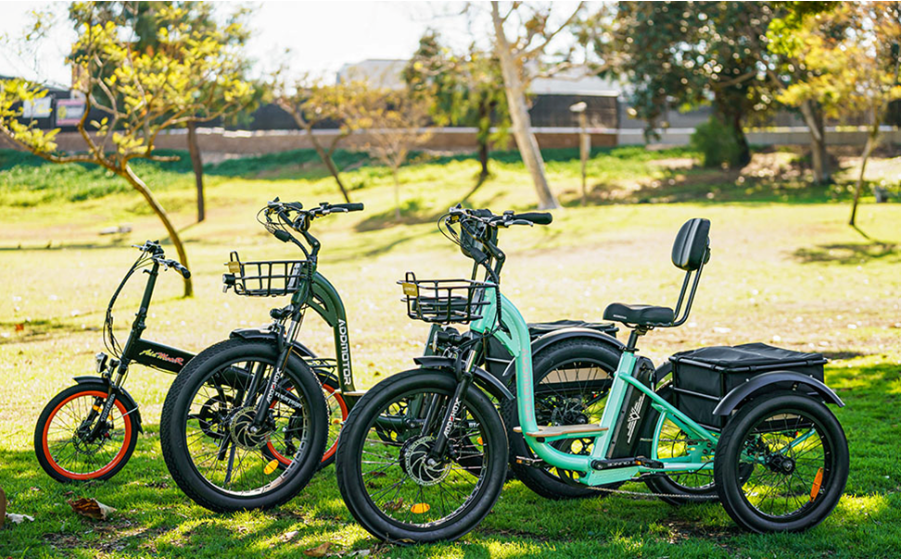 Addmotor GRANDTAN City E-trike: Up to 90+miles riding range, supply your energy
Ride experience
The ride experience is quite comfortable thanks to the upright riding position, oil spring suspension fork, and fat tires. The oil fork is spring suspension and fairly huge with over 80mm of travel, but it pairs well with the Kenda Crusade mini fat tires, these provide a great amount of cushion and you can also lower the pressure down as far as 5psi for riding on really bad terrain. Keep in mind that this is a trike, you should not be riding at high speeds on rough terrain due to tip-over risks. Although it's best suitable for urban driving.
The mechanical disc brakes provide plenty of stopping power thanks to four-finger levers which provide a mechanical advantage combined with a 180mm rotor in the front and twin 160mm rotors in the rear. These are Tektro MD300 brakes, these are reliable brakes found on many bikes – just remember that mechanical brakes require regular tightening and maintenance to keep them performing optimally! These brakes do have motor inhibitors which means that they will cut power to the motor when you actuate the levers, a necessity on such a heavy vehicle with a cadence sensor.
Practicality
The battery is high-capacity with the world's first UL-certified battery of 48V into 20 Ah, and while is light it provides over 90+ miles of range. It is appreciated that while it is mounted on the trike the charge port is well away from the crank arms to prevent any damage while charging the trike.
It's a great option for city touring as it offers stability, comfort, and versatility. The trike is especially well-suited for riders who are looking for a more relaxed and leisurely ride, without sacrificing the thrill of exploration. With the added electric assistance, you can easily tackle hills and headwinds, and enjoy longer rides without feeling fatigued. Additionally, the cargo-carrying capabilities make it ideal for those who need to transport goods or groceries while you tour the city.
So why wait till summer when you can spring your way through with Addmotor? Get yours now on Addmotor.com.