The important role of Plagiarism free content in Search Engine Optimization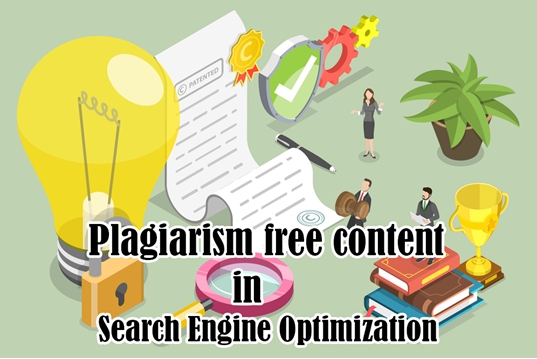 Search engine optimization improves the number of visitors on your website and boosts your ranking. It is one of the best and most important things to boost your business. There are several steps in SEO and the results are not obtained overnight.
Once your website is ready to appear on Google the first thing that you need to do on it is to add keywords and content in it. Content is quite important for the marketing of your website. A website without any type of content is like an empty box that will never be recognized by Google.
Content is one of the main things one needs to consider when thinking about creating a website. Either you are selling books online or provide online tuition services to people, you need to have content on your website. By adding content to your website, we mean you need to have a lot of content that includes keywords.
What are keywords?
Keywords are short words that are included in the content to the target audience. Target keywords are those words that directly reach your audience and increase visitors to your website. There are many types of keywords that one should include in their content but some of them are long-tail keywords and short-tail keywords.
In long-tail keywords you need to add something with your targeted word for example: buy clothes online in USA, best welding services, clothes for children online, etc. these types of keywords target a particular audience who are searching for your products.
Long-tail keywords should be added to your content so that Google catches your page and your customers reach your page easily.
Other than this, short keywords are the keywords with one word such as hairdryer, shaving cream, pret wear, etc. these types of words are present in most of the websites therefore they can just be added in titles and headings.
Keywords are quite important for boosting ranking on your website. Without it, Google is unable to locate your website from hundreds of websites and you will not be able to appear on the search engine result pages (SERP).
Why is content important?
Content is quite important for your website because it will explain to your customers what you provide. Content is basically the king of your website, without which you will not excel in your business. Either you feel it is meaningless to add content to your web pages but still, you have to add attractive content with targeted keywords to attract as many visitors as you can.
When talking about the content it should also be considered that content should not be duplicated which will cause plagiarism. Plagiarized content will not let your website appear on top and all your hard work on search engine optimization will become a waste.
Plagiarized content is not appreciated by Google and it will make it difficult for it to capture your website so that it appears on the SERPs. Writing plagiarism-free content is quite important because it does not only make your content outstanding from other websites but it also makes it unique for Google to capture it and add it to their list.
Writing plagiarism-free content can be a difficult task but thanks to the paraphrasing tools that are so easily available online and provide results within seconds. These paraphrasing tools help you to rewrite articles that are not unique but they are free from plagiarism as well.
Article re-writer tools are one of the best ways to rewrite your content that is not copied from anywhere else. if you are thinking of hiring writers for writing content on your website then you should save this amount and use such tools that will give you a paraphrased article in just a few seconds.
Paraphrasing tools help people to save time and it gives them a chance to learn new ways of writing and creating content. Writing in the same pattern will bore your readers and they might get distracted after some time. However, using a re-writer tool will engage your readers with something different and not read anywhere else.
These tools scan each word that you have written and provide a similar word for it to change the essence of the article without changing its meaning. Some of these tools are built-in with advanced algorithms that help students to deal with lengthy articles and research papers that they need to modify.
Other than this, if you need to check duplication in your content then you can go for plagiarism checker tools that are available online for free. These tools detect plagiarism in your content and provide results in the form of percentages that will give you a clear report where your content needs editing.
These online tools provide accurate results and save you from publishing duplicate content. plagiarism checking tools help you to compare your content with hundreds of websites available on the internet and scans each word in your text to see whether they are copied or not. Taking help from these tools will make your life easier and hassle-free.
Moreover, it will help you in improving your ranks on Google's SERPs which will lead you to boost your business and have innumerable visitors on your website.
Conclusion
You will not knock on each door of your vicinity and ask them to visit your website, this online world does not work like this. For getting traffic on your website, you will need to work on digital marketing that includes SEO. As discussed above the basic thing that is the king of SEO is content without which none of your websites will excel and reach your desired customers. If you want to rank higher and attain customers every hour then you need to work on your content strategy and improve the way you write.
You can improve your content by taking help from paraphrasing tools and check your content for plagiarism by using online plagiarism checking tools. All these types of tools are available on the internet for free and they do not require any kind of money or subscription charges. These tools are easily accessible for people and they can also use them from their smartphones to complete their tasks as quickly as possible.