Up to 7.4 GB/s and 1M IOPS, MSI's Newest SSD Exceeds the Limits of PCIe 4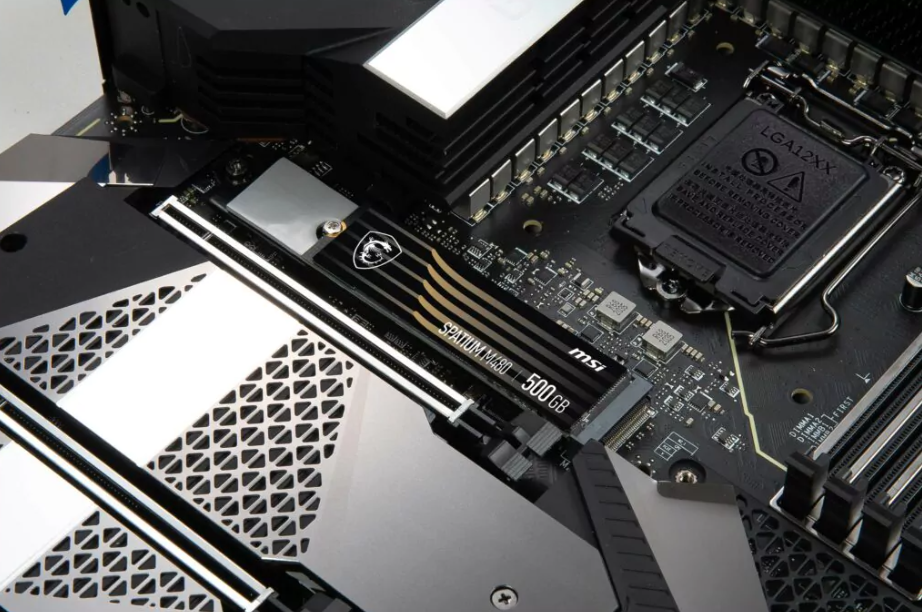 MSI has released PCIe 4.0 solid-state drives that boast the highest possible sequential and random read/write speeds. MSI's Spatium M480 Pro SSDs are optimized for platforms that support PCIe Gen4, meaning they may reach tens of millions of PCs that have been introduced in the last four years. MSI's Spatium M480 Pro solid-state drives are built on the same Phison PS5018-E18 platform and 3D TLC NAND memory as the rest of the Spatium M480 family. Despite using 44% more power at peak, the M480 Pro SSDs offer significantly improved random read/write performance (up to 60% faster). It appears that the business has updated the software on these drives and probably made other adjustments to the hardware as well.
In terms of speed, MSI's Spatium M480 Pro can achieve up to 7400 MB/s while reading and up to 6000 MB/s when writing. It can also achieve up to 750K random read 4KB IOPS and up to 1M random write 4KB IOPS. When compared to the performance of MSI's stock Spatium M480, which only provides up to 350K/700K random read/write 4K IOPS, this is a noticeable improvement. However, the maximum operating power increases to 9.5W from the original model's 6.6W. Therefore, laptops will not include this drive. Other features, including TBW endurance, MTBF, and a 5-year guarantee, are unaltered.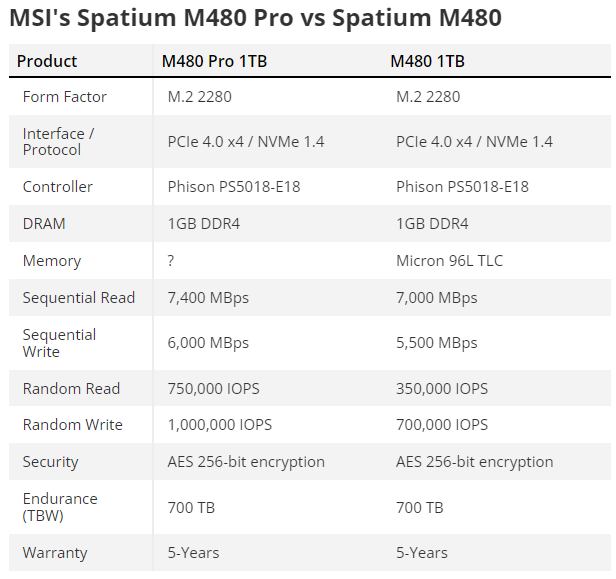 These drives will be available with 1TB, 2TB, and 4TB of raw 3D NAND, and the MSI Spatium M480 Pro eliminates a 500GB variant while adding a 4TB configuration. MSI's Spatium M480 Pro SSDs will be available in three different flavors: the standard M480 Pro, which features a thin graphene heatspreader for maximum compatibility with desktops and laptops; the M480 Pro HS, which features a rather massive heatsink; and the M480 Pro Play, which is designed specifically for Sony's PlayStation 4.
There is still life (and performance) in PCIe Gen4 systems, even though some enthusiasts are waiting in line to purchase the best SSDs with a PCIe 5.0 x4 interface so they can take advantage of their brand new AMD Ryzen 7000 or Intel 12th and 13th Gen Core platforms. Due to the high cost of PCIe Gen5 platforms and compatible drives, many enthusiasts may opt to instead replace their existing systems with a new graphics card and a larger, still faster, SSD. As many mainstream PCIe Gen4-supporting computers shipped with PCIe 3.0 or mediocre PCIe Gen 4 drives, a drive like the M480 Pro would be a speedy and (in the case of the 4TB model at least) spacious upgrade, it makes a lot of sense to target this group for an SSD upgrade.