Watson's Furniture – Types of Patio Furniture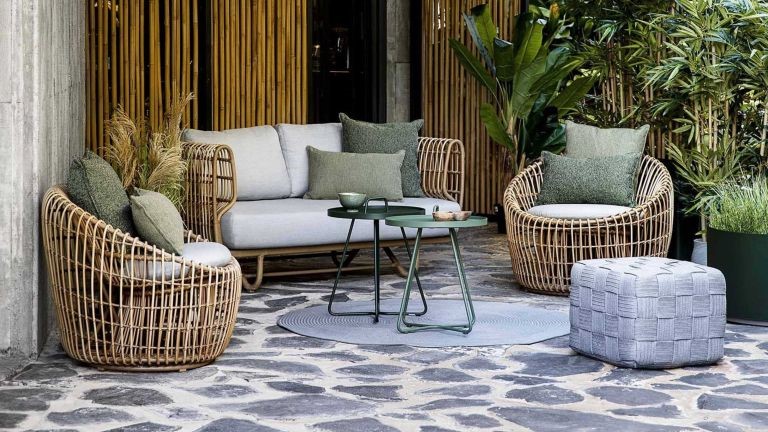 Outdoor or patio furniture is not a new trend. They have been around for centuries now and are identified by their dogged materials that can withstand harsh weather conditions.
Patio seating comes in various styles and designs. However, the first important feature to consider is the quality and strength of the material – a long-lasting table is better than a fancy and broken piece.
These days, finishing our exterior and garden spaces like we do our interior is a popular trend. And with long-lasting and quality outdoor seating, we could say 'life's best moments are here' while we host our friends and families to outdoor dinner parties and cocktails.
There are several types of patio furniture. However, we will discuss them based on the kind of material used in making them.
Types of Patio Seating
Outdoor furniture is made from several materials. And knowing a thing or two about these materials can help you make the right choices. Below are a few types of outdoor furnishings.
Cast Aluminum Seating
Outdoor furnishings made from aluminum provide several benefits. For instance, they are lightweight and do not require regular treatment or painting, unlike wooden pieces. However, they take up storage space as you cannot fold them.
Wrought Iron Pieces
These furnishings are one of the best when it comes to durability and strength. Also, the nature of their surfaces makes it easy to paint them without hurting them too much. However, you may need to fix some cushions for more comfort. You can click on https://en.m.wikipedia.org/ to read more about wrought iron.
Galvanized Steel
When iron is mixed with carbon, it produces a strong metal – steel. Galvanized steel furnishings are strong and can stand the test of time. Nevertheless, ensure that they are well-coated before purchasing as they can rust easily.
Resin Furnishings
With so much fuss about the ecosystem and environmentally friendly products, resin furniture might become very popular soon. Resin furnishings gotten from recycled plastics are weather-resistant and durable. Although they are cheap and lightweight compared to others, they add a touch of class to our outdoor décor.
However, resin furnishings usually have problems with exposure to sunlight. This is because exposure to direct sunlight for long can bleach the material and make it fade. However, you can store them during warmer weather.
Rattan Seating
These are one of the most inexpensive furnishings, next to resins. Their lightweight and price make them a popular choice for several homes. Nevertheless, rattan seating is not resistant to harsh weather. So, you could move them indoors often to preserve them, especially during rainy seasons.
Wooding Seating
When it comes to fitting just right with your garden setting, wooden furnishings are one of the best. Also, they are a great fit for outdoor kitchen ideas. However, they require regular treatments. You can check this article to learn more about how you can take care of your wooden furniture.
Outdoor Benches
Outdoor benches are used for several informal purposes. For instance, some people use them for regular sit-outs with friends and family members.
Benches are made from various materials. However, cast iron, polyethylene weave, and wooden benches are the most popular ones you could find around.
Outdoor Chair
Outdoor chairs are affordable and come in simple designs. Also, there are made from several materials –aluminum, plastic, wood, or wicker.
When it comes to patio chairs, there are several fantastic designs. However, it is best to consider the purpose of the furniture before buying. For instance, Adirondack chairs are popular outdoor pieces for relaxing in your garden; however, they are not the best for dining settings.
Patio Tables
Tables serve several purposes in our interior décor; this is also the case with outdoor set-ups. So, to get the best set-up, you can get matching tables for your chair.
There are several kinds of tables. However, if you have limited backyard space, you should consider collapsible ones like picnic tables. So, you can easily store them away when you are not using them.
Patio Sofas
With a larger garden space, you might require larger furnishings and can have any design of your choice. You can use sofas to fill those spaces and transform your garden into an attractive place.
Some quality sofas are made of weather-resistant materials and offer an aesthetic look to our exterior. And this makes it a convenient place to host social events and gatherings. However, ensure you cover them from direct sunlight.
Pergola and Gazebo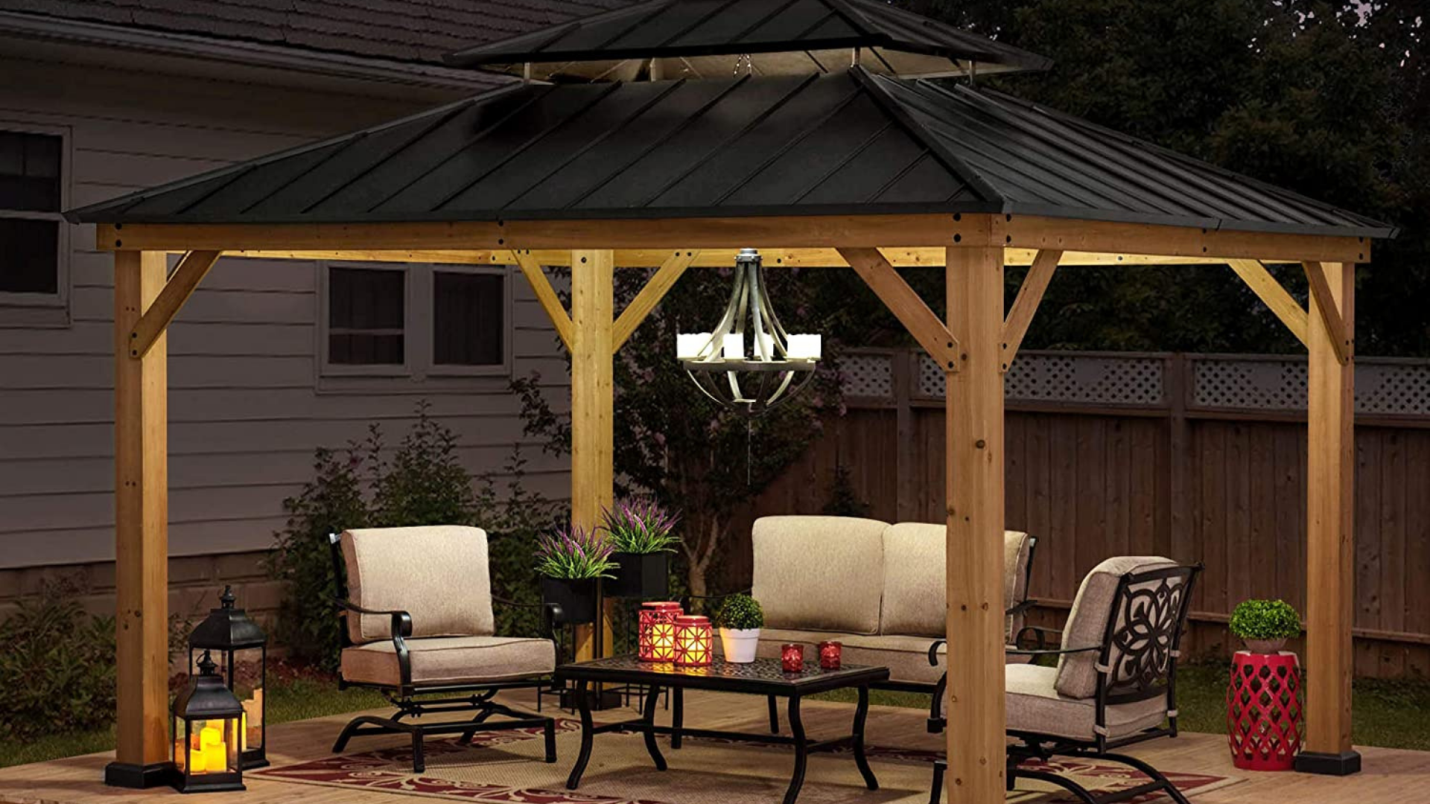 These are like pop-up canopies but are fixed permanently in your gardens. They help provide cover from the sun when you are out in your garden. However, you will need a larger space to deploy them.
As an alternative, pop-up canopies can be used instead of pergolas. And because they are temporary structures, you can easily install and use them during your events.
Deck Bars
We cannot end this article successfully without mentioning this piece – deck bars. For several people, this is their favorite patio furnishing.
Deck bars serve as the bar spot in a garden spaces. And while they are can help us entertain our friends on occasions, they also have other benefits. For instance, the piece comes with storage spaces where you can keep drinks and glasses. Therefore, it can save you the stress of bringing drinks from inside.
Conclusion
Our garden space does not need to lie empty when we can transform them into a place of comfort. However, this will require purchasing several quality furniture sets. And choosing one with quality materials can guarantee the durability of the piece.