Alphacool Debuts Industrial External Cooling System, the ES Orbiter 360 TS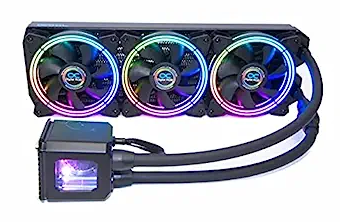 However, a pleasant method of cooling. The ES Orbiter is outfitted with two NexXxoS Full Copper radiators of the HPE variant. These radiators feature an increased number of water channels and copper fins, which allow for more coolant to flow through the radiator. As a result, the cooling performance of the radiator is significantly improved. Alphacool is ecstatic to unveil its newest creation, the ES Orbiter 360 TS, which is a space-saving external cooling system that has been developed to deliver exceptional cooling performance for use in industrial applications.
The cooling system comes with three built-in Alphacool Core 120 mm fans, which are capable of effectively dissipating a high waste heat of up to 1500 watts. This is done to maximize the airflow of the radiators. The ES Orbiter 360 TS has an impressively simple and compact design, replete with an illuminated coloured temperature display and two recessed handles that make lifting and transporting the device a joy. This is despite the fact that it has an impressively powerful cooling capacity. Users are able to verify the amount of coolant that is currently present in the cooling system by using an indicator that is situated at the front of the device.
The fill opening and adjacent vent valve on the top make it simple and convenient to replenish the liquid whenever it runs low. Because of its many useful features, the ES Orbiter 360 TS is an ideal option for use in a variety of industrial applications. It is constructed out of aluminium, steel, and copper and measures 378.80 x 224.46 x 185.30 mm. Its dimensions are as follows: TPV (EPDM) was used in the construction of the tubes, and the cooling system has a total power consumption of 17.7 W. It has threads for the water connections (2x G1/4″), the air balance connection (1x G1/4″), and the fill port (1x G1/4″). The reservoir in the cooling system has a capacity of 445 millilitres, and it is designed to function at temperatures up to 75 degrees Celsius.
The greatest pumping head that can be achieved by the pump is 3,125 metres, and the maximum air flow rate that can be achieved by the fans is 83.3 metres cubic feet per hour. In conclusion, the ES Orbiter 360 TS is an exceptional external cooling system that is designed specifically for use in industrial settings. It has an exceptionally high cooling performance, is very easy to maintain, and has a straightforward and small design.