Call of Duty: Black Ops Cold War Alpha
Call of Duty: Black Ops Cold War is a direct sequel to the first Call of Duty and fans will get to enjoy it these days. t's also free to all PS4 owners with no PlayStation Plus subscription required, unless you live in Germany. The Alpha is the first glimpse of Call of Duty: Black Ops Cold War's multiplayer. It features a number of traditional 6v6 modes, including Team Deathmatch, Kill Confirmed and Domination. All of these modes will be playable across three maps during the Alpha: Moscow, Miami and Satellite. The selection of maps gives a range of experiences from the close  combat of Miami's streets to the rocky, sand dunes of Satellite.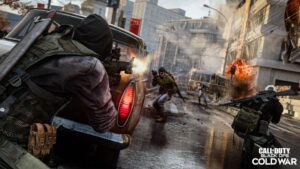 In the time, you're editing your loadout, you will find out about the new Field Upgrades on offer. They are all sets of equipment earned over time in the game that can act as a boon for your fellow players. Or also hinder the enemy team's abilities. Wildcards also fundamentally alter the rules of Create-a-Class, with four powerful options to choose from for maximum flexibility. Also, a couple of old loadouts are provided for players looking to pick up and play with a developer-tailored selection of weapons, attachments, Field Upgrades and Wildcards.
Create-a-Class and Gunsmsith creation ideas. These default loadouts can act as a great framework for crafting your own custom arsenal. Once everything is to your preference, earn some Scorestreak. These points, earned through both kills and objective play, are kept through death.
There's also this multiplayer mode you can try out, Combined Arms: Domination. It is a 12v12 twist on traditional Domination with vehicles and larger maps. Tanks, Snowmobiles, Wakerunners, and Gunboats are all at your disposal. They are just helping you navigate the expansive environments and move quickly to different objectives.
The Alpha has just released yesterday and you can download it through various websites.
Read Also: Coming To Mobiles Call Of Duty: Warzone