How to Add a Category on Twitch PC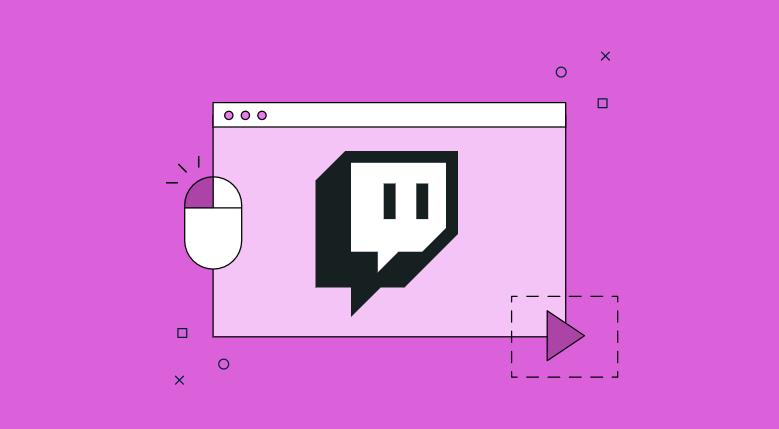 Streaming on Twitch has become a popular hobby for many people, and having a stream title that is memorable and draws attention to what you're doing can be an appealing approach to attract viewers to your channel. The title of your stream not only conveys information about you and the stuff you share with viewers, but it also establishes the mood for those who are watching. When you are broadcasting on Twitch, it is quite important to accurately categorize your content in order to make it simpler for viewers to locate you and follow you. In this article, we'll go over the steps on how to add a category on Twitch on a PC. These processes are as follows:
Read Also: How to Claim Any Twitch Drops You Have Earned
How to Add a Category on Twitch PC
The following steps need to be taken to finish it:
1. Navigate to the Twitch website, and while you're there, check to see that you are signed in to your account.
2. To access your profile, navigate to the top right of the screen and click on the button that says "Profile."

3. Click on the "Creator Dashboard" button to enter that site section.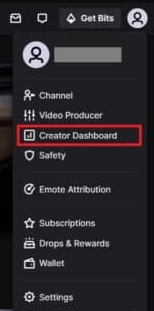 4. From the menu on the left, navigate to the Stream Manager and click on it.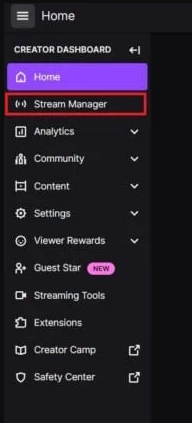 5. To edit the stream's information, navigate to the far right side of the screen and click the tile that says "Quick Actions" next to "Edit Stream Info."

6. In the Category area on Twitch, search for the category or game of your choosing, and then pick it to add a category to the game you are now playing.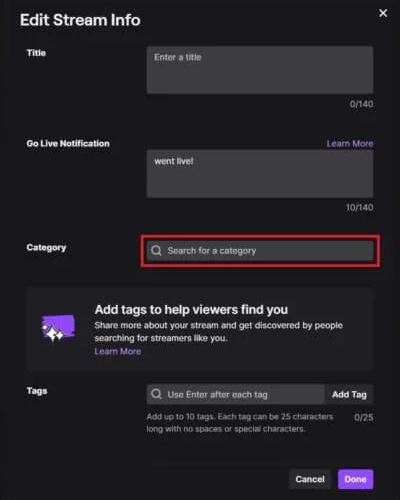 7. Choose the Done option from the menu.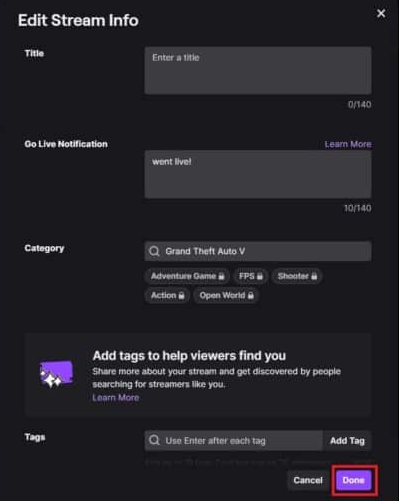 That wraps up everything! Adding a category to your Twitch channel on your computer can be done in this way.
FAQs
How do I search categories on Twitch?
To browse the site, use the Browse option at the very top. Select the category that best suits your needs (or use the search bar).
What is a category on Twitch?
Twitch groups your livestream with other comparable content based on their classification of the type of content that your stream is. If you streamed yourself painting, for instance, your stream would be considered part of the Arts category.
How to get paid on Twitch?
Anyone has the potential to become a streamer and make money through the sale of items and donations. You can become an affiliate on Twitch and earn money from subscriptions, Twitch bits, and brand deals if you have more than 50 followers and have satisfied the other prerequisites. As a partner, you can increase your earnings even more with the revenue from advertisements.
How do you set 18+ on Twitch?
Click "Settings" from the Home panel, then click "Stream" to begin streaming. If you click the toggle next to Mature Content until it displays a checkmark and turns purple, the option is turned on.
Does Twitch pay per month?
If your account is in a payable position and your balance is greater than $50 (for most payout methods) or $100 (for wire transfers), you will get your payment on or around the 15th of each month. Visit the Payout History section of your account to confirm that a payout has been sent to you on or around the 15th of each month.