How to Add Bitmoji to Google Slides on Android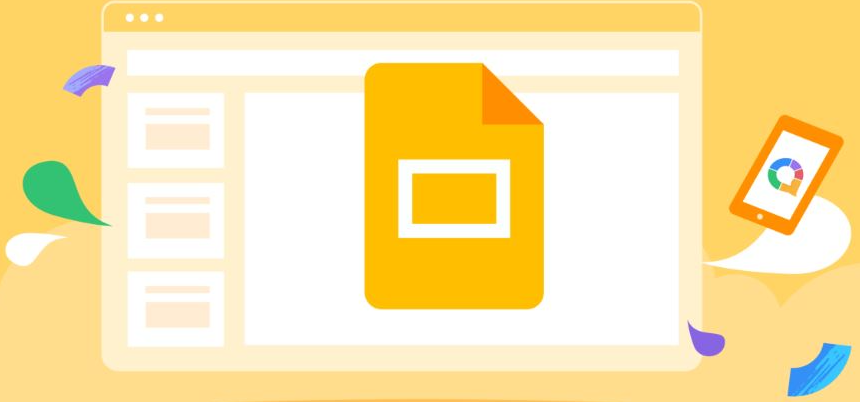 With the help of Bitmoji, you may make expressive emoticons and share them with others in your interactions. How a bitmoji communicates effectively or bridges the time between chats is beyond our ability even to comprehend. This gave the app enormous popularity and use among social media users. Bitmojis bring a unique touch to slides. Bitmojis can make the presentation a little more fun and unique, whether you're a teacher or a student. In this post, you may learn how to use bitmoji on Google Slides on an Android phone. Consequently, let's begin:
Read Also: How to Get Frndly TV on an Android TV
How to Add Bitmoji to Google Slides on Android
You must download the Bitmoji avatar from the Bitmoji app on your phone for Android phones. Next, add that avatar in the Google Slides app as a picture. The detailed steps are as follows:
NOTE: Bitmojis may be added from Gboard to several apps, including WhatsApp. However, importing Bitmojis from Gboard into Google Slides is impossible.
1. Installing Google Slides and the Bitmoji app for Android is a requirement.
2. Launch the Bitmoji app and sign in using your credentials. Without using Snapchat, you can establish a new Bitmoji account or use an existing Snapchat account. If you don't already have one, make one in the app.
3. Tap the Bitmoji character you wish to use in your slide. Various sharing options will be visible. Continue scrolling until you see Save. To download the Bitmoji on your phone, tap that.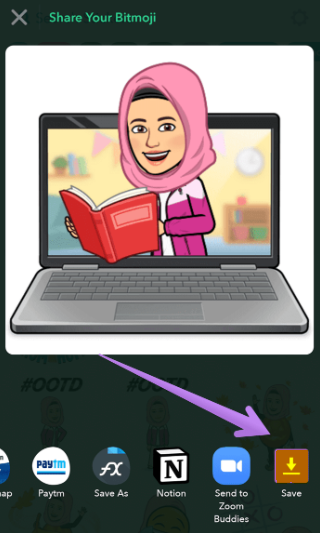 The downloaded avatar is visible when you open Gallery. Install the FX File Explorer software if an avatar wasn't downloaded. Repeat step 3 after that. Tap the Save as a button from the FX File Explorer instead of selecting Save. With that, your Android phone will download the Bitmoji avatar without a white background. Use internet tools to crop out the image's background if your avatar has a white background.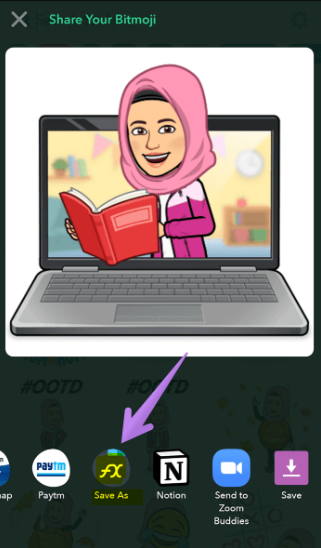 4. Open the presentation where you wish to include Bitmoji in Google Slides.
5. At the top of the necessary slide, tap the add (+) icon and choose Image from the menu. There are two choices available to you: From photographs and a camera. Pick from the pictures.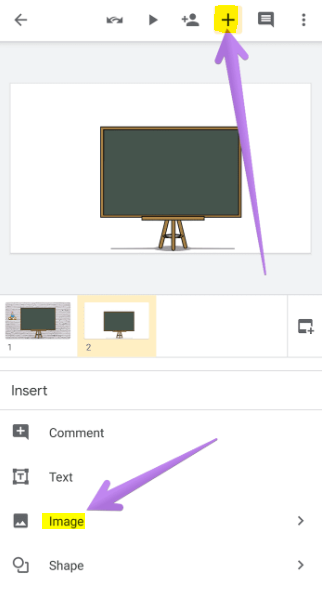 6. Navigate to the Bitmoji avatar you downloaded. To add it to the slide, tap on it.
NOTE: While downloading Bitmojis through the Android app, I ran into a few problems. Even when I selected a different avatar, the image didn't download, or the same avatar kept downloading. I hope you don't experience it.
FAQs
Is Bitmoji like Snapchat?
As a message board meme after Snap acquired the business in 2016, Bitmoji is now the official Snapchat avatar. They act as the image for your profile. Additionally, they appear as stickers in your newsfeed, transforming conversations with your friends into absurd scenarios.
What is the age limit for Bitmoji?
It's advisable to reserve Bitmoji for high school pupils because the terms of service state that users must be older than 13 (and some of the content is intended for more mature audiences). However, it will also be helpful to teachers.
Why is Bitmoji not showing up on my keyboard?
Go to the settings on your smartphone. Select Language & Input after tapping General Management. Select Manage Keyboards after tapping On-Screen or Virtual Keyboard. Turn the Bitmoji Keyboard access button off.
What is the white circle around the Bitmoji?
The app's automated coupling feature, which links bitmoji together above a white circle when they are with each other in real life, has been used to identify people who aren't publicly in a relationship as such.
What does green Bitmoji mean on Snapchat?
Next to the Bitmoji of suggested buddies is this green dot. The Activity Indicator, a feature that alerts other Snapchat users when a person has been active recently, is represented by the green dot. The Activity Indicator can be disabled under privacy settings even though it is enabled by default.