How to Disable Bing from your Default Search Engine in Chrome PC
Bing has never been able to come anywhere near challenging Google's position as the search engine that is used the most, despite the fact that it boasts a lot of tempting features. This is despite the fact that it has never been able to come anywhere near challenging Google's position. If you configure your browser to use Bing as its default search engine, you may even be able to make it so that stunning photographs taken in different parts of the world appear on the home page of your browser.
It's possible that you were a Bing user in the past, but you've since opted to use Google or another search engine instead. It takes very little effort and only a few steps to change your desktop's default search engine from Bing to Google or any alternative. So let's get started:
Read Also: How to Change Font in Google Chrome (Mac And PC)
How to Disable Bing from your Default Search Engine in Chrome PC
Because there are a few different settings that could make Bing the default search engine for your Chrome browser, you might need to check a few things to ensure that you have successfully reset your search engine.
1. Launch the Chrome browser on your computer, and then select "Settings" from the menu that appears after you click the three dots in the page's upper-right corner. After that, select Settings from the menu that pops up.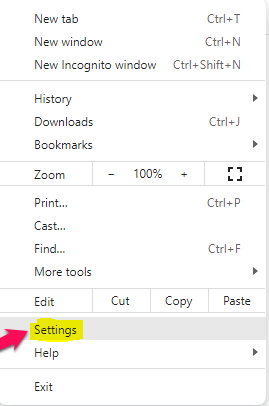 2. Go to the page where you configure your account and click the Search engine link in the navigation bar on the left.
3. In the section titled "Search engine," check the dropdown menu that is located next to the heading "Search engine used in the address bar" to see which search engine is currently used. If it's already set to Bing, you can click the button to switch it to another search engine, such as Google or Yahoo!

4. Check to see what occurs when the Chrome browser starts up by clicking the On startup option in the navigation pane on the left of the screen. Make sure that the Bing homepage is not included in the list of pages that will be opened if it is configured to open a specific page or collection of sites. If this is the case, you have the option of clicking the menu button with the three dots to the right and selecting the Remove option, or you can just select one of the other startup alternatives, such as Opening the new tab page.
Your browser should now, in the vast majority of instances, complete searches using the search engine that you have selected as your new default. If it is still using Bing, however, you most likely have a Bing extension installed that is overriding the default browser option. This extension needs to be deleted in order to restore the browser to its original state.
1. Navigate to the top of the page and select the menu with the three dots, then select Settings from the menu that appears.
2. Select Extensions from the list of options in the left-hand navigation window.
3. Search through all of your currently installed extensions to see if any of them are connected to Bing. If there are any, you can disable them by swiping the button to the left, or you can click Remove, then click Remove again in the pop-up window to indicate that you wish to delete them.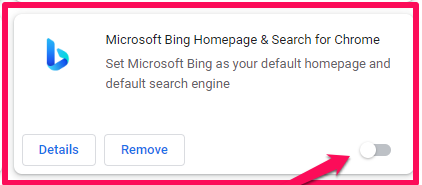 FAQs
Why is Chrome defaulting to Bing?
If you find that Google Chrome continually sends you to Bing, then you almost certainly have a web hijacker that has infected your computer and is changing the settings of Google Chrome. You need to remove any recently installed add-ons and applications, and then scan your personal computer using a trustworthy antivirus programme such as Norton.
Why does Bing come up when I search on Google?
Your Google search results appearing in another search engine, such as Bing or Ask, is a telltale sign that your computer may be infected with a sort of malware that redirects Web addresses. This type of malware can cause your computer to behave in unexpected and potentially harmful ways.
Why does my browser keep switching to Bing?
Awareness of Cybersecurity Measures
You may have observed that your Chrome browser will automatically switch from using Google to using Bing as the default search engine at random intervals. If this occurs without any action being taken by the user, it is possible that malicious software known as a Browser Hijacker is at blame.