How To Download Netflix on Macbook

Netflix is without a doubt one of the most well-known and widely used streaming services in the United States as well as the rest of the world. Subscribers to Netflix have had the ability to download a selection of the service's programming in order to view it offline for a number of years now. You are now able to perform this across a variety of operating systems and devices, including Windows, iOS/iPadOS, and Android. The operating system of your Mac, which is called macOS, does not, unfortunately, come with a method that is either easy or legal to download content from Netflix.
At the time that this article was written, it is not feasible to download Netflix content onto a Mac. Despite what you may have read elsewhere on the internet, this is the case, even though it is possible to stream Netflix content on a Mac. Nevertheless, there are two alternative solutions that are worth taking into consideration. As you'll see in the following section, doing one of these tasks is far simpler than the other.
How To Download Netflix on Macbook
Since a long time ago, Netflix members have been able to stream video on their laptops and desktop computers running the Mac operating system. A web browser such as Safari, Chrome, or Microsoft Edge is all that is required to accomplish this goal. Sadly, none of these choices allow you to download content for usage while you are not connected to the internet. In addition, there is not yet a Netflix app available for macOS.
Why is this the case? Neither Apple nor Netflix has commented, which is puzzling in light of the fact that Netflix's popularity is only growing. In point of fact, it makes about as much sense as the two firms never coming to agreement to bring Netflix to the Apple TV app, where the creator of the iPhone provides recommendations of material based on your viewing patterns. (There is, however, a separate Netflix software that can be downloaded onto the Apple TV set-top box.)
If you want to view content that you have downloaded from Netflix on your Mac in a legal manner, try one of the following solutions.
Use AirPlay on iPhone or iPad
Apple has long included support for AirPlay on its products, which enables customers to stream music and films over the internet. AirPlay is supported by a variety of third-party devices, such as the Xbox and Roku, amongst others. AirPlay places restrictions on the kind of devices that can be used to watch videos that have been streamed through the service. To this day, the only devices that are capable of receiving video streamed over AirPlay are the Apple TV and smart TVs that are compatible with AirPlay 2.
Because of these restrictions, our initial recommendation does not involve using a Mac in any way. Despite this, it could end up being a better choice in the long run. Watch the content you've downloaded from Netflix on your iPhone or iPad instead of your Mac so you can watch it offline.
It is essential to gain an understanding of how Netflix manages the downloading process on mobile devices before getting started. When downloading episodes of television shows via a Wi-Fi connection, the smart download mode is activated automatically by default. Only one episode of a series is downloaded at a time using smart downloads, unlike traditional download methods. After you have finished watching that episode, it will be removed, and another one will take its place. This takes place automatically whenever your device is linked to a Wi-Fi network in the background.
You should deactivate smart downloads if you intend to watch numerous episodes of a series when you are not connected to the internet. Tap the Downloads symbol, which is located in the bottom right corner of the Netflix app, to proceed. From there, select Smart Downloads at the top, and then on the following screen, turn off Smart Downloads using the toggle.
Following the procedures below, you will be able to begin downloading content from Netflix once the smart downloads option has been deactivated on your account:
Launch the Netflix app on the mobile device you are using.
Select the movie or TV show that you wish to download by tapping on it.
Select the icon labelled "Download" that is located at the very bottom of the screen.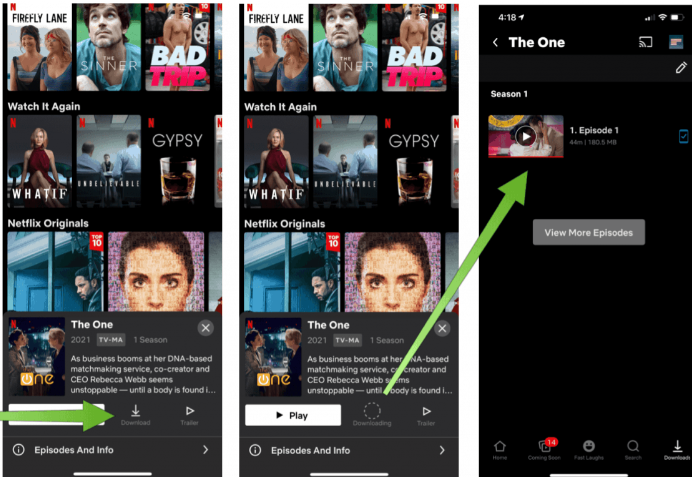 Once the content from Netflix has been downloaded onto your iPhone or iPad, you will be able to watch it by using the following methods:
Read More: How To Change Google Maps Voice
Launch the Netflix app on the mobile device you are using.
Select the icon labelled "Download" that is located at the very bottom of the screen.
Select the content you want to play by tapping it.
Pick the Play option.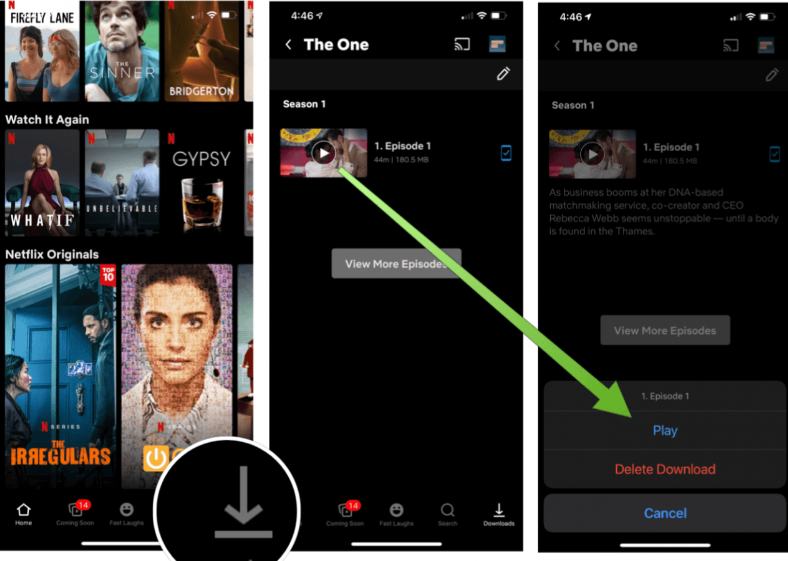 Put Windows on Your Mac
Okay, so the approach presented above did not, in a technical sense, satisfy the need that was necessary to watch legally downloaded content from Netflix on your Mac. Installing Windows 10 on your Mac via Apple Boot Camp or a third-party virtualization software product such as Parallels is the only real answer to this problem.
However, if you are working with an Apple M1 device, Boot Camp won't be an option for you. And virtualization isn't quite ready for these devices of the next generation, unless you're willing to become a free beta tester for it.
Regardless of the method you choose, after installing Windows 10 on your Mac, head over to the Microsoft Store to grab the latest version of the official Netflix app. Once you have logged into your account, the shows that are available for download will have a download icon next to them.
The following screenshot was taken on a MacBook Pro M1 while running the beta version of Parallels M1 and demonstrates the Netflix app for Windows in action: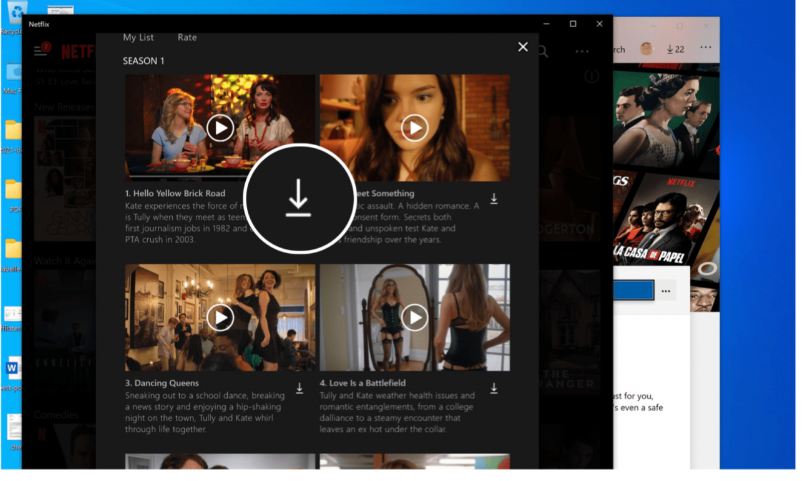 FAQ's
Is Netflix available on a Macbook?
To access Netflix on your Mac, go to Netflix.com and sign in with your Apple ID and password. Watching Netflix.com via a web browser such as Chrome, Firefox, Opera, or Safari is possible.
Why can't I access Netflix on my MacBook Air? '
As a result of the lack of a dedicated Netflix software for Macs, Netflix streaming issues on macOS tend to be quite widespread. There is no official way to download Netflix content for use offline, however there are workarounds to watch Netflix shows and download them for use later using your Mac.
Is there a Netflix app for the iPhone or iPad?
Netflix can run on just about any internet-enabled gadget, in a nutshell. Netflix's app, available on iOS, Android, and Windows 10, lets you download movies and TV series. This is a great new function that allows you to save a bundle of episodes or movies to watch them later when you're not connected to the internet.