How to Get Support a Creator Code in Fortnite

Support a Creator is a program that allows content creators and broadcasters to receive money if they have a significant number of individuals who have supported them. For those who are unaware of this program, it should be noted that this program exists. The way it works in practice is essentially as follows: the greater the number of people who support you and spend money in the Epic Games store as well as in-game stores, the greater the amount of money you get. In this article, we will walk you through the steps necessary to obtain a support or creator code in Fortnite. So let's get started:
Read Also: How to Damage Opponents with the Lock on Pistol on Fortnite
How to Get Support a Creator Code in Fortnite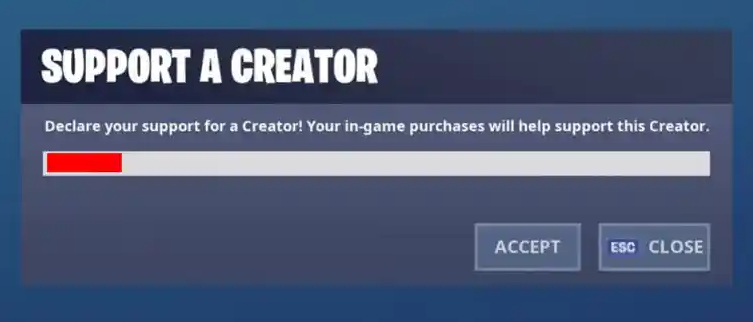 Epic has, to everyone's relief, reduced the minimum age requirement from 14 years old to 13 years old, making it possible for younger players to participate. It is important to keep in mind, however, that the minimum age limit in South Korea has not changed.

You will be required to submit a new application for the second iteration of the Support a Creator program if you currently have a pending or denied application for the Support a Creator program.
Apply for Support a Creator Program
In order to submit an application for the Epic Games Support a Creator program, you will need to visit the official website. When you get to the site, look for the button that says "Apply Now" and click on it. This will start the application process. Before you actually do so, you should make it a point to check that you adhere to all of the requirements and codes of conduct. After clicking the "Apply" button, you will be prompted to sign in to either your Epic account or another account of your choice, and then you will need to follow the on-screen instructions to complete your application.

You have to make sure that you already have a bank account before you can create a profile on Hyperwallet and begin receiving the money that you earn there. Applicants who are under the age of majority are required to have a parent or legal guardian assist them in filling out the application and ensuring that they meet all of the prerequisites. In addition to this, you need to have a sizable fan base if you want to be a successful creator. To put it another way, you will need to have more than one thousand people following you on at least one of the platforms above. If you decide to submit an application, I hope you have the best of luck.
FAQs
How much money do you get from support a creator code Fortnite?
In the case of Fortnite, accepted Creators will receive a reward equal to five percent of the total value of any in-game purchases made with their Creator Code. This is true for both earned and paid V-Bucks, as well as the majority of deals involving actual money. Support for a Fortnite Creator may be shown in-game by clicking the "Support-A-Creator" button and inputting the Creator's code. Players can show their support for a Fortnite Creator in one of two ways.
How do I get V-Bucks for free?
To acquire Virtual Currency (VC) by means of the Free Pass and the Battle Pass:
The Free Pass is made available to all players at the beginning of each season, and they also have the option to purchase the Battle Pass. You can earn V-Bucks if you have either pass, and the Battle Pass allows you to do so as you progress through its stages.
Does support-a-creator give you V-bucks?
If you choose a final payout in V-Bucks and your program account has an accrued balance of $0.01 to $7.99 USD, then you will receive 1,000 V-Bucks. Creators whose program accounts have accumulated balances of eight dollars or more in US currency will be eligible to earn a V-Bucks payout that is equivalent to two times the base cost of one V-Buck in US currency.
Can I get paid for Fortnite?
Producing Fortnite videos on YouTube in Order to Monetize Ad Revenues
People also make money by recording their gameplay while playing Fortnite and selling the videos online. When players record their Fortnite fights and upload them to YouTube, they open themselves up to the possibility of earning ad revenue—but only if the videos receive a certain number of channel views.
Can you get 500 V-Bucks for free?
You can only legally obtain free V-Bucks if you have previously purchased Save the World. There is no other way. Although a large number of websites and links make the claim that they can provide you with free V-Bucks, these offers are almost always fraudulent.