How to Get the Other Half Sword In Destiny 2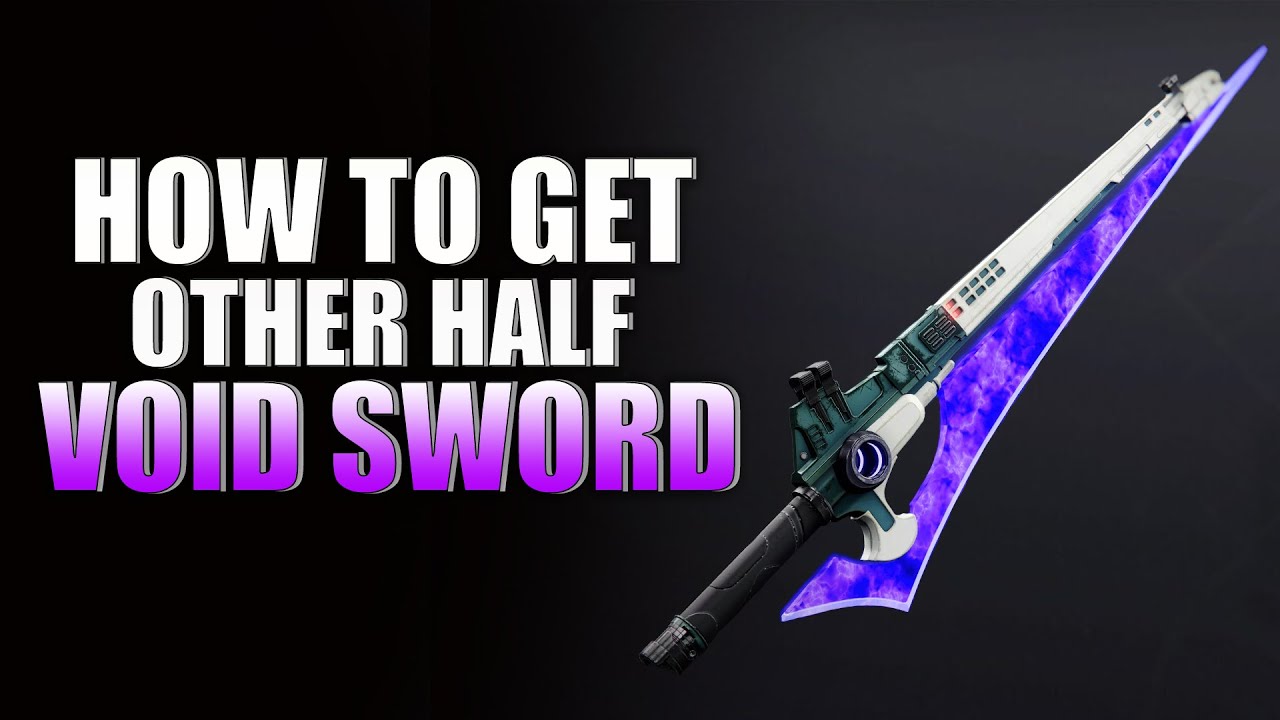 Bungie is a game developer with a lengthy and illustrious history, having created science fiction shooters for multiple generations of gamers. It has been in operation for three decades, and the company is commemorating this milestone by hosting a special event in Destiny 2 and introducing a number of new weaponry that make blatant references to Halo, Bungie's earlier series of video games.
Despite the fact that they are treated as separate entities legally, they retain the spirit of their predecessor. The Forerunner in Destiny 2 is unmistakably inspired by the Magnum from Halo, and the Other Half sword is a cheeky take on the Energy Sword from The Covenant.
Although there is a paid DLC pack available for the event in Destiny 2, players are not need to purchase it in order to obtain the Other Half Sword. The Other Half Sword is not dependent on completing the Grasp of Avarice dungeon in order to obtain it, which is not the case with the returning exotic Gjallarhorn rocket launcher from Destiny 1.
Read Also: How to Get Lubrae's Ruin In Destiny 2
Where To Find The Other Half Sword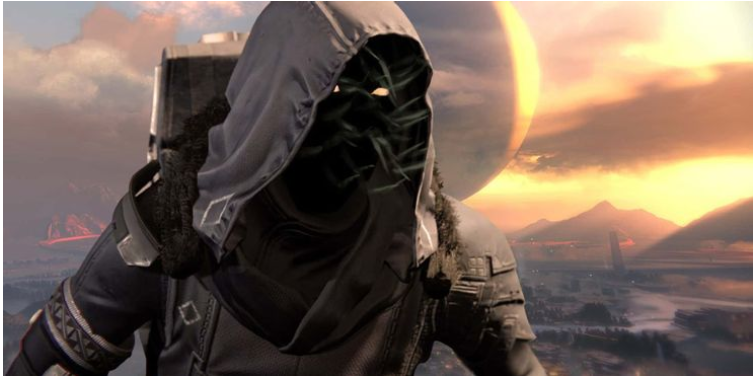 The Other Half Sword can only be obtained from Xur's Treasure Hoard, making it the most important location for players to visit. Players can access this unique store by selecting Eternity from the Destinations directory in their game client.
However, this won't be a traditional transaction of any kind. They are going to require a little bit of good fortune as well. The Other Half Sword can be found within one of Xur's treasure chests, which operate in the same manner as a gacha for legendary weapons. The correct chest for it to drop from is the one that is situated on the ledge that looks out over the rest of the Treasure Room, just past where Xur is standing.
Players are going to need to make use of a Treasure Key in order to get into any of the chests. Finding Treasure Keys and storing them away is a difficult undertaking in and of itself that takes a significant amount of time spent grinding.
The Other Half Vs. Half-Truths Sword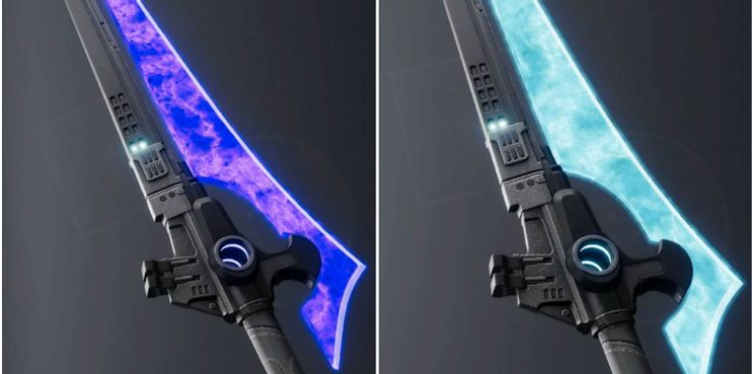 The update for the 30th anniversary featured two swords that have a very similar appearance to one another. It is important to differentiate between the Other Half and the Half-Truths sword, because the latter is a much more common loot drop from the same activity. The two swords are virtually indistinguishable from one another in terms of their designs; nevertheless, The Other Half is coloured purple.
How To Get Treasure Keys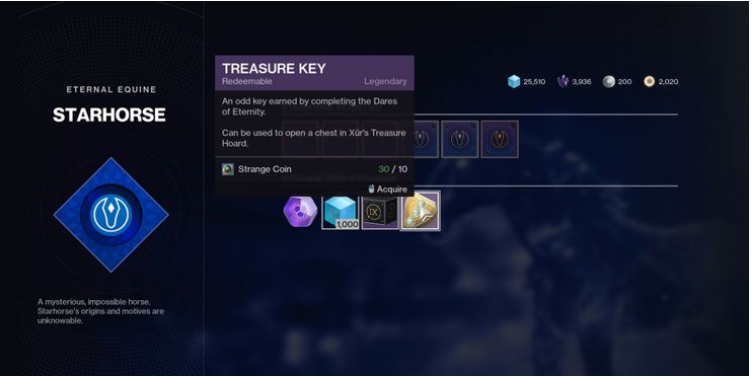 The quickest and easiest method to acquire Treasure Keys is to purchase them from Starhorse in exchange for Strange Coins, a unique form of in-game cash that is only available during this event. It takes 10 Strange Coins to purchase a Treasure Key. To acquire Strange Coins, a player need just participate in Dares of Eternity matches.
Participating in Dares of Eternity, which is the event's co-operative survival task and is free for all players, is the quickest way to obtain Treasure Keys without spending Strange Coins. This is also the only option to obtain Treasure Keys without spending Strange Coins. Each round can accommodate up to six players, and a Treasure Key will inevitably be dropped after any successful run. Players have the opportunity to stockpile their Strange Coins in preparation for making more advantageous purchases from Starhorse.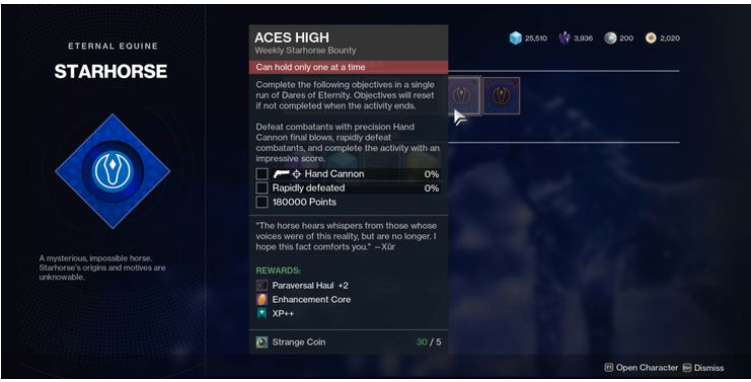 Be sure to get a Starhorse bounty from the magical horse that can also be found in Xur's Treasure Hoard before you jump in. Xur's Treasure Hoard also contains a Starhorse. After a Starhorse bounty has been completed, the player will receive a Paraversal Haul as a reward. These Paraversal Hauls have the potential to award the player with additional Treasure Keys, Strange Coins, Legendary Gear, and Exotic Gear.
The first three bounties can be purchased once every day by players, while the remaining three can be purchased once per weekly reset. This makes bounties an excellent option for players to farm for additional Coins and Keys.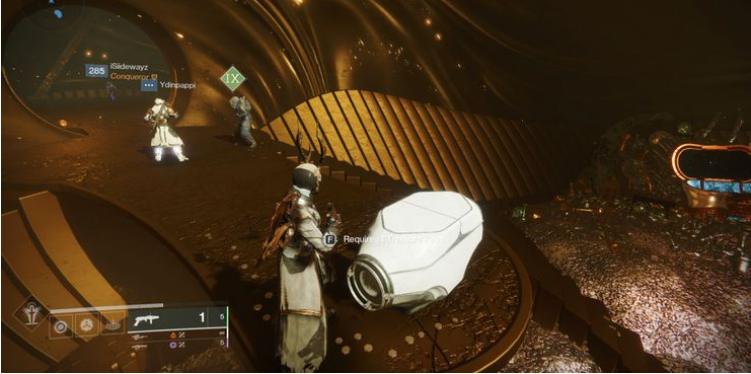 After the player has collected a sufficient number of treasure keys, all that is required of them is to go back to Xur's Treasure Hoard. From that vantage point, all that is required of them is to engage with the treasure chest that is located next to him.
The Other Half Sword's Worth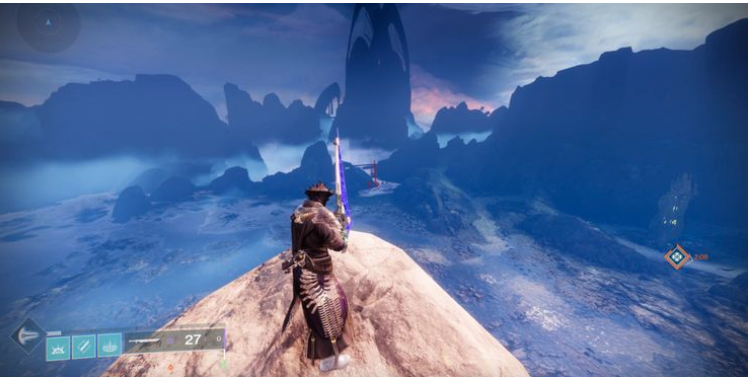 It's possible that rolling for the Other Half Sword will cost you a big penny. It's possible that the gamer won't get lucky until they've tried quite a few times. The official drop rate for the Other Half Sword has not been determined as of yet; nonetheless, there have been reports of players getting the sword within the first few weeks after Dares of Eternity's release, while others have tried for over fifty hours without success while playing the game mode. Patience and perseverance are essential traits to have in Destiny 2, as both games rely heavily on random number generation (RNG).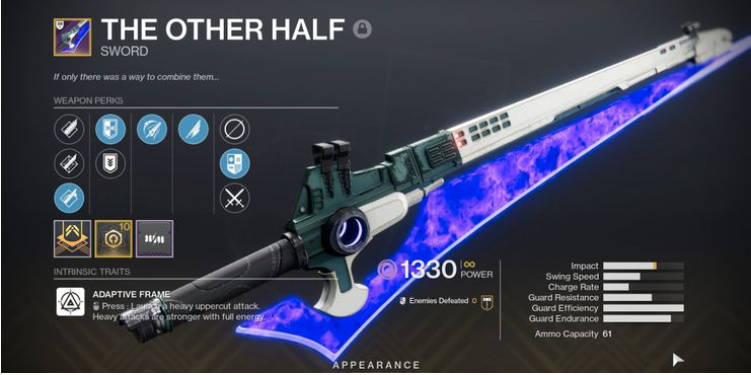 For Halo enthusiasts, the allure of incorporating a new environment for one of the game's most recognizable weapons, the Energy Sword, could be enough to warrant the effort required. However, there is still an incentive to go for it, even for those who don't care about that aspect of the game.
Even though this perk will be receiving a huge nerf in the Witch Queen expansion, it's possible that the majority of players won't care as much as long as they have a Half-Truths sword equipped with Eager Edge. The extraordinary scarcity of The Other Half is still the primary selling point of this item.
Video