How to Land Faster in Fortnite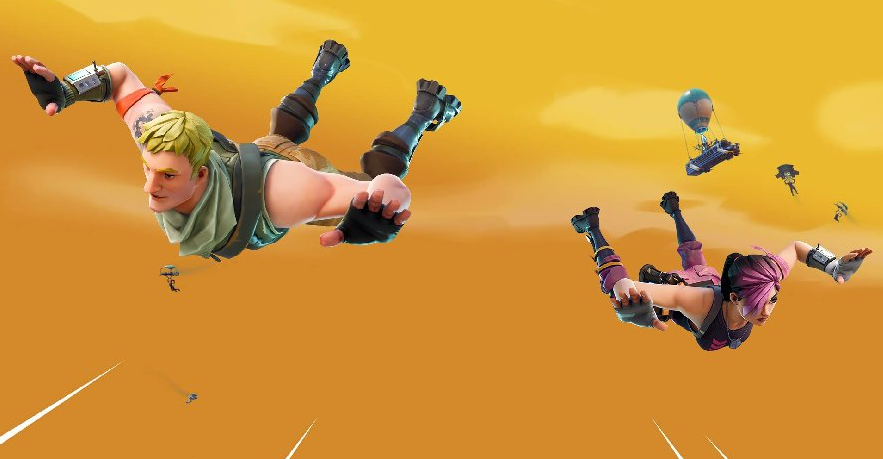 Fortnite, being a battle royale game, is a battle to get the best equipment possible. Arguably, the first few seconds of the game will dictate who has the higher chance of winning because all players will drop from the battle bus and land in their chosen area to loot and get the best guns they can. This article will teach you how to land faster in Fortnite so that you can win more battle royale matches. So let's get started:
Read Also: How to Build Like a Pro in Fortnite Chapter 4
How to Land Faster in Fortnite
If you want to land faster in Fortnite, there are a few things you need to make sure you do. We've listed them in bullet points below so you can quickly see them. However, if you want more information about them, keep reading.
When it makes sense, tilt into your dive
This is a straightforward clue, however one that is ostensibly the best at guaranteeing you land quicker in Fortnite. For console players, you can control your dive and descent by using either the left and right analog sticks or WASD and your mouse when you exit the Battle Bus. This is all about getting your character to point where you want to land. You should really dive all the way forward so that your character looks like it's doing a swan dive if it's close by or right below you. They'll descend faster if your character leans forward more.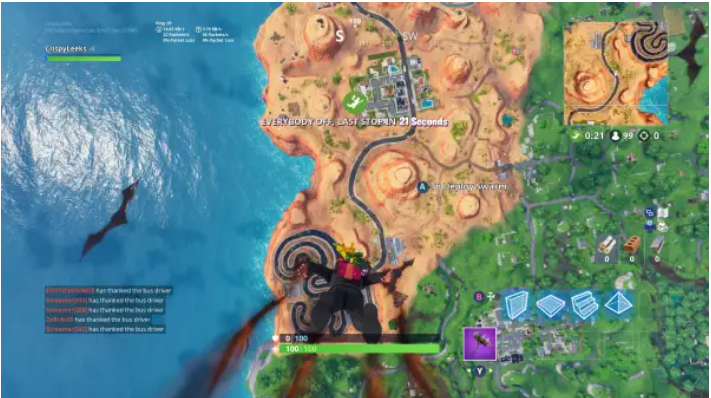 However, you can still land faster in Fortnite if you perform your descent correctly, even if your desired landing location is quite a distance away. Until you have reduced the distance, make sure you are still fairly parallel to the ground for these. As you move your character through the air, you'll notice that you can reach a point where you can fly quickly across the map without losing much height.
This is the perfect balance and we've incorporated a screen capture beneath. Utilize this to get right near where you need to be, prior to progressing into a full swan jump to set off sending your lightweight flyer. If the location you want to land at is a named one, this is actually much faster than diving directly over it. Further reasons are provided below.
On the map of Fortnite, aim for the lowest possible ground
Make sure to look at the map below you if you want to land faster in Fortnite. If you want to land at Tilted Towers but are trying to land directly above the mountain west of Pleasant Park, you won't have much chance of landing first. On the map of Fortnite, you must instead search for ground at the lowest altitudes. The "auto-deploy" point of your glider will be lower the lower the ground is below you. Stunningly better, assuming you're attempting to land at one of the regions around the edge of Fortnite's island map, take a stab at jumping over the water off the guide.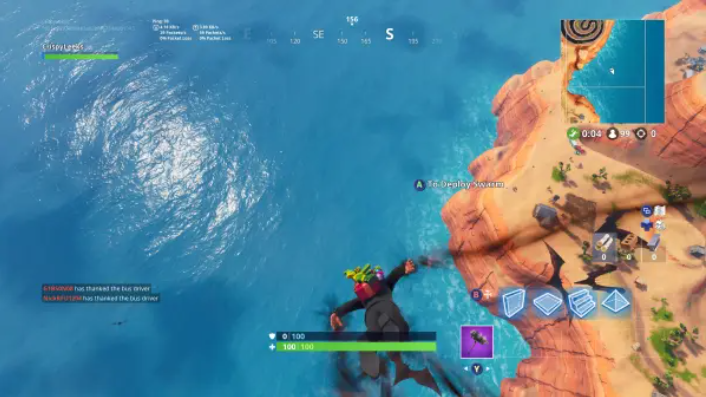 You will be able to dive even further down than the map's lowest points, and if you play your cards right, you will still be able to safely return to the land. This is in actuality the most ideal way to land quick in Fortnite, yet it just truly applies for areas around the edge of the guide. Simply look for the lowest land in the gorge that the river runs through in the middle of the map for any in a more central location.
When to Time Your Jump
Although it may seem obvious, it is still important to discuss. You are not giving yourself the best chance of landing quickly in Fortnite if you attempt to land at Tilted Towers and exit at Lazy Links. In a similar vein, you should avoid jumping out of the Battle Bus directly over the spot where you want to land. Even though swan diving is the most efficient method of descent, diving directly into a designated location typically has a higher "auto-deploy" point for your glider than other locations on the map.
You're best gradually plunging, choosing the least ground close by to where you need to land, and afterward float in. It can require an investment to truly sort out the perfect balance for areas and the best spots on the guide that have the most minimal 'auto-send' focuses, however whenever you have it sussed, you'll be good to go to land quick and first in Fortnite.
FAQs
Where do I land in Fortnite to get the most gold?
There are a lot of different ways to get gold bars in Fortnite, but the best ones are to find Vaults in Mega City and Shattered Slabs. After defeating the bosses in these areas, you'll need to open the vault and get the keycard they drop.
How do I make my aim better in Fortnite settings?
In-game, go to the Settings menu. Go to the Settings section labeled "Controller Options." Under Responsiveness set Progressed Choices to On. Make certain that the Aim Assist Strength setting is set to 100 percent (or lower if you prefer).
How do you run without weapons in Fortnite?
Go to the 'Remote regulator' tab on control center or 'Console controls' on PC. Presently, make a point to dole out a contribution to 'Run' Whenever you've done that, head into a round of Fortnite. Simply press your Sprint button when you have complete control of your character on solid ground, and you will perform the Tactical Sprint.
How can I dance in Fortnite?
Select a dancing emote by pressing and holding the d-pad in that position.