How to Play Splitscreen Multiplayer in Fortnite Battle Royale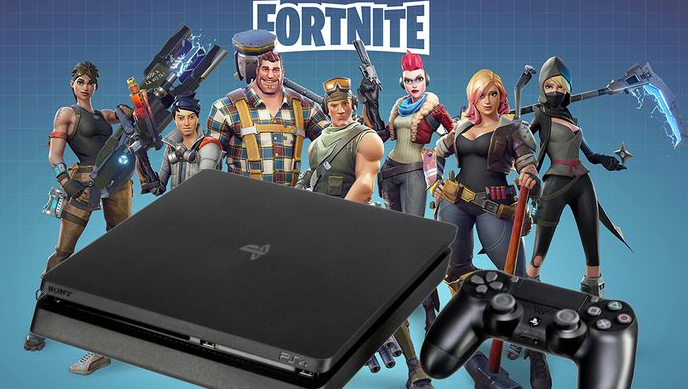 Are you interested in learning how to play Fortnite Battle Royale with split-screen multiplayer? Well, here is all you need to know in order to accomplish exactly that, so that you and a friend may sit on your couch and enjoy a Victory Royale together. The fact that both players may sign into their own accounts and level up their Battle Passes is one of the many things that makes the split-screen multiplayer mode of Fortnite such a terrific experience. All of the progression, experience points, and cosmetics that you unlock while playing on splitscreen will be linked to your account, which is a win-win situation for both players and developers alike. You will learn how to play split-screen multiplayer in Fortnite by reading the information contained in this post. So let's get started:
Read Also: How to Mantle the Object in Fortnite (Chapter 4 Season 1)
How to Play Splitscreen Multiplayer in Fortnite Battle Royale
The first thing you have to do is start up Fortnite Battle Royale as you normally would and activate the second controller you intend to use. After that, you can begin playing the game. Then, once the second player is logged into the PS4 or Xbox One, you need to hold Triangle (PS4/ PS5) or Y (Xbox One/ Xbox Series X|S) until the little circle at the bottom of the screen, where the message to do so was, is filled in. This can be done by pressing and holding the corresponding button on the controller.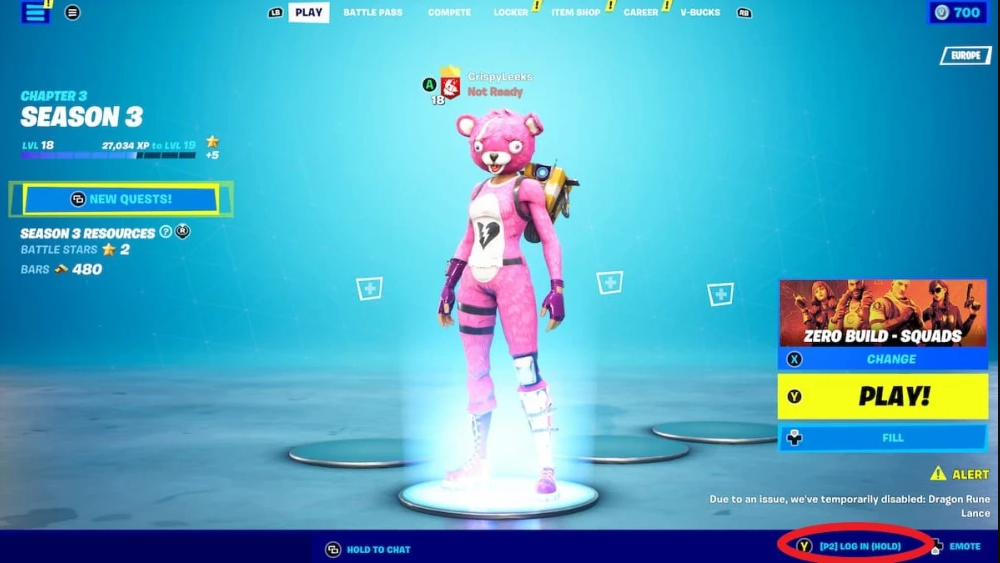 On the sign-in screen of your console, you will now need to choose the user account that you want to use in order to log in. It's possible that you won't be able to access the account until you verify your identity by entering the account's password. After that, you should prepare for the match by doing whatever tasks are necessary while you wait for your character to show up in the lobby.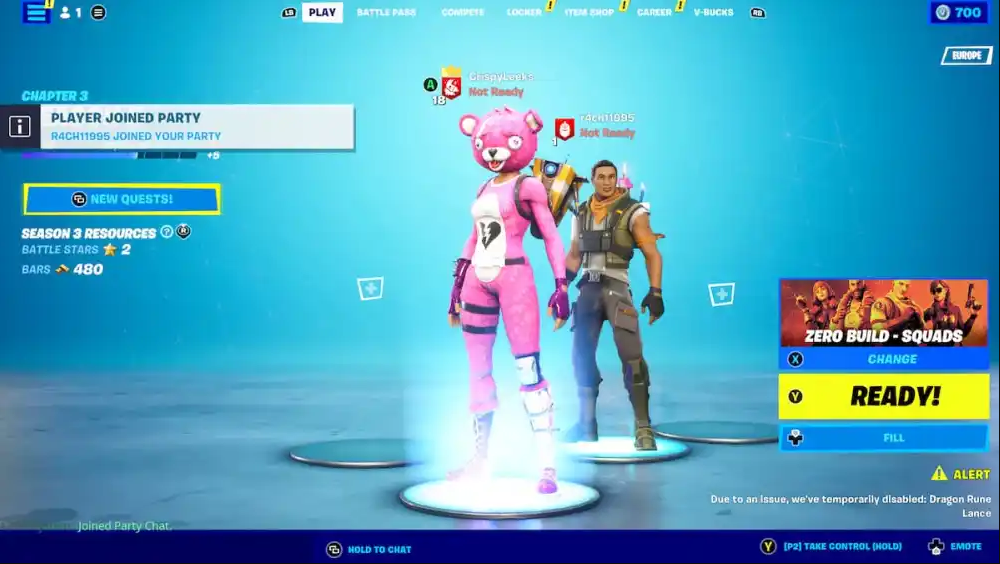 In order for player two to 'take control' of the game and look through their Locker, make purchases from the Item Shop, or browse their Career stats, they will need to press and hold the Triangle/Y button until a border that says "Player 2" appears around the screen. This will allow player two to "take control" of the game. After they have finished, you will need to switch back to player one in order to take control so that you can choose a game option and begin looking for a match. Using the player 1 controller, press and hold the Triangle button while simultaneously hitting the Y button.
Next, once you are prepared to begin, prepare yourself by pressing triangle (on the PS4) or Y (on the Xbox One). After Fortnite has located a suitable match for you, the game will load, and you will immediately begin participating in split-screen multiplayer. In a nutshell, here's everything you need to do in order to play split-screen multiplayer in Fortnite:
Start the game of Fortnite and turn on the additional controller. Begin the process of logging in player one as you typically would for the game up until you reach the lobby page.
To enter the lobby, press and hold the Triangle or Y button. After that, you'll have to select your online account when prompted to check in to both the console and Fortnite.
To begin the match, press Triangle/Y on your keyboard. Before you begin looking for a match, player two needs to press and hold the Triangle button on the lobby screen before they can alter their skin, look through the Item Shop, or check their Career statistics. This is done before you begin looking for a match.
FAQs
Why is split-screen not working in Fortnite?
Just restarting the console is one approach that can be taken to resolve this issue. When it comes to the majority of games, restarting the console enables both the console and the game to reset everything, putting an end to any active glitches or problems that might be causing things to go awry.
Is Fortnite split-screen back yet?
It is necessary for one player to invite the other via local co-op, and once the second player has signed into their account, they will show up in the lobby. Will there be a return of the split-screen mode in Fortnite? In point of fact, the split-screen mode has been available again ever since Chapter 3!
What season is Fortnite split-screen?
It was made available in Update version 11.
Can a guest play Fortnite split-screen?
It is important to keep a few things in mind if you plan on playing Fortnite with the Split Screen option. You will, first and foremost, require two game controllers in addition to two individual accounts for Fortnite, neither of which can be guest accounts. Split-screen functionality is not available for Guest accounts. Create an account on Epic Games for anyone who doesn't already have one of these accounts.
Can you play 2 player on Fortnite on the same console?
Which game modes are compatible with the split-screen mode? Only in the Duos and Squads modes of the Battle Royale game can the split screen feature be utilised at this time. Moreover, both players must be connected to the same console. Sign up for our newsletter to receive the most recent information on eSports, gaming, and other topics.