How to Reset Apple Watch With or Without iPhone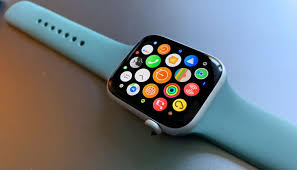 Whether you've misplaced your password, are experiencing troubles with your wearable, or are planning to sell or give it away, you'll need to reset your Apple Watch. This article will walk you through the process of resetting your Apple Watch, whether with or without your iPhone, as well as an alternate option to use if you've forgotten your Apple Watch's passcode.
Backup your Apple Watch data before you reset it in the event that you need to restore your information at a later time. When you back up your iPhone using iCloud or on a Mac, an Apple Watch backup is created automatically as a result. It's important to remember that while using a Mac, backups must be encrypted in order for the Apple Watch backup to include all of the data it contains.
Read Also: How to Switch Your Apple Watch Bands
How to Reset Apple Watch with or without iPhone
Reset Apple Watch with your iPhone
It is possible to reset your Apple Watch using the Watch app on your iPhone, if you have the iPhone with which it is synced.
Make sure your Apple Watch is near to your iPhone before launching the Watch app on your iPhone.
General may be found by swiping down.
Swipe to the bottom of the screen and tap Reset.
Select Erase Apple Watch Content and Settings from the drop-down menu.
To confirm, tap Erase All Content and Settings two more times.
When it comes to your Apple Watch with cellular service, you'll need to decide whether you want to maintain or discontinue the plan (you may still need to check with your carrier if you want to cancel it)
The following is a step-by-step explanation of the procedure: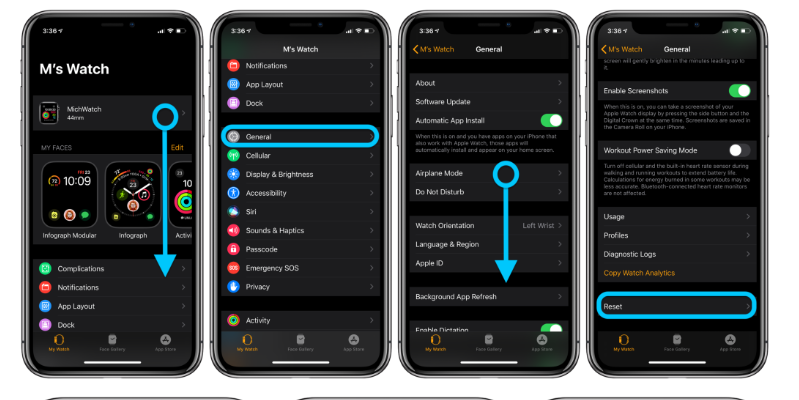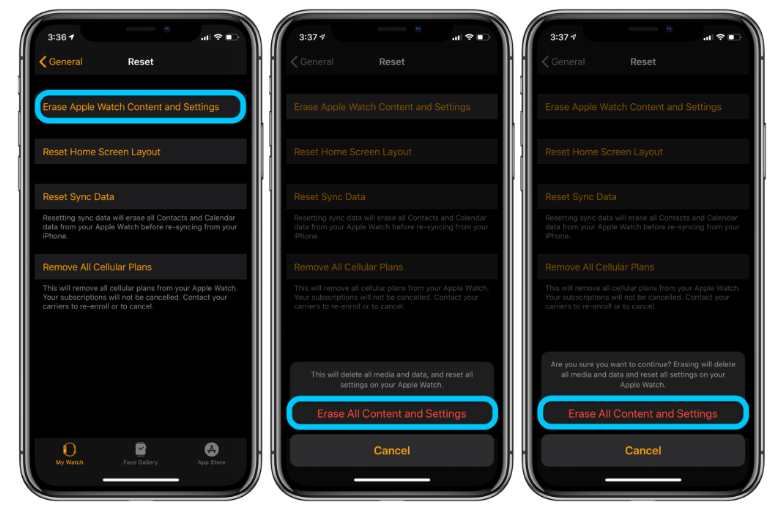 Reset without iPhone
Navigate to the Settings app on your Apple Watch.
Press General Swipe down to the bottom of the screen and hit Reset Swipe up to the top of the screen and tap Erase All Content and Settings
If you're using a passcode, you'll need to enter it when asked.
If you have a cellular watch, swipe down and choose Erase All or Erase All & Keep Plan from the menu.
Reset Apple Watch without your passcode
If you are unable to recall your Apple Watch passcode, you can do a factory reset by following these steps:
Place the Apple Watch on its charging base.
Press and hold the side button for a few seconds, as if you were going to turn it off.
Make a hard push on the Power Off slider and then release the button.
Select Erase all content and settings from the menu bar.
As you progress through the procedure, you'll notice the following: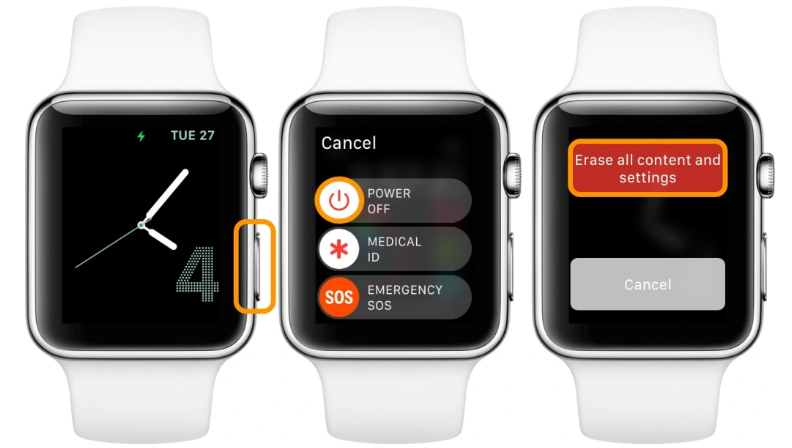 Video
FAQs
Do I have to reset my Apple Watch to pair with new iPhone?
Disconnect your Apple Watch from your old iPhone and then reconnect it to your new iPhone to complete the process. When prompted, restore your Apple Watch from a previously created backup. Check to verify if your iPhone and Apple Watch are up to date; if they aren't, you may not see your backup in the list of available backups.