How to Ring Gongs in Fortnite (Chapter 4 Season 2)
The quests for Fortnite Week 6 are now available on all platforms, and this time around, players will need to ring a variety of gongs in order to fulfill one of the objectives. Although it's not too difficult to learn how to ring gongs in Fortnite, you could have a hard time actually finding them in the game. After successfully completing the challenge, players will receive 12,000 XP as a prize. This experience can be put toward the purchase of more items from the current season's battle pass. This post will guide you through the steps necessary to ring gongs in Fortnite. So let's get started:
Read Also: How to Get or Hit the Nape of Different Titan Targets in Fortnite
How to Ring Gongs in Fortnite
The gongs on Fortnite Chapter 4 Season 2 Island are essentially antique bells and may be discovered in a total of thirteen distinct spots across the island. You will find the list of locations down below: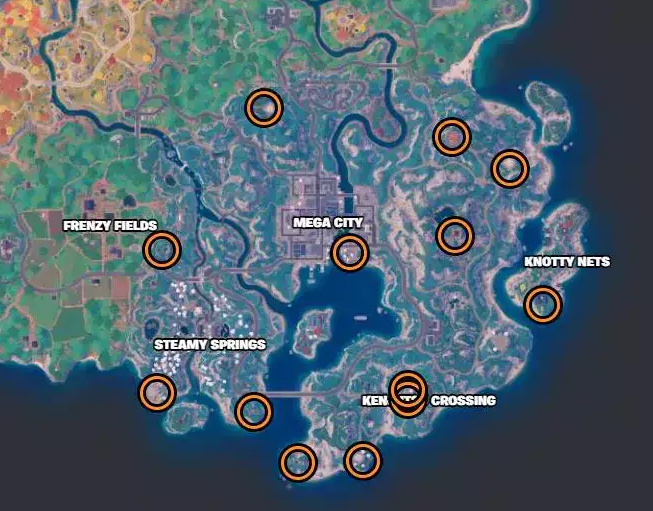 Southeast of Frenzy Fields below Timbercut camp
South of Mega City
North of Mega City near Bamboo Circle
Windcatch Lake Landmark
Fireglow Sanctuary landmark
Cedar Circle Landmark
South of Knotty Nets POI
Kenjutsu Crossing POI
Sakura Circle
Burning Beacon
Luminous Lantern
Sandy Circle
The participants in this challenge are required to ring three separate gongs before the task can be considered complete. Therefore, you are free to perform the activity anywhere you see fit at this point. When you have located a gong, you can make it sound by striking it with your katana or the item you used to harvest the food. When you strike a gong with your hammer, it will make a resounding noise. As a result, it will make other players in the area aware of your whereabouts and reveal it to them.
To achieve the objective of the Challenge, it is recommended to strike each gong only once; however, this does not need to take place inside the same match. Even if you are beginning a fresh match, you are required to use a different gong each time. This is a crucial point to keep in mind.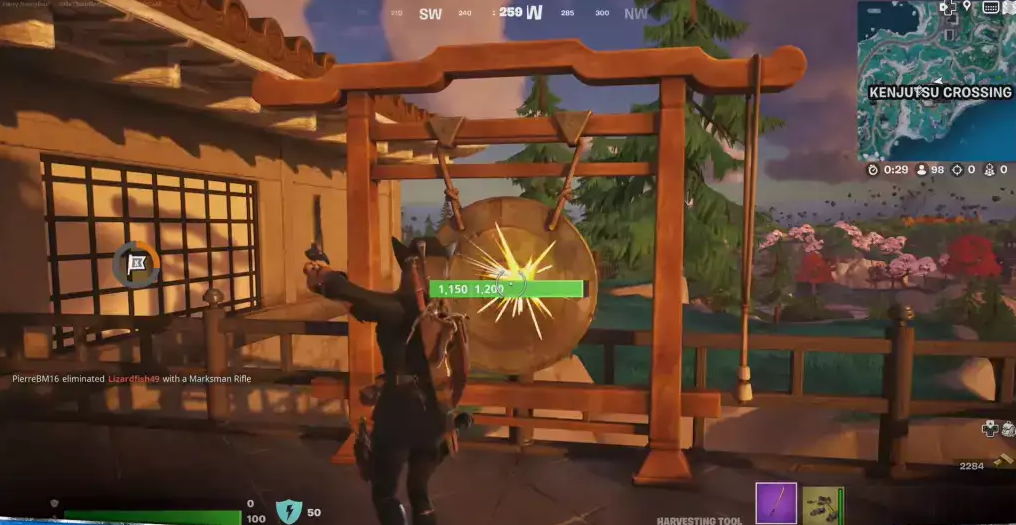 After you have accomplished the primary goal of the challenge, it will be considered finished, and you will be rewarded with 12,000 Experience Points as part of the prize. The conclusion is as follows. That wraps up everything there is to know about Ringing Gongs in Fortnite Season 2, Chapter 4.
FAQs
How long does a Fortnite season last?
The length of time that each season of Fortnite has lasted on average is between between ten and twelve weeks. The conclusion of Chapter 4 Season 2 is scheduled for June 2nd, 2023.
How long is a full Fortnite?
Battle Royale matches typically last for around 20 minutes, while those that are eliminated from the game early play for a shorter amount of time.
How do I control friends on Fortnite?
To handle friend adds:
First, from the main menu, select the three-lined menu in the upper right corner, and then select the gear symbol to access the settings. Step 2: Navigate to the Parental Controls menu and input your 6-digit PIN when prompted.
How long is a Fortnite code?
After clicking the Confirm button, a code consisting of either 12 or 25 characters is created. You will need to input this code onto the website of the third party that you have chosen (either Sony or Microsoft). You will also receive this code in an email.
Is Fortnite losing players?
Is it too late for Fortnite? It is safe to conclude that Fortnite will not go away anytime soon given that millions of players will be logging in every day throughout the year 2022 and that live events will continue to receive a lot of attention.