How to Subscribe With Twitch Prime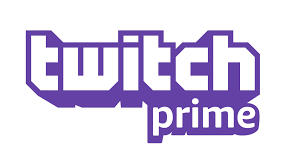 Amazon Prime membership includes a free Twitch Prime membership, which is only one of the numerous benefits of having an Amazon Prime membership, which also includes a range of other features. Please follow these instructions in order to link your accounts and benefit from all of the features of Twitch Prime without having to spend a thing.
Read Also: How to Save a VOD from Twitch
What Is Twitch Prime?
Twitch Prime is a premium experience on the video-game streaming service that is offered with an Amazon Prime subscription. It is available only to Prime users. Twitch Prime features a variety of bonuses, such as bonus games and exclusive in-game content.
For many people, the free Twitch channel subscription that comes with a Prime membership is the most valuable perk of having a Prime membership. This reward goes directly to your favourite streamer, who will benefit from it. You can also renew your subscription (for free) on a monthly basis, provided that you have an active Amazon Prime membership that is linked to your Twitch account.
How to Link Your Twitch and Amazon Prime Accounts
When signing up for the free Twitch Prime subscription, it is required to link your Amazon Prime account to your Twitch TV account. Otherwise, you will not be eligible for the offer. Visit Amazon Twitch Prime and register for an account in order to do this.
Then, in the top-right corner of the screen, click "Sign In," and input the login information for your Amazon Prime account to continue.

After entering into your Amazon account, navigate to the area labelled "Link Twitch Account." Afterwards, you'll be prompted to sign in to your Twitch account for the second time. Before you can begin using your Prime subscription on Twitch, you must first ensure that your accounts are properly connected together.

How to Subscribe to a Twitch Streamer
The individual who receives $4.99 from your Prime membership when you choose to subscribe to a Twitch livestream receives the same amount from you.
When you find someone you like on Twitch, go to their profile and click "Subscribe" at the very top of that page.

This question will be asked if this is the first time you've subscribed to a streamer from your Twitch Prime account. If this is the case, you'll be asked if you want to use your free monthly membership for this streamer. By selecting "Yes," you will receive a one-month subscription to that streamer at no additional cost.

After subscribing to a streamer through your Prime membership, you must wait a month before you may utilize your free subscription to another livestream. Alternatively, you can click "Subscribe" once again and then select the "Continue Subscription" option to set up a recurring subscription.
If you want to change your Prime subscription to a recurring subscription, you will be charged a $4.99 monthly fee as part of the process. Every 30 days, you must manually subscribe to a streamer in order to be able to use your Twitch Prime subscription once more.
How to Resubscribe to a Streamer via Twitch Prime
Following a subscription to a streamer using your linked Prime account, you must wait one month before you can resubscribe to that livestream.
When you go onto Twitch, go to "Subscriptions," which is accessible by clicking your avatar at the top-right corner of the screen. A list of your current, gifted, and expired subscriptions is displayed on the screen. Under the "Your Subscriptions" tab, you'll see a list of all of your current subscriptions. In the image below, you can see that a Prime membership was utilized to subscribe to a streaming service.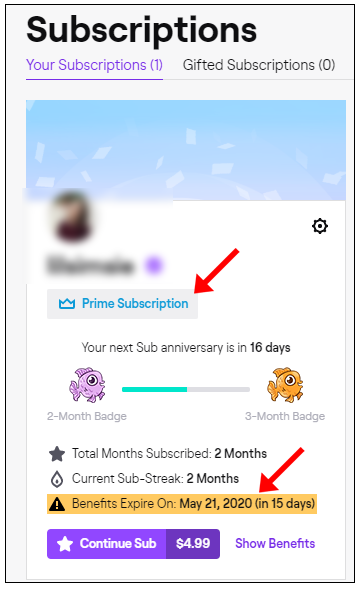 Either you can pay to resubscribe right away, or you can use your Twitch Prime membership to pay for another subscription to the streamer once your current subscription expires. Subscribing to your favourite Twitch streamers is an excellent way to contribute to their financial support. And, if you subscribe through your Twitch Prime account, you won't have to spend a single cent!
Video